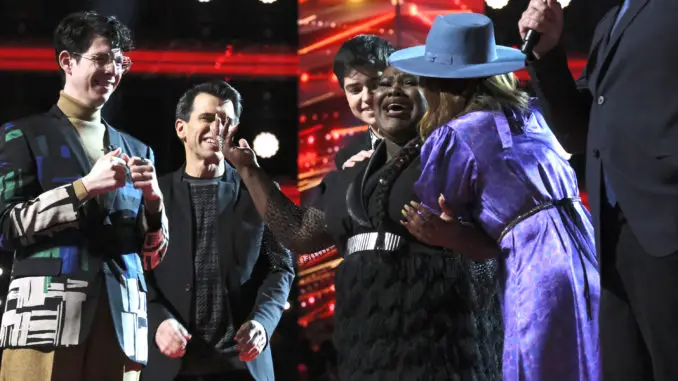 We're live blogging The Voice season 21 Live Top 8 results here. The 5 finalists headed to next week's finale will be revealed LIVE.
The Voice 21 Semi-Final Results & Predictions – Who Will Be Eliminated?
The Voice 21 Recap: Top 8 Semi-Final Performances (Videos)
Who from Team Blake Shelton, Team Kelly Clarkson, Team John Legend and Team Ariana Grande will move on to next week's FINALE? After last night's viewer vote, the Top 4 vote getters will advance. Next, the remaining four artists will compete for the Instant Save. After the vote, the winner will join the Top 4, with 5 contestants moving on to next week's finale.
The Voice 21: Blake Shelton, John Legend To Perform Semi-Final Results
Tonight's guest performers include coaches Blake Shelton and John Legend hitting the stage to sing their hits, "Come Back as a Country Boy" and "You Deserve It All," respectively. Additionally, country singer Carly Pearce will make her The Voice debut with a performance of her hit "29."
The results are on hold for a minute as Carly Pearce sings her country hit "29." She recently won New Female Artist at the 2021 CMA Awards. Aw. The song is about divorce, and Kelly is wiping away tears. 
The Top 8 finalists take the stage. TIME FOR DUMB QUESTIONS! Wendy Moten is up first. She talks about meeting great people and how she's ready to begin a new chapter of her music career after The Voice. Lana Scott shares that "love is the most important thing and you'll hear that in my music." The first finalist is…Wendy Moten! Yayyyyy….
Next, John Legend takes the stage with his new holiday single, "You Deserve it All." The stage is full of dancers! It's very festive. 
Next, SNL's Kenan Thompson shows up to promote the Peoples Choice Awards airing LIVE right after The Voice. Blake is all set to run over there to perform tonight!
More results! The 7 remaining artists take the stage. Hailey Mia says The Voice experience has "meant the world" to her. Kelly has taught her so much. "You have no idea how much I love you" she says directly to her coach.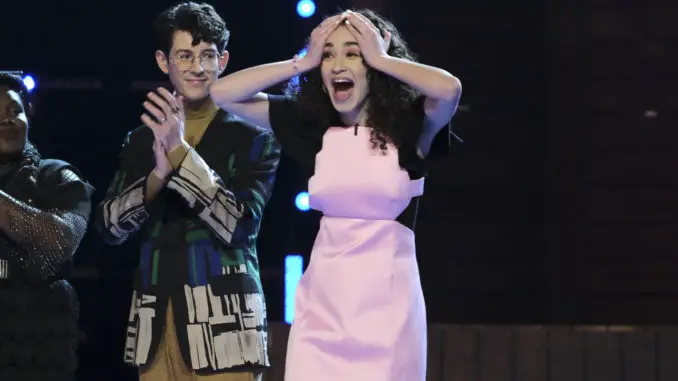 Jershika Maple has learned that she can do anything she puts her mind to. And the next artist advancing to next week's finale is…Girl Named Tom! The third artist advancing is…Paris Winningham! Oh. So the remaining Team Blake member, Lana Scott will probably have to sing for the Instant Save. 
Next, the eight time champion coach, Blake Shelton, sings "Thank God I'm a Country Boy." Ha. I hate this song. For real. Trucks and beer y'all. No thanks. I mean, Blake is an amusing and canny The Voice coach, but his music mostly sucks. 
The remaining five artists take the stage. Here's where things could get spicy. Sasha Allen calls Ariana his friend "I wouldn't want to be here without you." He ends with a shout out to trans rights. Joshua Vacanti says The Voice has given him a ton of confidence. And the fourth finalist is…Hailey Mia!
Joshua Vacanti, Jim & Sasha Allen, Jershika Maple and Lana Scott will SING for the Instant Save!
Instant Save Performances
Lana Scott – Team Blake – Things a Man Oughta Know – Welp. It looks like Blake won't have three artists in the finale. This performance is fine, but not good enough to beat the powerhouse singers coming after her i.e Jershika Maple and Joshua Vacanti. Kelly loves the sound of her style of country music. Keep going, says Kelly. Blake thinks the performance is the perfect illustration of what makes her great. He begs America to vote for her. Don't get greedy, Blake. 
Joshua Vacanti – Team Legend – My Heart Will Go On by Celine Dion – Oh. Bad performance spot. I'm not loving this corny song choice either. He performed so much better last night. Jershika may beat the odds and make the finale. That would be something. "You are just out here slaying Celine Dion," says Kelly. She begs him to do musical theater. John calls his voice stunning. He compliments his showmanship. You need to be in the finale, he says. Oops. What about Jershika?
Jim & Sasha Allen – Team Ariana – Rich Girl by Hall & Oates – Do they care at all about advancing? This song pick is yet another head scratcher. Off key harmonies, check. Low key boring solos. Yep. That was bad. Bring on Jershika please. Kelly notes how cool it must be for Jim to perform with his son. Ariana brings on the "tears." She begs America to vote for them. 
Jershika Maple – Team Legend – Break Every Chain by Tasha Cobbs – I counted Jershika out. That was a major mistake. She's about to slay slay slay with a Jesus song. Ariana's on her feet. Probably thinking "I will have no team members in the finale." Jershika is crying. "You've done it again," says John. "You've probably brought America to tears." He says, "You deserve to go to the finale." John stops short of throwing Joshua under the bus. He asks America to vote their heart. 
It was Lana's sixth audition! Joshua is tearful as he thanks John. Oh, they each have 10 seconds. Running out of time. Jershika thanks John and Kelly for encouraging her. "I'm not saying bye to you," says Blake to Lana "We still have so much to do." Ariana is crying, of course. John calls both of his artists "inspiring" and "incredible performers." 
And the artist instantly saved is…Jershika Maple! Wow! What a finish! Jershika is a survivor. After a steal and two Instant Saves, she advances to the finals! Unprecedented to be eliminated so many times yet still prevail to the end. 
Lana got a little over her skis with that massive song choice last night. She doesn't have the chops to tackle Carrie Underwood. No way she could beat big singers like Joshua and Jershika in the Instant Save.
It's the first final EVER without a country artist! Three Black R&B singers in the finals! That's also a first, I believe. And I am heartened. Usually the older black female belters get turns, but are treated like novelties by the voters, who toss them out pretty quickly. That a 56 year old Black female R&B singer can finish–probably in second place when all is said in done–is remarkable.
Speaking of getting tossed aside, while I have not been a fan of Jim and Sasha Allen, I didn't expect them to last. Not because they are a marginally talented duo. But considering the ugly backlash against the trans community lately, I expected the audience to reject them outright. I am happy that they did not. Sure the duo outlasted more talented artists. But Sasha represented his trans community admirably. A silver lining.
Lastly, y'all know Girl Named Tom has this, right? It's been an exciting season in many respects, but the end has been obvious from the very beginning. One more thing
The Voice 21 Final Five
Wendy Moten – Team Blake
Girl Named Tom – Team Kelly
Paris Winningham – Team Blake
Hailey Mia – Team Kelly
Jershika Maple – Team Legend – Instant Save Winner