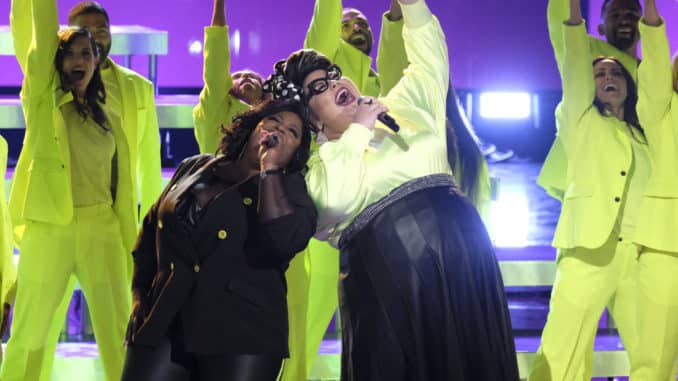 The Voice Recap Semi-finals Top 8
It's The Voice season 17 LIVE SEMI-FINALS! The Top 8 will perform for coaches Blake Shelton, Kelly Clarkson, John Legend and Gwen Stefani, and YOUR VOTES. 
For  The Voice Recap Semi-finals Top 8 Voting Rules CLICK THIS LINK. Click on the STREAM links to vote for your favorite.
On tomorrow's (Dec 10) Top 8 results show, a Top 4 will be revealed.
The Voice 17 Top 8 Song Spoilers – What Will the Contestants Sing?
The Voice Season 17 Live Finals Top 8 Contestants Ranked!
The Top 8 will pair up for duets, featuring SONGS of the 80s. 
Katie Kadan – Team John Legend – Lady Marmalade by Labelle – If Katie makes the finale, she'll sing a ballad, John says. He suggests a "breakdown" verse allowing Katie to be "sassy and intimate." He demonstrates by beatboxing! Katie has learned more on The Voice than she has in eight years of gigging, she claims. I don't know about this song choice. She's doing the song justice, but it's a predictable pick. She should have performed a ballad THIS week. Although, the riffs on the bridge does allow her to add some original flavor. Still, I love her confidence and swagger. She's an incredible performer. Kelly says Katie is "fun to watch." It's Gwen's favorite "Katie performance." She loves her recognizable style. John calls Katie a superstar. "We don't deserve you, Katie," he says. "You own every performance…you already deserve awards.." –  STREAM
Oh, these 80s duets have a "Wonder Woman" tie in. In theaters June 5th! The movie takes place in 1984. 
Kat Hammock – Team Blake Shelton – Somewhere Only We Know by Keane  – A year ago, Katie worked as a busser in a restaurant. She planned to attend Villa Nova college. Blake wants Kat to stay in her chest voice. Blake should spend time helping Kat with dynamics and pitch. Her performances always feel low energy. I think that's what Blake meant when he asked her to stay in full voice. But I don't think she actually took that advice? Her pitch is better this week though. Kelly says Kat is "special" and her voice "touching." Gwen calls Kat gifted. "You need to make records," she says. Blake calls it her most powerful vocal performance.  – STREAM
Ricky Duran and Will Breman – Your Love by the Outfield – Duran Bernan would be their 80's name. Ha ha ha. They are both playing guitar. This song is well suited to Ricky. But hey, Will is totally holding his own here. He's actually got a classic 80's voice. The harmonies are a little wonky, but overall, this duet is exceeding my expectations. The solo parts are pretty great. Ricky and Will both play a few lead guitar licks. Fun performance. 
Marybeth Byrd – Team John Legend – Before He Cheats by Carrie Underwood – John wonders if Marybeth got in trouble last week because she strayed from country. YA THINK JOHN? YA THINK? Marybeth explains that she loves all kinds of music, but in her Arkansas hometown, country is huge. I agree with John, but Before He Cheats? Really? John wants America to see her "sassy" side. Hm. A Brandi Carlile cover or similar would have been a smart choice. If There are even better Carrie Underwood songs to choose from. Sigh. This is OK, but it's not going to get Marybeth across the finish line. She's a really good singer, but John isn't picking the right songs for her. Blake notes the song was hard to sing. "Personally" he likes the country stuff better. He should have been her coach. John calls it her best vocal performance so far. Hm.    – STREAM 
Hello Sunday – Team Kelly Clarkson – Don't You Worry Bout a Thing by Stevie Wonder – The girls describe how they met at music camp. Kelly says the song is so hard, she will never cover it. "I'm going to mom y'all to death," Kelly says. The set recreates a city street scene. I hope nobody trips! Stevie's songs are notoriously hard to sing.  The girls were more successful on the slowed up intro. But once the song picks up tempo, they're back to oversinging and missing notes. Oh. They're dancing during the musical break. I will say, this production looks GREAT. Like an awards show performance. The audience LOVED that. John is impressed by their inventive singing. "I'm such a proud step-mom right now!" Kelly gushes. She calls it the perfect song at the perfect time. – STREAM
Marybeth Byrd and Jake Hoot – Up Where We Belong by Joe Cocker and Jennifer Warnes – They both say southern folks have to stick together y'all. So of course they're singing one of the decade's most iconic country songs. NOT! I mean. What a wasted opportunity. Oh well. At least it's not "Islands in the Stream" amiright? Marybeth sounds lovely, Jake is out of his element. The thing about Jake–he falters out of his wheelhouse. He sounds more confident once the chorus kicks in, though.
Ricky Duran – Team Blake Shelton – Let it Be by The Beatles – Ricky describes how his family would sing "Let it Be" together. The song has great meaning for him. Both his parents have passed. Ricky tears up as he shares how the song is healing for his family. It's like his mother, who died of cancer, comforting him. Now, this is the right song at the right time. It's also a bit of a departure from his previous repertoire. He's playing both piano and guitar. It's the most passionate, vulnerable performance from Ricky so far. He needed a performance like this! Ok I'm tearing up a little wow.  Blake calls it the vocal performance of Ricky's life. Ohh. Running short on time. Nobody else comments. Ricky will definitely hit Top 10 on iTunes, and maybe steal the streaming bonus from Jake. Maybe. – STREAM
Will Breman – Team John Legend – Locked Out of Heaven by Bruno Mars – Will attended law school for a year. John shares he almost did too. A perfect hybrid of pop and soul is how John describes the song. Will jokes about his smoulder–which he needs to work on "whatever that is." And that's the problem with this song choice. Will is too cerebral to bring on the sexy funk. He's playing it way too goofy. OMG. He reserved his sexy look for…Blake. OK then. Vocally, it's a solid performance. But I wish it was a different song–one that allowed Will to show off his quirk and originality. This is like Bruno Mars by way of David Byrne. That's actually not a good thing. John calls his stage presence "electric."   – STREAM
Katie Kadan and Rose Short – Express Yourself by Madonna – Two queens. I love that two confident ladies are killing it on stage TOGETHER. THIS is girl power. Great song choice for these two. THEY BOTH BELONG IN THE FINAL!!! I thoroughly enjoyed that performance. 
Hello Sunday and Kat Hammock – We Belong by Pat Benatar – Sad for both acts to be the odd artists out. It always happens when singers are paired up–there is at least one outlier. They are both young? Other than that, there is no common ground. "We're Hello Hammock!" They point out, none of them were alive in the eighties. Erm. None of them were alive in the 90s either. And unsurprisingly, this performance is a pretty big mess. Can somebody sing a note in key? I guess not. 
Rose Short – Team Gwen Stefani –  I Want to Know What Love Is by Foreigner – Ugh. I hate this treacly song. But I am confident Rose will transform it into a great performance. Gwen notes that Rose doesn't oversing. It's true! And indeed, I don't hate this song so much in Rose's capable hands. She is the queen of phrasing. She knows exactly how to craft a performance, every note, every vocal lick has a purpose. And she delivers it all with incredible power and passion. That key change was a little corny, but I'll let it slide. Her range is crazy. CRAZY. The notes she's hitting in both her low and high range are impressive. Gwen is crying "That was unbelievable," Gwen says. She can't finish. She's really crying. Kelly calls her a "gift." – STREAM
Jake Hoot – Team Kelly Clarkson – Desperado by The Eagles  – Jake's mom's favorite song is "Desperado." He's one of nine kids! In performance, Kelly feels it's like watching Jake sing one of his big hits on tour. This is the right song at the right time for Jake, who knows exactly how to express a heartfelt story in song. As if he didn't already have this sewn up. Now there is no doubt.  I predict he'll enter the Top 10 on iTunes AT LEAST and will win the streaming bonus for the fourth week. Jake was a one chair turn for Kelly. A little hard to believe. John calls Jake consistently excellent. His voice "Just feels like home." He can't believe his high notes. "It is an incredible voice you have," Kelly says. "I am so lucky that you are on my team." – STREAM