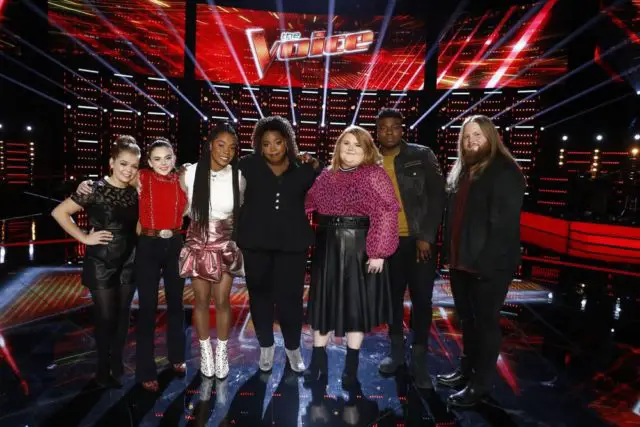 The Voice season 15 iTunes studio recordings are here!  But there are NOTABLE changes. Only Apple Music Streams will count as votes.
We're down to the Top 8. For the first time this season, each contestant will sing TWO songs. One is a solo, the other a duet with a fellow finalist. 
The Voice Season 15 Top 8 Semi-Finalist Spoilers: Duet Pairings Revealed!
The Voice Season 15 Power List – Ranking the Top 8
The songs are downloadable at the iTunes store, but DOWNLOADS WILL NOT COUNT AS VOTES. Ten streams max for each contestant. 30 seconds of streaming counts as a vote.
The Voice Top 8 Playlist – Click to Listen
UPDATE: This bunch of singers are so risk averse, it's mostly boring. Chris Kroeze? 70's classic. CHECK. MaKenzie Thomas? Another diva song! CHECK. Kirk Jay? Tear-jerking country classic. CHECK. Kennedy Holmes switched it up last week. But just as I predicted when ranking the Top 8, she's back to singing ballads. And her pick is the mother of all current ballads–This is Me–already overexposed on these singing shows. Kymberli Joye will sing gospel until the bitter end. But who can blame them? Four singers go home this week. Better to play it safe. Sarah Grace is the only risk taker in this bunch, and she'll probably pay for it. And I've gotta say it. Reagan Strange chose a song, You Are the Reason, that I would not have predicted. So good for her?
Top 8 Contestant Song Spoilers:
Reagan Strange – Team Adam Levine – You Are the Reason by Calum Scott
Kirk Jay – Team Blake Shelton – I Swear by John Michael Montgomery (also R&B group All-4-One) 
Chris Kroeze – Team Blake Shelton – Can't You See by The Marshall Tucker Band
Kennedy Holmes – Team Jennifer Hudson – This is Me by Keala Settle (Greatest Showman)
MaKenzie Thomas – Team Jennifer Hudson – Vision of Love by Mariah Carey
Sarah Grace – Team Kelly Clarkson – Sign of the Times by Harry Styles
Kymberli Joye – Team Kelly Clarkson – Never Alone by Tori Kelly
Chevel Shepherd – Team Kelly Clarkson – Blue by LeAnn Rimes
The Top 8 will also be paired up for duets. If those titles are revealed before the show, I'll post them here.
An Emotional Top 8