Check out interviews with the contestants who performed Monday March 5 on The Voice. Interviews with Johnny Bliss, Austin Giorgio, Reid Umstattd, Jamai, Jamella Perkins, Mia Boostrom, Christiana Danielle, Jorge Eduardo, and Brett Hunter.
Johnny Bliss
A four chair turn, Johnny performed the Spanish language song, "Preciosa" by Marc Antony.
Why did you pick Team Alicia?
I actually always thought of Alicia since the beginning of the show. So it was very important for me to even connect with her at all. I used to listen to Alicia as a kid , so it was very important for me and her. We're both Aquarius. We're both from New York. We're both very soulful. Whether it's in Spanish or English, you can definitely tell that we're singing from our soul and we try to make people feel us. So I think it was really important for me to be on her team for sure.
Did you ever waver at all or did she win you over when she serenaded you?
It was so hard because once you are up there in front of people who you admire so much and you're put on a pedestal, it's hard because they're actually fighting for you. So it's flattering, it's humbling, but at the same time you're scared because you're like – you don't want to disrespect somebody else, or, "This is my one moment to pick my favorite person on this panel," and I have to say that was Alicia.
Previously, you were involved in Spanish-speaking singing competition. What did you learn from that experience that you brought to The Voice blind audition. What and what will help you moving forward on the competition.
I was on "Va Por Ti." If you look it up, you can definitely check that out. It was a pretty nice production. I learned so much. That helped me so much with the process and the waiting that we have to go through.
If it weren't for that competition, I would have probably been crying in my room or arguing with every single person who pass me by because we're so many different artists, and in different lanes and different genres–especially me and Jorge, we're Latinos.
We're the only two, including Genesis who spoke Spanish, and it was kind of hard because everyone else was easier to match together. I was very late. Everybody was like, "Johnny, we aren't worried about you, bro, because you got your own thing going on." And I'm like, "Yes, I guess." But, you know, it was important for me to do that first.
Can you tell some of the fans were carried over to The Voice?
A lot of the response from the people is great because they saw me on that show and then even though it didn't go that great for me there, they are like, "You don't give up, man. That's great." That's another thing that I'm happy that the people see that I'm not ready to give up.
There's a bunch of people saying, "I'm following you all the way from 'Va Por Ti.' I think you're great. I think it's awesome. I think that you deserve this."
How did you feel when Kelly turned around and you realized she'd been blocked, considering that she was one of the coaches you were hoping would turn for you?
I wanted all the coaches to turn for me, but I didn't think that was going to be a possibility. I thought I was taking a risk by singing in Spanish. I was like, "This is going to go really well or this is going to flop."
So when writers asked me about that, I was watching, and then they showed how I spoke about colleagues, that's so true. I did feel like Kelly is such a versatile artist and I've been following her from her season on American Idol and she – I used to download her stuff as a kid. I'll sing her stuff. I saw Princess Diaries many, many, many times and sang "Breakaway" many times. So when she turned around, actually that was super surprising to just be face-to-face with her. It was amazing.
Were you disappointed that she was blocked?
I was so disappointed that she was disappointed. But my point person was always Alicia Keys because I cannot even – I cannot even deny how much I love this woman. She means so much to me in so many different ways, and I love Kelly just as a much. But I don't know, there's something about being with Alicia that just resonates with me and it's so magical. It's like a soul-to-soul being for sure.
You two seemed really connect
I think that this is going to be really good for me and it's been really good for me so far. I went with my instinct and my gut. And the fact that Kelly was blocked actually made it so much easier for me to choose. Had she not been blocked and gone off for me, it would have been really hard for me to be like, "No, Kelly, I'm sorry, but I love Alicia just a little bit more, you know."
Austin Giorgio
He performed the Michael Buble version of "How Sweet it Is to Be Loved by You" by Marvin Gaye. He chose Team Blake over Team Adam. He promises to sing more than swing music on the show. 
Why did you select Team Blake?
First and foremost, you could tell a lot about someone by what was said behind closed doors and I heard a lot of great things about Blake. So that being said, with a guy of his stature, I knew right away I'm going to go with a guy that's genuine and cares a lot. He really isn't doing a lot of stuff for TV. He's just himself which is what I like. And the second reason why I chose Blake – you got to look at The Voice as Harvard. It's a college. You know, this isn't the end. I don't expect them to make any one of us stars. We have to make ourselves stars. And with Blake, someone like him, he's a guy that's busy. But I'm sure if I went up to him, I could reach out to him in some form.
Were there any hometown influences (Rochester New York area) helped shape you as an artist?
Obviously, my father, I mentioned that he's definitely a local influence. Also, my dad's band, a lot of those musicians in that band are talking a lot about jazz improv.
I have this weird plan of going into The Voice. I want to try something different because if you look at past seasons and it's like–name five contestants from the last four and I couldn't.
Right now, I'm kind of like a wolf in sheep's [clothing] and people think I'm going to go down the Buble route. I love him, but I actually want to start making kind of like…Drake-Sinatra-type music. That's what I want to [do] with music.
Reid Umstattd
Performed "Take Me to the Pilot" by Elton John. He chose Adam over Alicia–even though she had a pretty great pitch.
Why did you choose Team Adam?
I had him at the back of my head going up there. It's just this crazy experience, sort of surreal, like an out-of-body thing that's happening while you're up there. Whatever your preconceptions were disappear. Once Alicia Keys shoots her views–I was kind of confused and I blacked out for most of it honestly. But at the end of it, I came back to what Adam was saying about our shared musical taste. He spent a lot of years with Maroon 5 before they got famous, traveling in a band just like I did for 10 years with my band, and that kind of hit me too.
But it was mostly about our shared taste in music. I really thought that out of the three – or out of the judges, that he could provide the most guidance through the show.
Jamai
Sang "U Got it Bad" by Usher. Owner of a singing telegram company, he chose Team Alicia over Team Kelly.
Why did you go with Team Alicia?
I feel like as an artist, you really want to be understood and I felt these are people that I don't have any personal relationships with. But if there was anyone who I could personally connect myself with, it would be Alicia Keys because in a lot of ways, she's been the soundtrack of my life.
I can't really say that for any other judge–that every album, every part of Alicia Keys' career, I can almost recount it. That really sold me. I'm going to be honest, I could not believe how beautiful she was. And then the fact that when it was her turn to persuade me, she really expressed that she was interested in my career outside of the show which is my ultimate priority. So I think her beauty plus her ability to show me that she'll be able to coach me and guide me throughout the show had a lot to do with it.
Jamella Perkins
Jamella performed Dive by Ed Sheeran. But viewers didn't actually see it–she was unfortunately montaged. 
Why did you go with Team Kelly?
Blake and Kelly turned. They had a lot of good things to say. But Kelly understood where my voice was and what I was trying to do with the song when I performed it. Aside from that, Kelly has been on a show very similar to something like this, so I wanted someone who had personal experience doing the same thing and could really coach me and help me perfect my craft while being on the show.
Mia Boostrom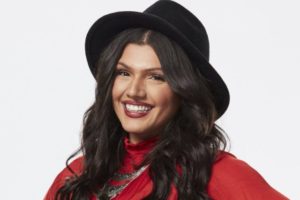 Young singer shared about being "bullied" by fans on "another competition" which turned out to be AGT. She performed PILLOWTALK by Zayn. Only Team Adam turned for Mia.
You mentioned during your intro package that you had a difficult experience in a competition that you were on earlier and I was wondering if that happened to the America's Got Talent.
Yes, it was.
Could you talk a little bit about what made that experience difficult and what you learned that you're bringing to competing on The Voice?
When I was 15, I auditioned for America's Got Talent and made it through, and I was looking to compete on the show. But what I didn't know going into it was how much I was going to be involved with the comments online and things like that. At 15 I didn't really prepare myself for something like that. So I shied away for a while [from putting myself out there]
What changed–I started to learn to embrace who I am as a person and respect the talent that I was given. And when I was lucky enough to be on The Voice, it was like coming out of my shell again.  [I was able] to prove to myself that it is about my voice and it's not about what people say to you online–just standing up for yourself.
Did you feel like this time around, you'll stay away from online comments, or do you just feel tougher–that if someone says something nasty to you on Twitter, that you can just blow it off?
I think that nowadays, it is just common for people to rip us apart just in general because we are in a public eye and people love to say anything about anyone. And I'm sure everyone, even on this line included, has heard some things about themselves that they are like, "Oh, that kind of hurt a little bit."
But when I was so much younger, I didn't know enough about myself as a person and as an artist to stand my ground. And I think this time around, I've just grown more than a musician and as a person. Not just staying away from things like that–but being able to realize that what someone says about me online doesn't affect me.
Christiana Danielle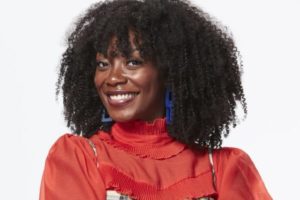 Christina performed Drake's "Hotline Bling" and chose Team Alicia over Kelly and Adam.
How did you decide on the song to audition with (Hotline Bling) and how did you come up with the new arrangement?
I chose the song because I thought that it was something that was going to stand out. I mean, when you have the blind auditions and you can't see somebody, you really want to stand out in the crowd with your voice and your song choice. And so this showed a lot of versatility and highlighted the different parts of my voice that I feel worked best.
And I got the actual arrangement I heard from a wonderful band called Thirdstory. They're an amazing group I got parts from them and I incorporated jazz parts. I would be remiss if  mention Thirdstory. They're amazing.
Could give us a little bit more detail on what you have been doing musically right before The Voice, and then how you wound up auditioning for the show?
Musically, I wasn't really doing anything. I led my school's worship team at my small Christian school at Huntington. And I graduated college and I realized that I wanted to go to grad school but I figured that out too late. And so I was like, "Okay, I'm going to take a year off."
Everybody tells me that I should sing more. I want to sing more. So on this year-off, I'm going to travel. I'm going to be more outgoing, but I didn't really know how to do that. And so I got an email – I kind of (prepared) for The Voice a year prior but I never sent in the video because I was too (scared).
And so I got an email talking about the last open call in St. Louis–only a couple of days away. And I was like, "Dad, how far is St. Louis from here?" He's like, "About six hours or so." And I was like, "Oh, well, you know, there's this open call for The Voice." And my dad has been encouraging me ever since I was little, he was like, "You know, pursue singing."
He said, "Absolutely, let's go." And I was like, "But I might have to take off work." He said, "It doesn't matter." So he completely called my bluff and I went down to St. Louis and the rest is history. I just kept going and kept getting further. Step by step– and now I'm here. And yes, this is just basically the  [one] thing musically I've ever done. I just kind of launched myself into the music industry.
You've got some mind-blowing feedback from the coaches.
I still can't believe it. It's really encouraging just because a lot of people have pursued music before they came on the show. This is kind of  a stepping stone. And this is my first step and sI kind of felt like a little baby here.
But it's super encouraging and it empowered me to be like, "You know what, you can do this, you know. No, you don't have much experience, but you're getting the same kind of feedback that everybody else is getting." 
Jorge Eduardo
Originally from Mexico, he competed on the Mexican version of The Voice and came in 4th place. He performed Despacito and got a very excited Team Kelly to turn for him. 
Previously, you were involved in Spanish-speaking singing competition. What did you learn from that experience that you brought to The Voice blind audition. What and what will help you moving forward on the competition.
Before I was in The Voice, I was on the Mexican version of The Voice and I think it mainly helped me to grow as an artist and it gave me new confidence when I step on stage It's funny because back then–me and Johnny [Bliss] met back then when we just were recording that show. I was recording for The Voice at the same time in the same place. We never talked to each other. It's really funny how small the world is. I think it just helped me a lot to understand why I want to be in this show.
And I think my ultimate goal is to get a career out of the show and get new fans, It's amazing–the response I've gotten from the audition. I'm really excited to see what's going to happen after the show.
You have released a couple of singles in English. Are they reflective of the type of music you would like to do after the show?
Through my whole career, since I was teenager, I've been working on my (sound) and it's definitely something I would like to do after the show.  I think there's still more things I have to say.
I started writing those songs in English when I moved to the U.S. and I do my own productions. I do everything. I record the voices. I do the production on my computer. I think it's been a growing process and definitely marking the path I want to go forth. 
Brett Hunter
Blake was the only coach who turned for Brett. He performed "She's a Bad Mama Jama" with a ukulele
I was wondering if you could tell us a little bit about your decision to incorporate ukulele into the arrangement of your song.
What I really wanted to do is something different and surprising. What's so fun about the show, is that you get to turn around and see what you didn't expect.
This is a traditional funk song and just having a ukulele I think allowed me to make it my own a little bit more. They asked me to play it by myself afterwards–just incorporating a little bit of my style, doing something different. 
Adam had mentioned he thought you would get four turns if you would strip it back with just the ukulele. Do you wish you would have performed it like that?
I kind of do. You know, it's funny because you're going into this and you have this world-class band, right? You have this amazing band. You're in this competition that is extremely humbling. The last thing you want to do is walk into that room with this world-class band and say, "You know what, guys, I got this. I'm going to take that."
I didn't have the confidence to go in there and really ask for that. But looking back on it, I  wish that I would have just gone up there and done it myself and just rock it solo.
Blake compared you to Tiny Tim. Do you know who he is? 
Yes.  When he said it at first, I was like, "Oh, God!' I saw the memes, the memes like flashed before my eyes,"and I was like, "No." But I think it's pretty funny. It's pretty funny.