The Voice Season 12 Battle Rounds begin Monday, March 20 (8-10 p.m. ET/PT). Each of the coaches will enlist the help of top recording artists and producers to help prepare the singers for their performances. This season Alicia Keys teams up with DJ Khaled, Adam Levine with John Legend, Blake Shelton with Luke Bryan and Gwen Stefani with Celine Dion.
The Voice Season 12 Top 48 Contestant List (Videos + Photos)
During the Battle Rounds, the coaches pit two of their own team members against each other in a dueling duet. After the vocal face-off in front of a live audience, each coach must choose which artist from their team is the strongest and has the option of stealing losing artists from an opposing coach. Each coach has two steals during the Battle Rounds before their artists will proceed to the Knockout Rounds.
And here are the 12 pairings for each team, including introductory Team previews featuring each of the coaches and their celebrity advisers.  Sidenote: I miss the Battle previews that included snippets of some of the performances. A sneak preview of one of Monday's battles will probably be released by the end of the week. UPDATE: Battles were previewed during Wednesday's clip show. Second video features performances.
Check out the details below.
Team Adam Levine

Pictured: (l-r) Sheena Brook, Kawan Debose, Adam Levine, Jesse Larson, Gaby Borromeo, Mark Isaiah, Julien Martinez, Nala Price, Josh West, Hanna Eyre, Malik Davage, Taylor Alexander, Johnny Hayes — (Photo by: Trae Patton/NBC)
Malik Davage vs Kawan DeBose – Love Me Now by John Legend
Jesse Larson vs Taylor Alexander
Julien Martinez vs Johnny Hayes – Hard to Handle by Otis Redding/Black Crowes
Nala Price vs Josh West
Mark Isaiah vs Gaby Borromeo – Pillowtalk by Zayn
Sheena Brook vs Hanna Eyre
https://youtu.be/rH_cU-nBZs8
https://www.youtube.com/watch?v=0_sbq6Me6wU
Team Blake Shelton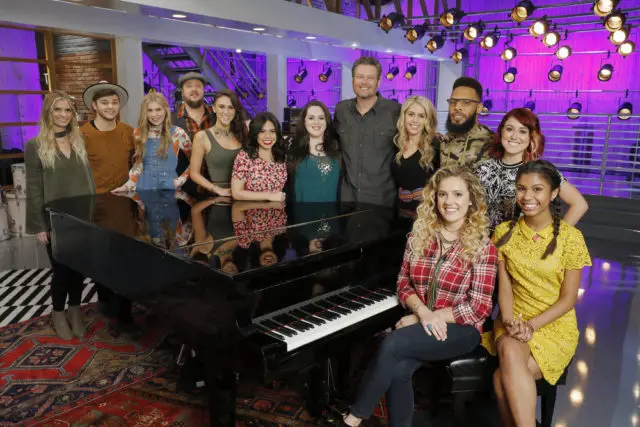 Pictured: (l-r) Lauren Duski, Dawson Coyle, Brennley Brown, Josh Hoyer, Micah Clare Tryba, Valerie Ponzio, Enid Ortiz, Blake Shelton, Andrea Thomas, TSoul, Ashley Levin, Casi Joy, Aliyah Moulden — (Photo by: Trae Patton/NBC)
Brennley Brown vs Lauren Duski – Better Man by Little Big Town
Dawson Coyle vs Aliyah Moulden – I'm Walking on Sunshine by Katrina and the Waves
TSoul vs Josh Hoyer
Andrea Thomas vs Micah Tryba
Casi Joy vs Ashley Levin – How Blue by Reba
Valerie Ponzio vs Enid Ortiz
https://youtu.be/fe9T9SoStbg
https://www.youtube.com/watch?v=lLZtUgyp9ro
Team Alicia Keys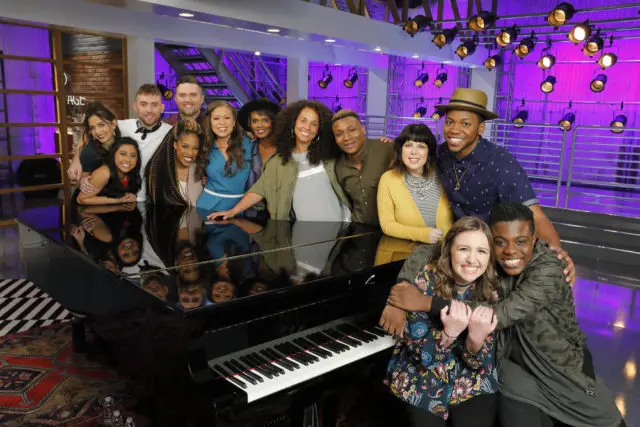 Pictured: (l-r) Lilli Passero, Anatalia Villaranda, Hunter Plake, Jack Cassidy, Autumn Turner, Felicia Temple, Vanessa Ferguson, Alicia Keys, RJ Collins, Missy Robertson, Chris Blue, Lauryn Judd, Quiz Swanigan — (Photo by: Trae Patton/NBC)
Felicia Temple vs Quizz Swanigan – Titanium by David Guetta ft Sia
RJ Collins vs Chris Blue – Adorn by Miguel
Hunter Plake vs Jack Cassidy
Anatalia Villaranda vs Missy Robertson – Tightrope by Janelle Monae
Vanessa Ferguson vs Autumn Turner
Lilli Passero vs Lauren Judd
https://www.youtube.com/watch?v=jfFSX_-5eNA
https://www.youtube.com/watch?v=E-anlTZcP4o
Team Gwen Stefani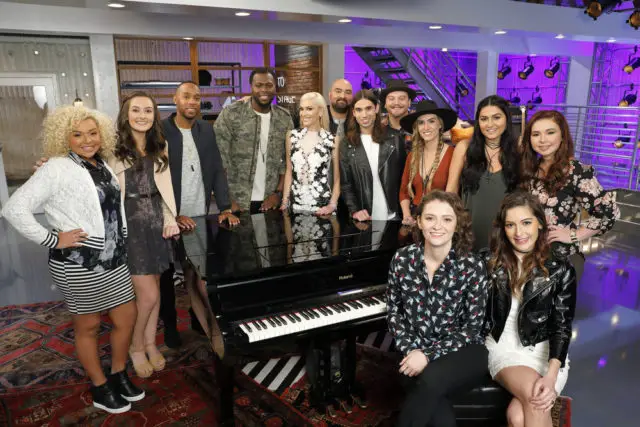 Pictured: (l-r) Aaliyah Rose, Caroline Sky, Brandon Royal, J Chosen, Gwen Stefani, Troy Ramey, Johnny Gates, Kenny P, Stephanie Rice, Sammie Zonana, Jozy Bernadette, Davina Leone, Savannah Leighton — (Photo by: Trae Patton/NBC)
Johnny Gates vs Sammie Zonana – I Drove All Night by Cyndi Lauper/Celine Dion
Caroline Sky vs Stephanie Rice – The First Cut is the Deepest by Cat Stevens/Rod Stewart
Kenny P vs JChosen – I Was Made to Love Her by Stevie Wonder
Troy Ramey vs Jozy Bernadette
Brandon Royal vs Davina Leone
Aaliyah Rose vs Savannah Leighton
https://youtu.be/7zeyqZNpd-o
https://youtu.be/wgrU2Bs8bK4