Here is a masterlist of The Voice 12 Top 48 including twitter info, audition videos and photos. The guide also includes a bit of info from NBC on what to expect from the upcoming Battle Rounds, which begin Monday March 20.
Need to catch up on the The Voice 12 Blind Auditions? NBC is airing a 2 hour clip show tonight (Mar 15) at 8 pm. Check out more info below.
Coaches from NBC's three-time Emmy Award-winning musical competition series The Voice have each selected their 12-member teams that will advance to the Battle Rounds phase of the competition.
The Battle Rounds begin Monday, March 20 (8-10 p.m. ET/PT) when the coaches enlist the help of top recording artists and producers to offer their knowledge and skills as advisers. This season Alicia Keys teams up with DJ Khaled, Adam Levine with John Legend, Blake Shelton with Luke Bryan and Gwen Stefani with Celine Dion.
During the Battle Rounds, the coaches pit two of their own team members against each other in a dueling duet. After the vocal face-off in front of a live audience, each coach must choose which artist from their team is the strongest and has the option of stealing losing artists from an opposing coach. Each coach has two steals during the Battle Rounds before their artists will proceed to the Knockout Rounds.
On Wednesday, March 15 at 8 p.m. Carson Daly hosts a special recap of the blind auditions, The Best of the Blind Auditions, which includes never-before-seen moments and a sneak peek at next week's battles. The coaches take a look back at their decisions as they head into the battle rounds and come together for a special, intimate performance of TLC's "Waterfalls."
Below is a breakdown of adviser and team pairings:
#TEAMADAM

THE VOICE — Pictured: (l-r) Sheena Brook, Kawan Debose, Adam Levine, Jesse Larson, Gaby Borromeo, Mark Isaiah, Julien Martinez, Nala Price, Josh West, Hanna Eyre, Malik Davage, Taylor Alexander, Johnny Hayes — (Photo by: Trae Patton/NBC)
Taylor Alexander – 25 – Flowery Branch, GA – @Taylor4lexander – AUDITION VIDEO
Gaby Borromeo – 22 – New York, NY – @gabyborromeo – AUDITION VIDEO
Sheena Brook – 33 – Fort Myers Beach, FL – @TheSheenaBrook – AUDITION VIDEO
Malik Davage – 23 – Washington, D.C. – @MalikDavage – AUDITION VIDEO
Kawan DeBose – 30 – Miami, FL – @kawandebose – AUDITION VIDEO
Hanna Eyre – 15 – Laguna Niguel, CA – @hannaeyremusic – AUDITION VIDEO
Johnny Hayes – 29 – Mobile, AL – @TheJohnnyHayes – AUDITION VIDEO
Mark Isaiah – 19 – Mt. Pocono, PA – @Markisaiahmusic – AUDITION VIDEO
Jesse Larson – 34 – Minneapolis, MN – @JLarsonguitar – AUDITION VIDEO
Julien Martinez – 21 – Oxnard, CA – @julien_arman – AUDITION VIDEO
Nala Price – 17 – Sebring, FL – @nala_price33 – AUDITION VIDEO
Josh West – 17 – Glendale, AZ – @JoshWest4Music – AUDITION VIDEO
#TEAMALICIA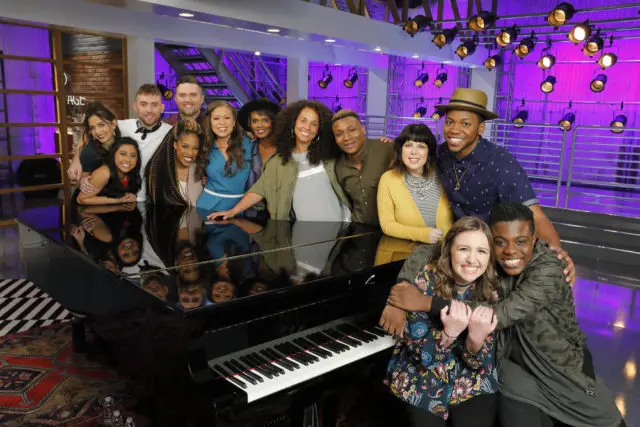 THE VOICE — Pictured: (l-r) Lilli Passero, Anatalia Villaranda, Hunter Plake, Jack Cassidy, Autumn Turner, Felicia Temple, Vanessa Ferguson, Alicia Keys, RJ Collins, Missy Robertson, Chris Blue, Lauryn Judd, Quiz Swanigan — (Photo by: Trae Patton/NBC)
Chris Blue – 26 – Knoxville, TN – @Chrisbluelive – AUDITION VIDEO
Jack Cassidy – 18 – Westlake Village, CA – @jackgcassidy – AUDITION VIDEO
RJ Collins – 18 – Chicago, IL – @RJCollinsMusic – AUDITION VIDEO
Vanessa Ferguson – 31 – Greensboro, NC – @VanFergOfficial – AUDITION VIDEO
Lauryn Judd – 16 – Draper City, UT – @laurynjudd – AUDITION VIDEO
Lilli Passero – 26 – Los Angeles, CA – @lillipassero – AUDITION VIDEO
Hunter Plake – 20 – Baton Rouge, LA – @hunterplake – AUDITION VIDEO
Missy Robertson – 34 – Sacramento, CA – @themisrobertson – AUDITION VIDEO
Quizz Swanigan – 13 – North Little Rock, AK – @KidQuizz – AUDITION VIDEO
Felicia Temple – 28 – Teaneck, NJ – @feliciatemple – AUDITION VIDEO
Autumn Turner – 25 – Montclair, NJ – @TheAutumnTurner – AUDITION VIDEO
Anatalia Villaranda – 16 – Temecula, CA – @anatalia_v – AUDITION VIDEO
#TEAMBLAKE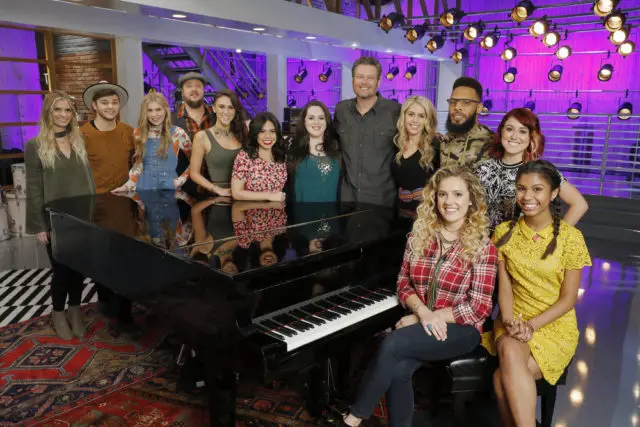 THE VOICE — Pictured: (l-r) Lauren Duski, Dawson Coyle, Brennley Brown, Josh Hoyer, Micah Clare Tryba, Valerie Ponzio, Enid Ortiz, Blake Shelton, Andrea Thomas, TSoul, Ashley Levin, Casi Joy, Aliyah Moulden — (Photo by: Trae Patton/NBC)
Brennley Brown – 14 – Apple Valley, CA – @BrennleyBrown – VIDEO – AGT Audition – AGT Judges Cuts – AUDITION VIDEO
Dawson Coyle – 17 – Williamstown, NJ – @Dawson_Coyle – AUDITION VIDEO
Lauren Duski – 25 – Gaylord, MI – @LaurenDuski – AUDITION VIDEO
Josh Hoyer – 40 – Lincoln, NE – @Josh_Hoyer – AUDITION VIDEO
Casi Joy – 26 – Kansas City, MO – @casijoymusic – AUDITION VIDEO
Ashley Levin – 23 – Miami, FL – @ashley_levin_ – AUDITION VIDEO
Aliyah Moulden – 15 – La Habra, CA – @AliyahMoulden – AUDITION VIDEO
Enid Ortiz – 25 – Tampa, FL – @enidortizmusic – AUDITION VIDEO
Valerie Ponzio – 32 – El Paso, TX – @valerieponzio – AUDITION VIDEO
Andrea Thomas 25 – Fort Worth, TX – @andrearthomas – AUDITION VIDEO
Micah Tryba – 24 – Wheaton, IL – @MicahTryba – AUDITION VIDEO
TSoul – 29 – Richmond, VA – @TSoulMusic   – AUDITION VIDEO
#TEAMGWEN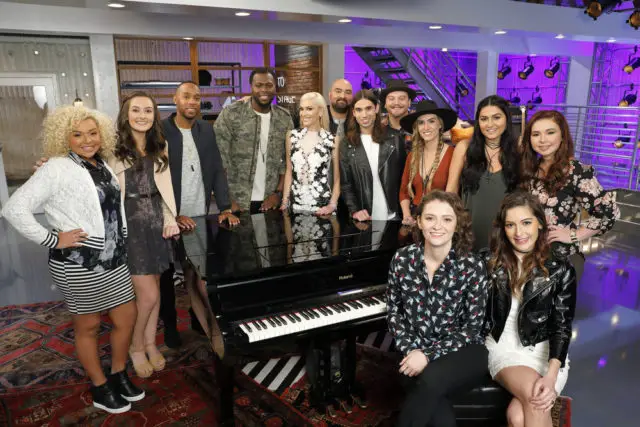 THE VOICE — Pictured: (l-r) Aaliyah Rose, Caroline Sky, Brandon Royal, J Chosen, Gwen Stefani, Troy Ramey, Johnny Gates, Kenny P, Stephanie Rice, Sammie Zonana, Jozy Bernadette, Davina Leone, Savannah Leighton — (Photo by: Trae Patton/NBC)
Jozy Bernadette – 24 – Grand Forks, ND – @therealjozyb – AUDITION VIDEO
J Chosen – 29 – Albany, GA – @Jchosenmusic – AUDITION VIDEO
Johnny Gates – 31 – Providence, RI – @JohnnySings – AUDITION VIDEO
Savannah Leighton – 16 – Spring Garden, AL – @thesavleighton – AUDITION VIDEO
Davina Leone – 24 – Los Angeles, CA – @davinaleone – AUDITION VIDEO
Kenny P – 30 – Cleveland, OH – @KennyPCleveland – AUDITION VIDEO
Troy Ramey – 32 -Sea Cliff, NY – @iamtroymusic – AUDITION VIDEO
Stephanie Rice – 27 – Houston, TX – @stephricemusic – AUDITION VIDEO
Aaliyah Rose – 14 – Provo, UT – @TheAaliyahRose – AUDITION VIDEO
Brandon Royal – 31 – U.S. Virgin Islands – @Its_BRoyal – AUDITION VIDEO
Caroline Sky – 16 – San Anselmo, CA – @carolinesky – AUDITION VIDEO
Sammie Zonana – 24 – Austin, TX – @SammieZonana – AUDITION VIDEO
The Voice 12 Top 48 Gallery