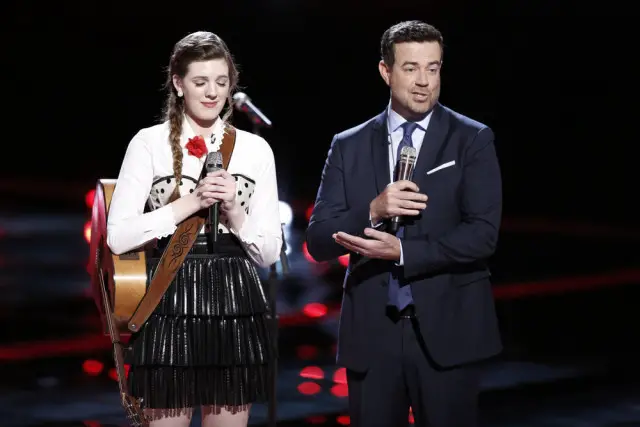 The Voice 10 Recap Top 12 Results
One of the Top 12 contestants leaves the competition tonight on The Voice. Which member of Team Blake Shelton, Team Adam Levine, Team Pharrell Williams or Team Christina Aguilera will it be?
In the meantime, sometime coach, Gwen Stefani will be on hand to perform her latest single "Misery." At the end of the night, the bottom 2 contestants will sing for the Insta-Save. You can learn more about that here. After the two singers perform for their lives, viewers have five minutes to save their fave via twitter. The singer with the fewest tweets leaves the competition. Sads.
Christina: BOOOOBS.
Every artist hit the iTunes Top 200 brags host Carson Daly. Oh that Paxton Ingram. RUINING THE CURVE.
Getting it out of the way early, Gwen Stefani, all did up in feathers and weirdo braids, performs her latest single "Misery." Shot of Christina nodding and smiling. Wait. The National Enquirer says they are feuding! "You're in so much trouble…pull me out of my misery…" croons Gwen as Blake looks on with a shit eating grin. Oh. Showmances.
Time for results! The Top 12 take the stage. Also. DUMB QUESTIONS. Bryan calls The Voice has been an amazing ride. "It's like redemption," the singer says about making the show on his second try. When asked to speak to her coach, Emily tells Pharrell that he's a guiding force in her life. Carson announces the first two artists who are safe. America saved…from Team Blake…Adam Wakefield. I typed that before Carson even said it. He'll announced the obvious ones first. America also saved…from Team Christina…Alisan Porter. Yep. Typed it TWICE before Carson even announced her name.
Time to chat with the coaches. FILLER. Adam advises his team members to enjoy their experience blah blah blah. Pharrell has a young team, what's his message to them? They need to prepare themselves. Be the best version of themselves so any A&R or whatever know who they are signing…or something. Christina gushes about her "extraordinary" singers. She's grateful and humbled to be coaching them. Blake calls the current season "an exception" because everyone is soooo talented. Best season evah. Hm.
The remaining 10 singers take center stage for MORE results. DUMB QUESTIONS. How has Blake helped Mary grow as an artist? To work with him is an honor! Shalyah is putting off high school to be on The Voice. Carson goes on about that as if nobody has ever done it before. More results. America saved…from Team Christina…Bryan Bautista!!! YAYYYYYYY. America also saved…from Team Pharrell…Daniel Passino. WTFfffff. I knew he had people.
Season 7 runner up Matt McAndrew is hosting a new audio series called "Inside the Voice." It's only on Amazon Echo. Which means I'll never hear it. Oh well.
Team Blake Shelton, Paxton Ingram, Mary Sarah and Adam Wakefield take the stage with their coach to perform "I Love a Rainy Night." Nooo. Paxton. Don't sing a country song like that. It ain't Britney Spears. Adam gets a guitar solo…and a kiss on the cheek from Blake.
https://www.youtube.com/watch?v=atXI2xm5eOA
The remaining 8 contestants take the stage. Hannah says the best advice Pharrell has given her: Be more assertive in every way and to consider herself a musician. America saved…from Team Adam…Shalyah Fearing. Of course. America also saved…from Team Blake…PAXTON INGRAM WHAT THEEEE HELLLL IS GOING ON HEEEERE. My predictions? ALL CRAPPPP. America also saved from Team Adam…Laith Al-Saadi.
Adam Levine and his team, Laith Al-Saadi, Shalyah Fearing and Owen Danoff perform "If You Want Me to Stay." Adam is no bueno in his lower register. Shalyah missed her cue. Oops. This is pretty terrible. And a terrible song pick too. Cut to Christina, who looks like she smelled something bad.
The remaining 5 take the stage. Nick Hagelin feels America has responded to him being authentic, but he wants to catch a groove if fans give him another chance. America saved…from Team Pharrell…Hannah Huston. America also saved…Nick Hagelin from Team Christina. America also saved…Mary Sarah from Team Blake
Emily Keener from Team Pharrell and Owen Danoff from Team Adam are Bottom 2 and will sing for the Insta-Save.
Back from break. Here we go with the last chance performances.
Emily Keener – Blue Eyes Crying in the Rain by Willie Nelson – A+ song choice. Accompanying herself on guitar, Emily delivers a plaintive rendition of the song. It's simple and sweet. She's better when she dials back the odd phrasing. She's still under pitch in spots. She'd benefit greatly from voice lessons. Christina is shocked she's in the bottom. "You are so beyond talented…you have a raw natural gift." Pharrell wants to speak to the MIDDLE OF AMERICA about helping Emily continue her journey. Not the rest of us? He's so strange.
https://www.youtube.com/watch?v=nlHD_ZD9iP0
Owen Danoff – Lego House by Ed Sheeran – He's on guitar too. It's crazy that he's in the bottom. CRAZY. It's Adam's fault. Somehow! If Owen stays in it, he has to rely on his own instincts.  His lovely, quiet tone is enough. He doesn't need to be bopping all over the stage. PLAY THE GUITAR IF YOU FEEL LIKE IT.  It's a connected performance. It's the thing Owen does so well. Love his tone too. Emily deserves to stay longer, but I think I have to throw my lot in with Owen. Adam believes his team member has grown so much and will continue to grow. He is ASKING America to DO HIM A FAVOR and SAVE OWEN.
https://www.youtube.com/watch?v=gvxq5v2gN-Q
Emily is back on stage. Get ready guys. It's time to tweet #VoiceSaveEmily #VoiceSaveOwen. ONE TWEET PER ACCOUNT. But RETWEET YOUR HEART OUT.
Poor Emily. She's crying! She thanks Pharrell for everything he's done. Owen has learned so much about himself from Adam! Now Pharrell is lecturing America about what they have done. "I don't know if you have a daughter," he snits, "the way that her parents love her and taught her all they have about music…." What does how she's been parented have to do with being eliminated from a TV Show? "She was so good, she got four of us to turn around!" Yeah. So was Owen. Cool down dude. There actually is a reason Emily is in the bottom 2. She's too young. She doesn't connect. Adam says he LOVES to win. But he reminds Owen it isn't always about that. He's beyond proud of Owen.
America INSTANTLY SAVED Owen Danoff! Emily Keener is eliminated. Wow. Shocking results all around.
https://www.youtube.com/watch?v=adY1nWVMHRg
UPDATED: My thoughts on tonight's surprising results: First of all, if there were no iTunes votes, I may not have pegged Paxton Ingram for elimination. He performed near the end of the show and delivered a solid performance. What is really surprising, is selling so few iTunes, yet still garnering enough votes to be safe. Paxton's Demi Lovato cover was 164. The second lowest charter was Mary Sarah at 86. That's a YAWNING gap. The issue with Owen Danoff, I believe, is that Adam is pushing him to be something he's not. And Emily Keener at 17 is just NOT ready. She has an interesting approach to music, but she's frequently off pitch and doesn't connect to what she's singing. If it were up to me, I would have sent Daniel Passino and his cornball performances back to where they came from. But the thing is, nasally tone aside, he's a trained musician and can sing. Probably the weakest singer of the night was Nick Hagelin and his thin falsetto. What saved him was dedicating a song to his family, and singing it with heartfelt sincerity.
Another lesson to learn: Blake Shelton and Adam Levine have been around so long, they have their own The Voice stans who will vote as instructed. No matter what. Pharrell may be a terrific producer. But his mentoring and song selection is often dubious. Some things to consider, newbies, when you are picking a team.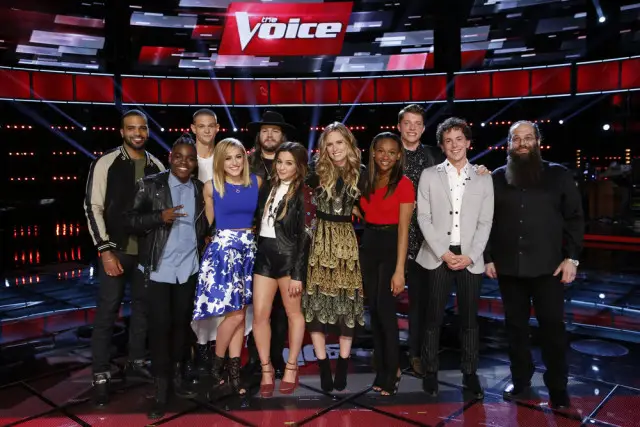 The Voice 10 Top 11
Adam Wakefield – Team Blake
Alisan Porter – Team Christina
Bryan Bautista – Team Christina
Daniel Passino – Team Pharrell
Shalyah Fearing – Team Adam
Paxton Ingram – Team Blake
Laith Al-Saadi – Team Adam
Hannah Huston – Team Pharrell
Nick Hagelin – Team Christina
Mary Sarah – Team Blake
Owen Danoff – Team Adam – BOTTOM 2 – Saved by America
Emily Keener from Team Pharrell is Eliminated