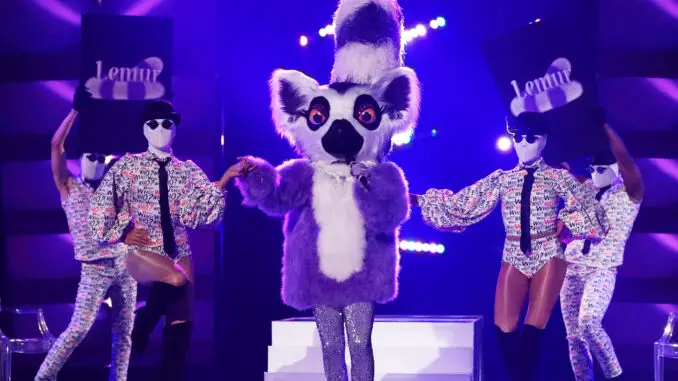 The Masked Singer season 7 continues, featuring panelists Robin Thicke, Jenny McCarthy, Ken Jeong and Nicole Scherzinger, and Nick Cannon as hosts. Fifteen contestants are divided up into 3 groups: The Good, The Bad and The Cuddly. 
The Group B Premiere airs this week. Five brand new  contestants take the stage to perform for studio and panel votes. The masks include: Ringmaster (Good), Miss Teddy (Cuddly), Hydra (Bad), Lemur (Cuddly) and Armadillo (Good). ONE WILL BE UNMASKED. 
Miss Teddy
Clues: The Build-a-Bear company is sponsoring Miss Teddy. For real. Cloud 9, Ted Bed, Santa stuffed toy, a pillow fight, "when you are constantly reinventing yourself, you need all the Zs you can catch." laughing face. Lay your head down in December and before you know it it's May (from a larvae to a butterfly).
Performance: Tell it to my Heart by Taylor Dayne – She can sing. She sounds like an older R&B singer. Every Masked Singer season has a legendary Diva (Gladys Knight, Ruth Pointer, Dionne Warwick, Patty Labelle). And actually, she sound very familiar. The internets will probably figure this one out quick. "I felt we all needed the biggest warmest hug," says Miss Teddy. Jenny guesses Jill Scott. Robin guesses CeeCee Penniston. Nicole guesses Loretta Devine. Someone always throwing out Jill Scott as a possibility.
Prediction: The internets are guessing Jennifer Holliday, the original Dream Girl. 
Hydra
Clues: Ohhh. It's more than one singer. Bad boy beach. A shark, Triple Head Gum, "Miami" on a pair of skis, A deflated beach ball with a bull on it, a pool ball No. 3 that says "Ask your Amigos, an ATM machine. "Especially you Ken."
Performance: Hey Soul Sister by Train – These are NOT SINGERS. Definitely more than one contestant hiding in that costume. They keep guessing Martin Short for contestants who can't sing. MARTY CAN SING Y'ALL. This is a weird one. Jenny guesses the actors from The Big Lebowski. Ken guesses Chevy, Steve and Martin. Robin agrees.  Actually, one of the celebrities sounds like Steve Martin, who sometimes sings during his comedy routines. But unless a celebrity is altering his voice, no to Martin Short. Chevy Chase? Does he even have any friends at this point?
Prediction: The internets say Hydra is magic act Penn & Teller. That's a reasonable guess.
Ringmaster
Clues: Boring cereal, Miley Cyrus photo imposed on the state of Montana (Hannah Montana), Circus Ring-os, Tic-tac-toe, Sweet southern, Golden state, Class C.
Performance: The Climb by Miley Cyrus – She's a singer and sounds young-ish, The clues mentioned Miley Cyrus. Maybe Ringmaster starred on a Disney TV show or movie. "Nicole, it's good to see you again," says Ringmaster. Nicole guesses Olivia Rodrigo. NOT IN YOUR WILDEST DREAMS. Robin guesses Kacey Musgraves. You're high, Robin. Ken guesses Kelly Clarkson. Everybody is rightfully laughing at Ken. The audience yells "NO KEN." Nicole thinks it's a good guess. SO FAKE. Again, no A list celebrity needs or would want to go on this show. The panel sounds stupid when they throw out a name like Olivia Rodrigo. Oh. John Oates is dialing in with a good luck message. Besties. 
Prediction: Some on the Internets are saying Ringmaster is Hayley Orrantia. The evidence is compelling. Hayley starred in a bunch of Disney movies like High School Musical and sang background vocals for Miley Cyrus. She also competed on X Factor USA the year Nicole Scherzinger sat on the judges panel. She was a member of the pop country group Lakoda Rayne. "Golden State" could refer to the ABC sitcom The Goldbergs, in which she stars. She released a song titled "Strong Sweet and Southern." Also She and John Oates are friends. I'm calling this one SOLVED.
Lemur
Clues: Dull drab under eyes, Sun with sunglasses, Spanish guitar, Hart Magazine, Nocturnal night cream, stone, Vegan, 
Performance: I Feel the Earth Move by Carole King – Lemur is not a singer. She's bad, boring and off key. She also sounds older. Maybe a reality star? "I love the lights, action and cameras." Ken guesses Jennifer Aniston. The audience once again shouts "No Ken." He mentioned Jerry Hall too. Fox owner Rupert Murdoch's trophy wife. Sure thing, Ken. Hilarious. Nicole guesses Goldie Hawn. She can actually sing, so no. Robin guesses Melanie Griffith. That guess is actually reasonable.
Armadillo
Clues: Bros, rocks, hot dogs, beef cake, scrubs, sunglasses, bow and arrow. "Whether I'm chasing after my enemies, or snuggling up to my lady, I always look and feel great."
Performance: Secret Agent Man by Johnny Rivers – Most definitely not a singer. Lots of growly shouting in this performance. He seems youthful-ish. Maybe Armadillo is an athlete/ball player. "I was born on mountain and raised in a cave…" Ken guesses Chuck Norris, Nicole guesses Eric Estrada, Jenny guesses Vin Diesel. 
Prediction: The internets are guessing Dog the Bounty Hunter.
Results
The celebrity singer with the fewest votes and going home is…Lemur! Armadillo was the worst singer of the night. He should have been tossed. Last guesses: Nicole: Goldie Hawn. Jenny: Pamela Anderson Robin: Melanie Griffith. Ken: Christie Brinkley. And the Lemur is…Christie Brinkley! Ken got one correct. After an episode full of bad guesses. 
What a coincidence: Ken makes atrociously bad guesses all night. The audience shouts "No Ken" like it's a bit and in the end, he nails the identity of the person going home. I'm becoming a The Masked Singer truther. Help me!
Speaking of conspiracy theorists, obviously Rudy Giuliani is not in this batch of contestants. Group C will take the stage in a few weeks. He's probably the first celebrity to go out of that group. Deadline said "premiere" which could still be technically true, if he's the first to go from the Group C "premiere."