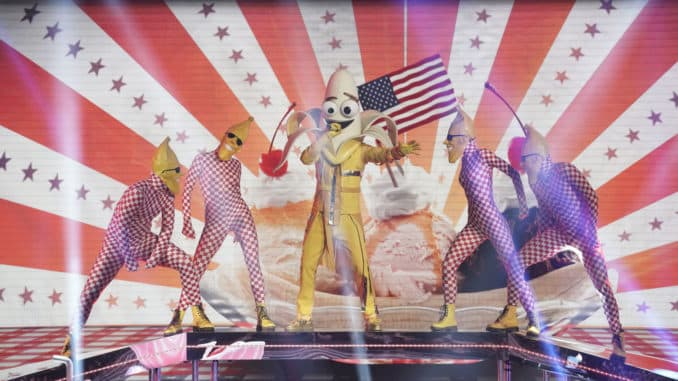 Heads up! Or masks up. The Masked Singer Super Nine will hit the stage on Wednesday as the finalists from all three groups come together for one mega-competition.
Host Nick Cannon and panelists Ken Jeong, Jenny McCarthy, Nicole Scherzinger and Robin Thicke dive into the clues and make their guesses for the celebrity singers performing under their masks. One singer will be unmasked by the end of the two hour special.
The remaining celebrities are: Kitty, Banana, Frog, Turtle, Kangaroo, White Tiger, Astronaut, Rhino, Night Angel.
We predict the celebrities behind the remaining masks:
The Masked Singer 3 Predictions: Who is Kitty, Banana, Frog?
The Masked Singer Predictions: Who is Turtle, Kangaroo, White Tiger?
The Masked Singer 3 Predictions: Who is Astronaut, Rhino, Night Angel?
Here is what to expect for the rest of the season: On April 8, four of the remaining singers will pair off to battle on the stage Sharon Osbourne returns as guest host. Then, on April 15, it's The Masked Singer Sing Along Spectacular. Or in other words, a CLIP SHOW! "All featured songs have been selected from Season Three, so get ready to relive every memorable moment," is how the FOX press release describes the episode.
Originally, an episode featuring the second set of four celebrities originally scheduled to air on April 15 is probably set for April 22. Yvette Nicole Brown from Community is the scheduled guest host. Interestingly, FOX has pushed the finale out to May 27, outside of the typical May ratings sweep window. But with the coronavirus pandemic shaking up TV schedules, typical rules may not apply.
In the meantime, enjoy a clip of the Super Nine performing in the cheesiest group number evah. Enjoy this rendition of "ABC" by The Jackson 5.
https://youtu.be/JSzmXaurL7Q