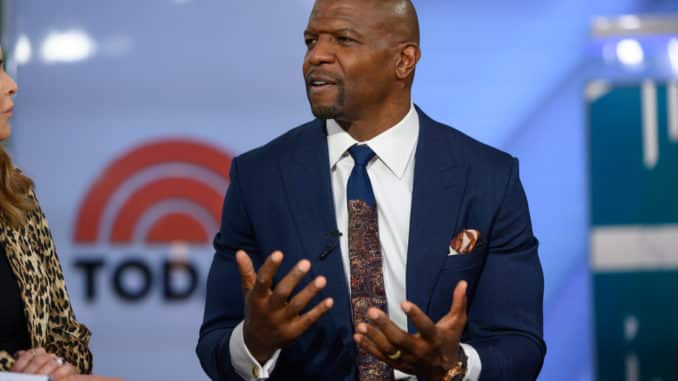 Oh dang. Terry Crews is in hot water again over something he said. This morning, the America's Got Talent host tweeted, "If you are a child of God, you are my brother and sister. I have family of every race, creed and ideology. We must ensure #blacklivesmatter doesn't morph into #blacklivesbetter."
If you are a child of God, you are my brother and sister. I have family of every race, creed and ideology.

We must ensure #blacklivesmatter doesn't morph into #blacklivesbetter

— terry crews (@terrycrews) June 30, 2020
It was the last sentence, "We must ensure the #blacklivesmatter doesn't morph into #blacklivesbetter" that set the black twitter community off.
Terry initially got into trouble after siding with NBC and America's Got Talent when fired judge Gabrielle Union accused the show of mistreatment and racism. "I can speak on behalf of any racism comments. That was never my experience on America's Got Talent," Terry told GMA, "In fact, it was the most diverse place I have ever been in my 20 years of entertainment." 
Gabrielle clapped back, tweeting, "Why anyone would gleefully get up on TV and tell lies that NO ONE disputed…But we already know." Terry doubled down with some paternalistic hoo ha "There is only one woman one earth I have to please. Her name is Rebecca. Not my mother, my sister, my daughters or co-workers. I will let their husbands/ boyfriends/ partners take care of them." Eventually Terry apologized to her for his comments. 
But noooo. Terry was not done making folks angry. He tweeted "Defeating White supremacy without White people creates Black supremacy," he wrote on Twitter. "Equality is the Truth." 
But now, Terry appears to be tripling down on his Black Lives Matter opinions. The angry reaction sent Terry trending second on Twitter this morning. Hours later, he's at No 6.
Check out a few of the angry reactions:
Terry Crews is effortless at picking the wrong side of everything.

— Chris Redd (@Reddsaidit) June 30, 2020
How fast does Terry Crews think black equality is gonna come? How in his mind do we spend 400 years under the boots of white supremacy and then all of a sudden leapfrog white people into being their oppressor after a few weeks of protests? pic.twitter.com/Crv2oGXTKS

— Travon Free (@Travon) June 30, 2020
Terry Crews throwing @itsgabrielleu under the bus was just a preview…

— Yashar Ali ? (@yashar) June 30, 2020
Can someone PLEASE open a gym in LA so Terry Crews can stop commenting?!? Please!!! #TerryCrews

— Holla (@terryhollimon) June 30, 2020
Black people: We're starving!

Terry Crews: But what about those who have more than enough food? We must ensure their bellies remain full!

Say what you will about @terrycrews but you have to admire his dedication to centering whiteness.

Ok… Maybe you don't HAVE TO. https://t.co/5goyvuDreH

— Michael Harriot (@michaelharriot) June 30, 2020
Terry Crews, income, education, technology gaps will take TRILLIONS and DECADES to flip to even getting remotely close to equality. Look at the ownership of our corporations, infrastructure. Time value of money on investments on backs of institutionalized racism. You're ignorant. https://t.co/6avnJ3yyEn

— ??????? ???? (@exavierpope) June 30, 2020
In 1883, the Supreme Court claimed that a Civil Rights Act would make Black people "the special favorite of the laws."

In 2020, Terry Crews warned that #BlackLivesMatter will morph into #blacklivesbetter.

Demanding Black equality is not Black supremacy.https://t.co/Am7T2NzaEn pic.twitter.com/D2C3mrDmeW

— Keith Boykin (@keithboykin) June 30, 2020
https://twitter.com/lonzobentley/status/1277969150237765639?s=20
I'm a bit mad at myself for being even more disappointed at Terry Crews today. I thought that we had hit rock bottom. I didn't realize I had any energy left for him, and that makes me mad.

— April (@ReignOfApril) June 30, 2020
Terry Crews is threatened by a world that treats all Black people fairly, because he enjoys the benefits of being the token Black person.

So as we fight for equality, he shifts his tactics to reminding white America, that still he stands out. Still, he is their favored token. https://t.co/wHh12ixNS0

— Doreen thinks highly of herself.? (@DoreenGLM) June 30, 2020
Amid the detractors, Terry had his defenders
Terry Crews: "We're all brothers and sisters as part of the human race, so we need to make sure that Black Lives Matter doesn't become Black Lives Are Better Than All Others."

Woke Twitter: "BURN THE HERETIC!" pic.twitter.com/57ngc02Wo4

— Lunar Archivist (@LunarArchivist) June 30, 2020
Terry Crews is such a loved and respected actor. Someone should not be demonized for having different opinions. @terrycrews your still heavily supported??

— Dayton (@cre1197) June 30, 2020
https://twitter.com/Zhane_Star/status/1278047092020142080?s=20