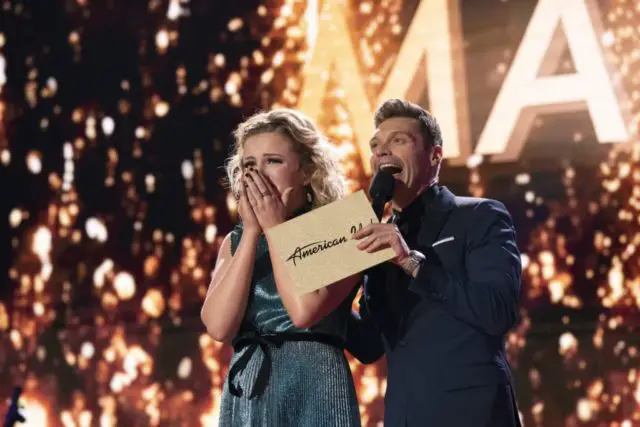 Maddie Poppe Says She Doesn't Think American Idol Will Ever Invite Her Back to the Show Again
American Idol usually maintains good relationships with the singers who win the competition. But somehow, two years after she won the crown, Maddie Poppe shares that her relationship with the show is rocky.
You may remember that in May 2019, Maddie was really disappointed after Idol didn't invite her to sing her new single on the season 17 finale.
She was quite frank about the situation on social media, admitting to fans that she "cried a lot" when she wasn't invited back. She also refused to live tweet the show, telling a fan, "Eh. Love the contestants, but I'm not interested in promoting/showing loyalty when I don't receive it in return.
The singer also expressed dissatisfaction that her appearance to sing a duet with boyfriend/runner-up Caleb Hutchinson on Disney night wasn't accompanied by an album plug from host Ryan Seacrest. "Was waiting for "ALSO from last week, our season 16 winner has an album coming out May 17…," Maddie tweeted to a fan.
Now, Maddie tells Ron Steel from local Iowa TV station KWWL, in a lengthy interview (Watch Here), that a year after the finale incident, she and the show are still estranged. 
I Don't Think I'm Really Their Cup of Tea Anymore
When the reporter asked Maddie if she thinks she'll be invited back to sing on American Idol, she answered, "I don't think so. It doesn't make any sense. I don't understand it. I've tried to figure it out for a couple years now and I've lost sleep over it, cried over it.  I don't know what it is," She added, "I don't think I'm really their cup of tea anymore."
As far as her social media comments on the finale topic were concerned Maddie insisted that she was just being frank. "I was just honest and they did not like that," said Maddie. "They called me up and said stop talking about this. Stop talking to anyone about this." Maddie didn't understand why the producer were upset. "I'm not talking bad about you," she told them, "I literally just answered the question, 'I'm not performing on your finale'."
It sucks. It's really just not a good situation.
Maddie stands by ANYTHING she has said on the internet. And it's true. She generally does not delete tweets, even after amplifying posts by right wing conspiracy theorists. "If you go through anything on the internet you can find, I stand by anything that I said and I don't regret anything. I think I stuck up for myself." She added, "It sucks. It's really just not a good situation."
"I never thought that I would have that kind of relationship with them, said Maddie, "because I love everybody on that show, and everything was so incredible."
But she added, "I always say the best revenge is just to prove people wrong. Best revenge is success. And so hopefully I can have some success…they'll want to have me back."
The year before she auditioned on Idol, Maddie was a no chair turn on The Voice. "Maybe I'll have something better going. Maybe The Voice will ask me to come back," she joked.