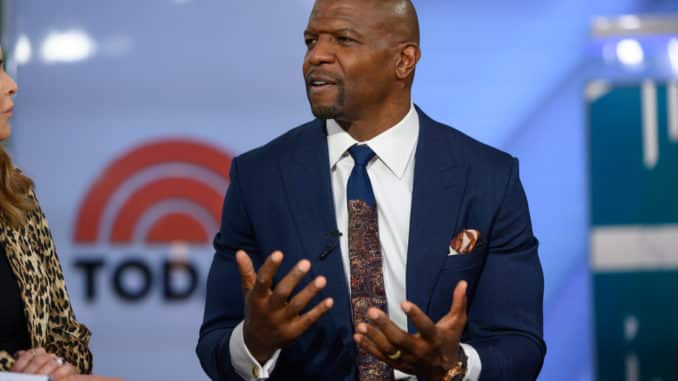 America's Got Talent host Terry Crews trended on Twitter Sunday night (June 7) over a controversial statement he posted on the website regarding "Black Lives Matter."
"Defeating White supremacy without White people creates Black supremacy," he wrote on Twitter. "Equality is the Truth."  That incoherent message set off a firestorm waged mostly by black twitter users. Terry appears to be saying that black and white people need to unite to defeat racism. But he didn't express himself clearly. 
Defeating White supremacy without White people creates Black supremacy. Equality is the truth.

Like it or not, we are all in this together.

— terry crews (@terrycrews) June 7, 2020
Check out a few of the reactions below. Maybe Terry should have taken a minute to think this one through before babbling on about "black supremacy," which is the thing most folks took issue with.
So, brother: here's why your tweet is a problem:

1. Black supremacy isnt possible unless we rewrite the last millennium.

2. Who's doing this without whites? Plenty of allies

3. Your voice is too big to tweet so inaccurately,
unproductively & provide cover for white supremacy

— Benjamin Dixon (@BenjaminPDixon) June 8, 2020
Ever since Terry Crews threw Gabrielle Union under the bus I knew he couldn't be trusted. But then he decided to just say f*ck logic AND history. This is a new low. https://t.co/6gdzqpaWX3

— Shanita Hubbard (@msshanitarenee) June 8, 2020
Let me get this straight…Terry Crews is talking about black supremacy and Mitt Romney is protesting for Black lives matter???
What is this!?!

— New Orleans Adjacent (@katesthehippie) June 8, 2020
Every time I think Terry Crews has done the worst, he always does more. https://t.co/EpIAB35HhD

— Frederick Joseph (@FredTJoseph) June 8, 2020
Why not just stick to tweeting about things you know? Like the complexities of shucking or intricate steps involved in jiving?

But nah. Terry Crews would rather explain why the people who created and perpetuated white supremacy must be protected when dismantling white supremacy. https://t.co/Ck2rP9NEAR

— Michael Harriot (@michaelharriot) June 8, 2020
Everybody is coming for Terry Crews now. For the sin of promoting equality. God, we need you. Help. https://t.co/TSb90oLiea

— Kira (@RealKiraDavis) June 8, 2020
All week, activists have been protesting police brutality after the deaths of George Floyd, who suffocated as a Minneapolis police officer knelt on his neck, Breonna Taylor back in March after Louisville police erroneouly raided her house on a no-knock warrant. 
The reference to Gabrielle in one of the Tweets refers to Terry claiming there was no racism on the America's Got Talent set after Gabrielle Union described a toxic, racist environment on set.  On Friday, Gabrielle filed a complaint in California, charging that AGT producers threatened her with reprisals if she blew the whistle.
UPDATE: Terry responds to a few of his high profile detractors
Terry worked with Tyler James Williams on the TV sitcom, Everybody Hates Chris
I understand, Tyler. I was not saying Black supremacy exists, because it doesn't. I am saying if both Black and Whites don't continue to work together– bad attitudes and resentments can create a dangerous self-righteousness. That's all. https://t.co/YLWGnpj8fl

— terry crews (@terrycrews) June 8, 2020
I agree. I'm not discussing white people here. there are "gatekeepers of Blackness" within our own community who decide who's Black and who's not. I have often been called out for not being "black enough". How can that be? https://t.co/Tt9Og866x6

— terry crews (@terrycrews) June 8, 2020
That's not what I'm saying Kevin. At all. https://t.co/RTaz9YInZ3

— terry crews (@terrycrews) June 8, 2020
Kevin, I've learned that people will take anything you say and twist it for their own evil. Anything. https://t.co/FszLI1pYbu

— terry crews (@terrycrews) June 8, 2020
And then Terry continues to explain himself sticking to his use of the phrase "Black Supremacy." His arguments make no sense. At this point, he should just take the L and move on.
Any Black person who calls me a coon or and Uncle Tom for promoting EQUALITY is a Black Supremist, because they have determined who's Black and who is not.

— terry crews (@terrycrews) June 8, 2020
I believe it is important we not suffer from groupthink, and we keep minds of our own, and be allowed to ask difficult questions to each other. I believe this dialogue is important as we get through this trauma together. I love you.

— terry crews (@terrycrews) June 8, 2020