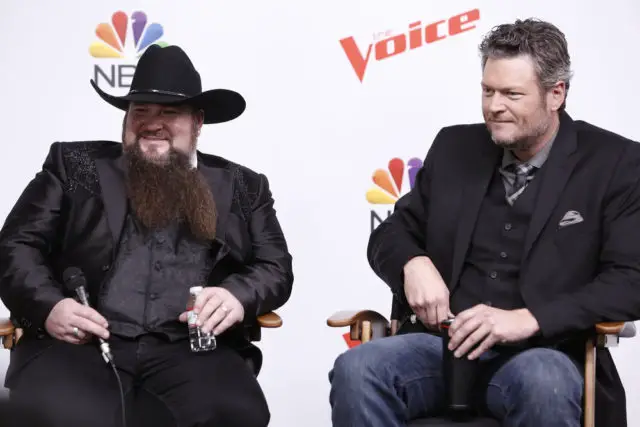 Congratulations to Sundance Head! The 36 year old singer won The Voice season 11 Tuesday night.  The Texas native wins $100,000 and a recording contract from Universal records. It was the fifth win for coach Blake Shelton.
In 2007, Sundance competed on American Idol season 6, but was eliminated at the Top 16. Just like Team Adam Levine's Billy Gilman, who came in 2nd place, Sundance had a comeback story. While Billy had tasted fame as a 12 year old country star in the 90s, Sundance has spent the last decade after his Idol loss grinding away at his craft.
It was Sundance's wife who ultimately persuaded the soulful singer to take a chance on The Voice. There was a risk of failure. If he failed big, Sundance felt it would be difficult to go back to Texas and be taken seriously by radio. But fortunately, the risk paid off.
I've got a few clips right here from the post-show The Voice press conference. Blake shares his thoughts about where Sundance goes from here. He issues a challenge to Republic Records to step up to the plate and support the new winner of The Voice. Sundance's self-penned winner's song, "Darlin' Don't Go" shot to #1 on iTunes.
From Yahoo Music:
"I want to say one more thing here, because it's important. I want to personally issue a challenge to Universal Records. This is Season 11 of The Voice, and I'm sitting here right now next to a guy who has won over America's hearts. He's so popular… He has proven that he sells tons of music. His biggest-selling song, arguably, is going to be the song he wrote by himself."

"I hope that we can all come together — meaning us and Universal Records. This is the guy that I think can break the mold and become a star out of this show. And I give my word that I'll put my work in, and I know [Sundance] will. This guy deserves to be a star, and there's no excuses anymore. We need to make the record and put the work in that he deserves, to have this success that he deserves. And that has to start with Universal Records getting involved and behind him."
Out of all The Voice coaches over the years, Blake is the one who has really stepped up to help former team members. Season 2 alum, RaeLynn tours with Blake and landed on his record label, Warner Brothers, after Republic dropped her. Cassadee Pope and Danielle Bradbery, season 3 and 4 winners respectively, have found some measure of success after the show. Cassadee, for instance, was just nominated for a Grammy for her duet with Chris Young. However, two of his winners, Jermaine Paul from season 2 and Craig Wayne Boyd from Season 7, failed to release full albums after the show.
In the post-finale press conference, Sundance also chats about what was different between his short-lived American Idol run in 2007  and his success on The Voice in 2016.  Also, he puts in a good word for Team Alicia's Wé McDonald who came in 3rd place. The singer confesses that he voted for her 10 times!
Watch Sundance Head's winning moment:
Photo Gallery
Plus, here's a photo gallery culled from the two-hour finale. Check out our full recap with performance videos HERE.