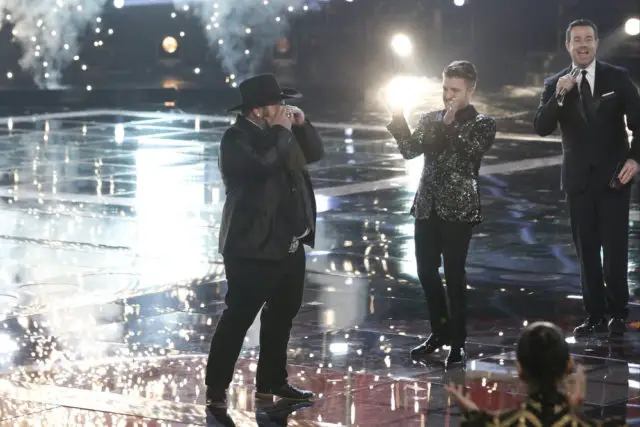 The Voice 11 Finale Results: Live Blog and Recap VIDEOS
Tonight is the night! The Voice season 11 winner will be revealed! Will it be Billy Gilman or Josh Gallagher from Team Adam Levine? Sundance Head from Team Blake Shelton? Or Wé McDonald from Team Alicia Keys? Coach Miley Cyrus will be sitting this one out, as she lost all of her team members before the final.
Each of the final four will perform with celebrity guests. American Idol's Kelly Clarkson will duet with Billy Gilman on "It's Quiet Uptown" from the Hamilton Mixtape. John Legend will sing "Love Me Now" with Wé McDonald . Cam performs "Burning House" with Josh Gallagher and Sundance Head joins for a rendition of KISS' "Detroit Rock City" and "Rock and Roll All Night"
Additionally, Stevie Wonder will debut his new  single "Faith," featuring  Ariana Grande, from the soundtrack to Illumination Entertainment and Universal Pictures' Sing. And there's more! Bruno Mars will perform his explosive single and title track from his new album, "24K Magic."  Sting will perform "I Can't Stop Thinking About You," the first single from his latest album 57th and 9th and The Weeknd will perform his hit single "Starboy," the title track from his smash album Starboy.
So, get ready kiddos. Here we go…
The show kicks off with a video bit starring the coaches. Actually it's about Adam Levine who is blowing off his duties due to his hatred of Blake Shelton…or something.
https://www.youtube.com/watch?v=5V8roE2eu3o
All of tonight's special guests have earned 78 Grammy awards between them, declares host Carson Daly. Woweee. First up is Stevie Wonder, Ariana Grande and the Top 12 singing "Faith" from Sing. The finalists didn't have much to do but sing and sway in the background, however.
Next, Josh Gallagher brings back Brendan Fletcher and Austin Allsup they both deserved to stay to sing "My Kind of Party" by Jason Aldean. Dang, I miss those guys. Brendan and Austin were so good. Such intriguing talents. A terrible song pick, unfortunately.
https://www.youtube.com/watch?v=uAT7Cz1vCrg
TPTB are pushing the movie Sing hard tonight.
Jordan Smith is in the house. He chats up his holiday album and tour. The season 9 winner is feeling the butterflies on behalf of the finalists tonight…
Next, it's a video clip featuring the relationship between Blake Shelton and his team member Sundance Head. Blake claims they're both "a lot alike" and promises to take his charge to Oklahoma after the finale.
Next it's Wé McDonald and John Legend performing his song "Love me Now." Now let's pretend this performance was not taped ahead on Saturday. Ha. Nevertheless, terrific performance! Legend is the perfect duet partner for Wé.
https://www.youtube.com/watch?v=OJqRHJ3jX6w
Carson chats with Miley Cyrus. Poor finalist free Miley! She plans to continue working with her team, even after the cameras stop rolling. Good for her. That bit introduces a video package that's All. About. Miley. The gist: MILEY TALKS A LOT. Dolly Parton makes a cameo.
Next it's the legendary Sting performing his single "I Can't Stop Thinking About You." STING STING STING.
Billy Gilman's Bring Back: Christian Cuevas, Ali Caldwell, Courtney Harrell and Sa'rayah. All the BIG voices have returned to sing "Proud Mary" Tina Turner version. Billy plans to have fun with some of his best friends. This is fun, if somewhat predictable. Again, SONG CHOICE PEOPLE.
https://www.youtube.com/watch?v=BcoNChe0MEs
After the break it's a video package featuring Wé McDonald and her coach Alicia Keys. Alicia and Wé have become extremely close. Alicia considers Wé like her little sister.
Now, Josh Gallagher and country singer Cam perform her emotional hit, "Burning House." A simple, tender rendition. Josh didn't even seem nervous singing with country music's latest new star.
https://www.youtube.com/watch?v=r0Vtm1alCvY
Mel B representing America's Got Talent stops by to introduce a promo for next week's Christmas special. Not gonna lie, that looks like a lot of fun (I'm watching!)
It's the last "Voice confessional" video of the season. All four finalists share feelings about their The Voice journey. All are grateful, of course. The coaches chime in too.
Next, The Weeknd takes the stage to sing his massive massive hit "Starboy." He's been performing this song all over our TV screens lately. Having said that–it might be snack time. After his performance he runs down to the big red chairs for a hug.
Blake Shelton is the star of the next video package. The joke is his terrible wardrobe. In particular his jokey Miley outfits.
Next Sundance joins KISS onstage for a performance of their songs "Detroit Rock City" and "Rock and Roll All Night." This is such an odd pairing. Sundance plays and sings along. The rest of the band totally overwhelms him. This performance is…something. At least the singer looks as if he's having the time of his life. Guitars are busted at the end, Miley totally wants to join them on stage.
https://www.youtube.com/watch?v=GOFyZ4vPJLY
Wé McDonald brings back Aaron Gibson, Darby Walker and Brendan Fletcher to sing "Love Lockdown" by Kanye West. Oh. Interesting song choice! And…we have a winner folks. Best "bring back" performance yet–from the song choice to the outstanding vocals. Yay.
https://www.youtube.com/watch?v=5hmq1TDm_Ho
After the break: A super cute promo for season 12. It's like a 90's sitcom. Love it.
https://www.youtube.com/watch?v=fkrF5a67p3Y
The final four are all on stage. They win a COMPLETE HOME STUDIO from Toyota. No freaking new car? Really? How much does a "complete home studio" cost? I bet not nearly as much as a nice car. You suck, Toyota!
TIME TO CRY. Kelly Clarkson and Billy Gilman taped this performance of "It's Quiet Uptown" from Hamilton on Sunday. The original OG Idol is in Nashville right now preparing for her Miracle on Broadway concert next week. I didn't feel chills during that like I expected…and it wasn't Kelly's problem. The last third of the song is beautifully sung though, even if Billy didn't connect to the material like he might have.
https://www.youtube.com/watch?v=vr3iIr9y4xc
Sundance Head brings back his teammates Austin Allsup and Courtney Harrell to perform "It Ain't Worth the Whiskey" by Gary Allan. Sundance mentioned how he and Austin both have fathers in the business and that Blake's team members grew very close to one another. And it's another great bring back! Courtney sure can wail on those country tunes. The friendship between the trio is obvious.
https://www.youtube.com/watch?v=F-qWGLmhocw
Next video clip features Adam Levine and his team member Billy Gilman. The coach marvels at his team member's unbelievable range!
And then Bruno Mars takes the stage to sing his ubiquitous new song "24K Magic." Another song I've heard endlessly performed in the past few months. But I'm not as tired of this tune as I am of "Starboy."
https://www.youtube.com/watch?v=5IqhUHYBZNY
Alicia Keys video package finds her teaching fellow coaches how to play piano. Uh. I think Adam knows how to play piano. And Blake probably knows how too. Miley maybe not. Blake plays "Flight of the Bumblebee" except really not. The end.
TIME FOR THE RESULTS!!!! OMG!
The Final Four take the stage. IN FOURTH PLACE is Josh Gallagher. No surprise. In third place is…Wé McDonald. As the majority of you expected. AHHHH. Winner after the break. AND THE WINNER OF THE VOICE 11 IS….Sundance Head!!! It's Blake Shelton's FIFTH WIN. Eleven seasons and Blake has won nearly half of them.
Watch Sundance Head take the crown here:
Sundance Head: From American Idol season 6 Vote for the Worst pick to winner of The Voice!!! Ha ha. All kidding aside–a lot can change in 10 years. Both he and Billy fought really hard for that win. Either singer deserved it.
Billy has already mentioned in interviews that stuff is happening. Not winning may not be a big deal in terms of his future prospects. And Sundance? Big Machine Music gets the right of first refusal. If Big Machine signs Sundance, Scott Borchetta will have TWO soulful country talent show winners to promote. The other being American Idol season 15 winner, Trent Harmon, of course.
4. Josh Gallagher
3. Wé McDonald
2. Billy Gilman
1. Sundance Head – WINNER!