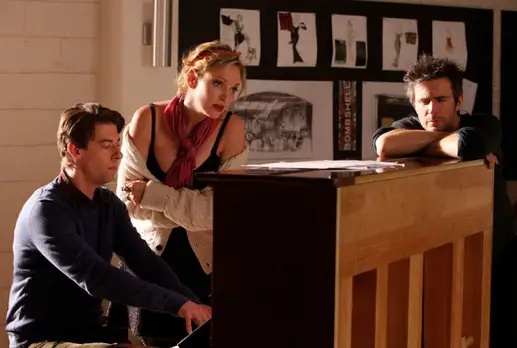 Rebecca Duvall (Uma Thurman)  arrived at the end of last week's Smash episode, ready to take Broadway by storm.  But is Rebecca's the marquee name worth enduring her ridiculous antics?
Derek doesn't think so, and makes a case for bringing Ivy (Megan Hilty) back.  Meanwhile Ive and Karen  (Katharine McPhee) and Ivy (Megan Hilty) are drawn into an uncomfortable  alliance against their new rival, but will it hold, considering their own rivalry  and difficult history?
The romance between Tom (Christian Borle) and Sam (Leslie Odom, Jr.) heats up (YAY), while Julia (Debra Messing) and Frank (Brian D'Arcy James) must put aside their differences to address a family crisis.  (Unintentional laughs dead ahead!)
Dev (Raza Jaffrey) faces a big decision.
Check out the previews, and a performance by Uma Thurman below, and come back tonight for discussion and recap.
Rebecca as Marilyn
http://youtu.be/sE1LhoVdZLc
Rebecca has some terrible ideas
http://youtu.be/5dQK75P8vB8
Ivy and Karen Go Out for A drink. Hilarity does not ensue
http://youtu.be/Z1GiI4P7_m8
Derek Makes a Case for Ivy
http://youtu.be/iC1fE3etR_0
Promo
http://youtu.be/nFMdtergt1Y