Monday night, in a surprise twist, Selma Blair stepped down from Dancing with the Stars (Read our Recap).
The actress said she "has to pull back" after getting results from several MRIs. "I had these MRIs and the results came back and it all adds up to — I can't, I can't go on with the competition," Selma told her dance partner, Sasha Farber, in a pre-performance video packaged taped during rehearsals.
"It's way too much for the safety of my bones."
"My body is definitely taking a hit," she added. "It's way too much for the safety of my bones… so I could do extensive damage."
Selma has been battling Multiple Sclerosis, a chronic disorder in which cells from the immune system attack the central nervous system, since 2018. She starred in a documentary, Introducing Selma Blair that chronicled her life managing the disease.
Selma and Sasha's Last Waltz
Selma and Sasha danced one last time, a Waltz to "What the World Needs Now is Love" that earned them a perfect score from the judges. "I had gains here physically that I couldn't get in physical therapy or through Zoom therapy with my body or balance," Selma told reporters after the show. "This was a real immersion therapy."
However, competing on DWTS afforded Selma "such a sense of accomplishment to think I could do something that I dreamed of when I was little. Selma said she was "so lucky" to have had the experience. But she's "so sad" to leave the show.
Dancing "totally" improved her motor skills, Selma told reporters. She's afraid it'll be hard to find the same motivation once she's gone home. "It's going to be hard because it's like you almost need this intensity to feel some internal competition in it to push myself," she said. 
Selma didn't want to leave, but an MRI showed joint damage
Selma told told Us Weekly that during  a doctor's visit last week she realized that she'd have to leave the competition. "I had an MRI on my knee, and the doctor was like, 'Ugh, if you can choreograph it in the pool or do something, you know, not weight-bearing.'"
She hoped that she would improve before the episode, so she continued to monitor her symptoms. "I was like, 'Oh, but maybe I feel better. Let me check stuff, and then if that's OK, then I'll continue,'" She told US "It wasn't great, but nothing horrible. But I was like, 'Oh, OK. I'm not prepared for horrible, but [the idea of] leaving was horrible enough last week.' I felt last week would be our last dance. But I was like, 'No, no way.'" (She and Sasha were safe after dancing the quickstep to "The Muppet Show Theme" on Disney+ Night).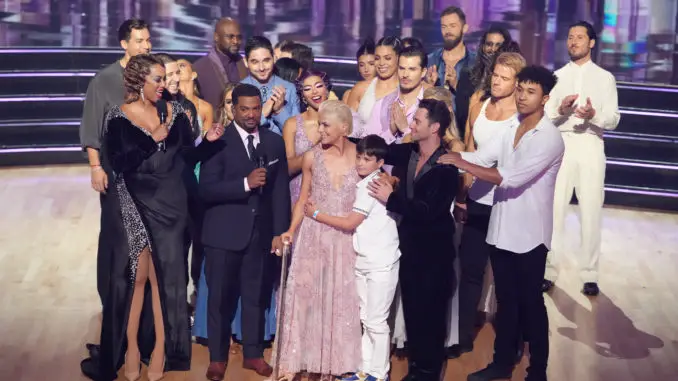 In her Dancing with the Stars debut, the actress delivered a powerful performance with Sasha, when she stepped away from her cane and danced the Viennese waltz to David Cook's "The Time of My Life."
The performance left the ballroom in tears, including judge Carrie Ann Inaba, who told her that she danced like "a true artist."
Dancing With the Stars airs on Disney+ Mondays at 8 p.m. ET/5 PM PT. The second episode of this week's special two-night event, "Prom Night," airs on Tuesday, October 18, at 8 p.m. ET/5 pm PT.