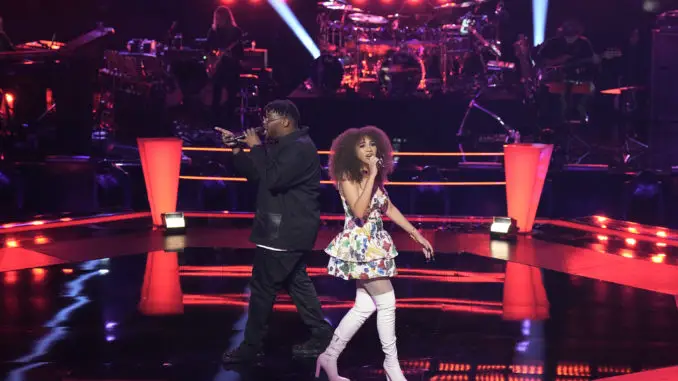 Night 3 of The Voice season 22 Battles featured a soulful matchup between gospel singer Justin Aaron and 18-year-old Berklee student Destiny Leigh fighting for a spot on Team Gwen Stefani (Read our Recap).
Destiny was montaged in the Blinds, so it was exciting to hear more from her. Justin sang "Preach" by John Legend for his Blind audition before landing on Gwen's team. The two singers performed Mary J Blige's dramatic hit, "No More Drama" for their faceoff .  
Justin's tone was clear as a bell throughout and his vocal was super precise. Destiny's vocals had more of an emotional connection with a piercing tone. Both really brought it, but I thought Destiny overshadowed Justin a bit and stood out more. This is a bit surprising, as Destiny struggled with precision in rehearsals. And although she had some pitch issues, she was ultimately more compelling. The harmonies and held-out notes made this battle one of the strongest yet and a total crowd-pleaser. Destiny's take on the song was more intriguing, so I'd lean toward her, but both singers deserve to stay. Justin has a lot more to give.
John Legend remarked, "Mary would be proud" and loved Destiny's energy and Justin's range. John picked Destiny as the winner. Blake Shelton called Justin "incredible" but said Destiny "made the leap." He would go with Destiny as well. Camila Cabello loved both singers, calling Justin's tone "honey," and proclaiming him the winner. Gwen sees Destiny's potential and loves her spirit. She calls Justin's tone like "butter." In the end, Gwen proclaims Justin the winner and saves Destiny. This was a smart move as both singers are super talented and deserve to stay. Gwen said Destiny's "glow" is the reason she saved her.
The standouts of the night were Destiny and Justin, and soulful pop singers Bodie and Jaedan's take on a Bieber hit. From those pairings, Destiny and Bodie were my winners of the night. The other pairing that deserves an honorable mention is singer-songwriter Cara Brindisi and Nashville country singer Jay Allen's take on "Leather and Lace."  Overall, tonight was a strong night featuring worthy steals and saves.