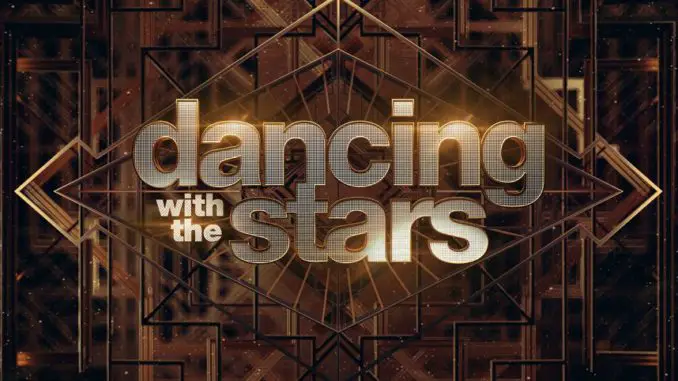 Dancing With The Stars' two-night event begins tonight when the stars dance and look back at the most memorable years of their lives.
Last week's magical Disney+ Night finally saw the end of the road for Sam and Cheryl, because there was no way the judges would choose him again, this time over contenders Trevor and Emma.
With two new episodes this week, it seems there will be two eliminations, so voting is as essential as ever! Vote at DisneyPlus.com or text the contestant's FIRST NAME to 21523. Voting begins at the top of the show.
Trevor and Emma – Jazz – "Viva La Vida" by Coldplay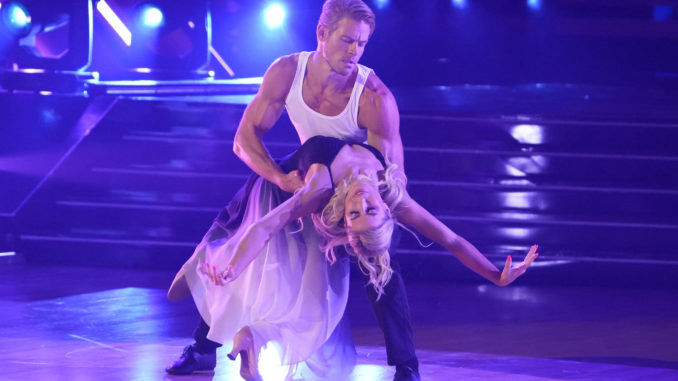 Trevor's most memorable year was 2009 when he booked a role on Days of Our Lives, but because he would freeze up while filming, the soap fired him. After some trying times, he booked a role on 90210.
That routine felt more Contemporary-esque than Jazz. Trevor had a stiffness to him while he danced but seemed to pull it off.
Len says he didn't force it or over-try, and that gave it control, then says it was his best dance. Derek says he felt his presence and felt him in the moment. Bruno says Trevor is back, revived and energized! Carrie Ann says she cried during the dance because she could feel how hard he was trying and it came through, but reminds him to watch his hip.
Carrie Ann- 8, Len- 8, Derek- 8, Bruno- 8 = 32/40
Shangela and Gleb – Foxtrot – "Roar (Acoustic)" by Katy Perry
Shangela's most memorable year was 2013 when she broke her leg and was told she couldn't dance for a long time, if ever. But thanks to the support of her mother, she was dancing on tour again in four months.
I think the fact Shangela is dancing to her recovery song – "Roar" by Katy Perry – is so beautiful. And what else was beautiful was this entire routine and the elegant way Shangela danced it. I, as a ballroom dancer, am also super impressed by Shangela's attempt at those heel leads!!
Derek says an injury can make you appreciate what you have and come back and do great things, and this was great. Bruno says she showed the softer side of the tiger, but remarks on her frame. Carrie Ann says tonight was different because she brought a different side of herself, and the way she handled making a small mistake. Len says it moved beautifully across the floor and he thought the frame was good. 
Carrie Ann- 8, Len- 8, Derek- 8, Bruno- 8 = 32/40
Jessie and Alan – Tango – "Blue Jeans" by Jessie James Decker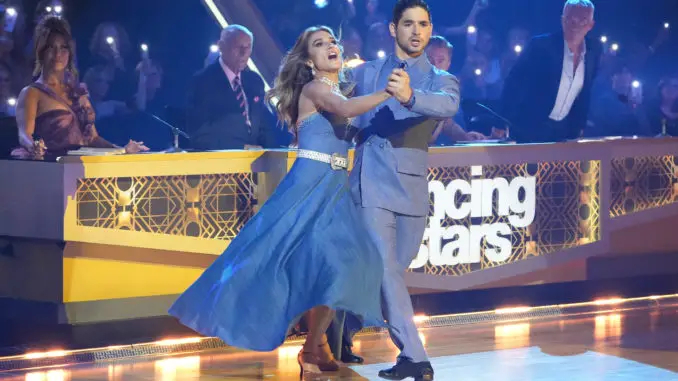 Jessie says her most memorable year was 2014 when she became a mom, and is dancing to her song "Blue Jeans," which her daughter enjoys dancing to.
Jessie seems to dance well in hold. The routine was interesting, breaking in the middle to do whatever that hoedown thing was, was unexpected though.
Bruno says the second half was spot on, but the first half was shaky. Carrie Ann says her posture has improved and she's a strong dancer. Len says there was a good amount of Tango that was sharp and had attack. Derek says she sold him on the second half. 
Carrie Ann- , Len- 7, Derek- 8, Bruno- 7 = 29/40
Gabby and Val – Foxtrot – "If the World Should Ever Stop" by JP Cooper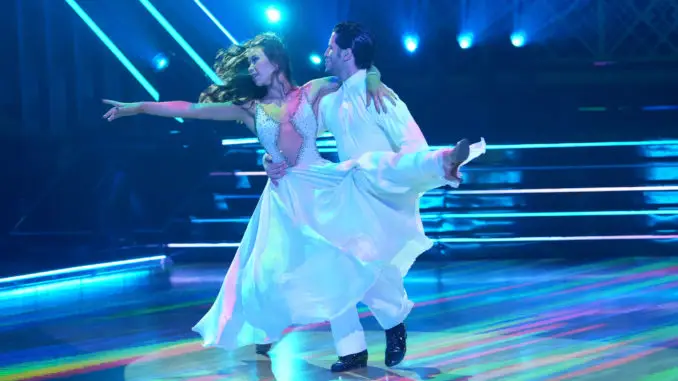 Gabby's most memorable year was 2020 when she was an ICU nurse during the pandemic, and remembers seeing a lot of death and devastation, and is paying tribute to healthcare workers with this dance.
Val's magic doesn't seem to be working tonight because Gabby is very stiff and looks as if she's thinking far too much about the steps. It almost looks like Val is dragging her around the flood rather than her doing the steps on her own.
Carrie Ann says she's stunning and dazzling, and encourages her to let it go. Len says it had lovely, lyrical movement and had effortless ease (disagree LOL). Derek compliments her turns and says it was gorgeous. Bruno says her connection with Val is unbelievable. 
Carrie Ann- 9, Len- 9, Derek- 9, Bruno- 9 = 36/40
Joseph and Daniella – Rumba – "My Way" by Frank Sinatra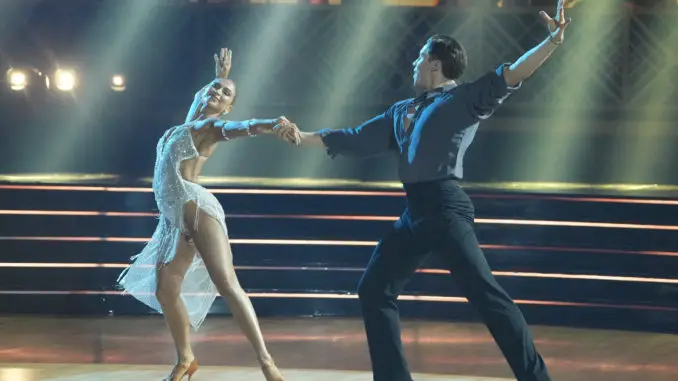 Joseph says 2022 is his most memorable year because it's the year he decided to listen to himself instead of all the outside noise and people comparing him to his father.
Joseph's arms look decent in hold but lack the correct musicality when left to flow on their own. The song "My Way" just doesn't fit as a RUmba in my opinion, so it all felt thrown off.
Len says he never expected him to come out and do his best dance this season as a Rumba. Derek says it was a basic, beautiful Rumba. Bruno says he framed Daniella in a way that was touching. Carrie Ann says it was one of the best Rumbas by a male she's ever seen on the show (are we all watching the same show??).
Carrie Ann- 9, Len- 8, Derek- 9, Bruno- 8 = 34/40
Daniel and Britt – Contemporary – "Both Sides Now" by Joni Mitchell
Daniel says his most memorable year was 2019 because that was when he started filming Coda, and acting roles were hard to find previously because he's deaf.
Incorporating sign language into this Contemporary was so clever. And including Daniel's interpreter in the routine was so touching. While it was a beautiful routine, it was a lot of Britt doing tricks while Daniel guided her and I personally wish it focused more on Daniel dancing as well.
Derek says he was so moved by the performance, and Daniel didn't miss a beat. Bruno says he's so true, real and honest and has the ability to make him feel like he's dancing with him even while he's watching him. Carrie Ann says he welcomes us into his world and tonight was one of his best dances. Len says it had a lovely connection and a gentleness, but critiques the lifts.
Carrie Ann- 8, Len- 8, Derek- 9, Bruno- 9 = 34/40
Jordin and Brandon – Salsa – "Let's Get Married (ReMarqable Remix)" by Jagged Edge ft. RUN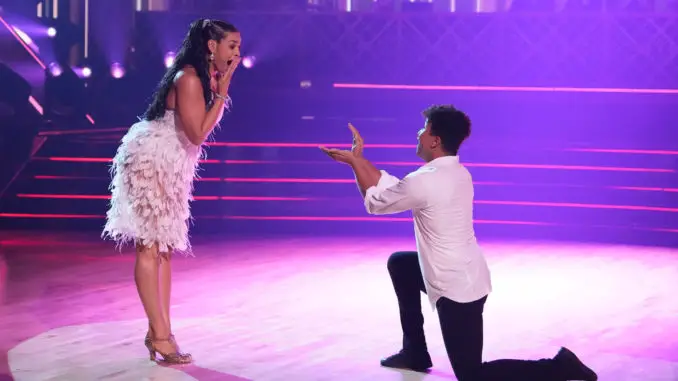 Jordin says 2017 was her most memorable year because it was when she met her husband, and knew the next day that he would be the man she married.
This dance was so fun! It wasn't quite technically correct, but Jordin is one of those people who makes you feel happy and energetic just by watching her perform.
Bruno says it was spicy and she nailed the look of spontaneity the Salsa requires. Carrie Ann says she takes ownership of everything she does, then critiques her free hand. Len says it had attack and action and she worked her hips all the way through. Derek says she always performs amazingly and always lights up the room, but it didn't have enough Salsa (agreed, Derek!). 
Carrie Ann- 8, Len- 8, Derek- 8, Bruno- 9 = 33/40
Charli and Mark – Contemporary – "when the party's over" by Lewis Capaldi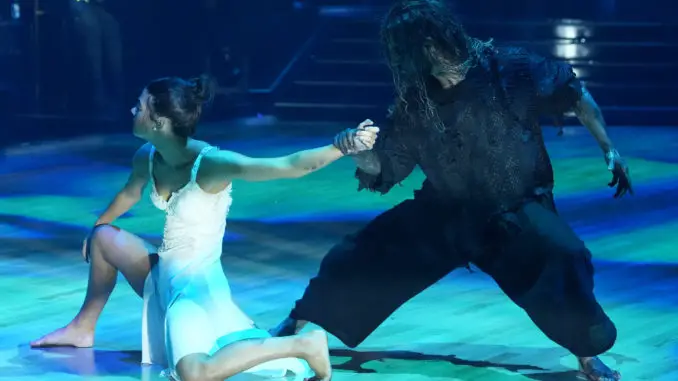 Charli says her most memorable year was 2022 because the last few years rising to fame were a struggle and she would worry about what everyone thought of her, and this is the year the anxiety doesn't control her.
Mark is such a creative choreographer. Being able to depict anxiety and healing through the dance steps is such a talent, both performing them and choreographing them. Charli shines in dances like these, and Mark is the perfect partner for her expertise.
Carrie Ann thanks her for telling her story, then says Mark scared her as the anxiety character. Len says it was really contemporary, full of interesting choreo, and no matter what Mark throws at her, she copes really well. Derek says it was a stunning physical representation of an emotional fear. Bruno says this was a dance that defined the show and turned some special into something magic.
Carrie Ann- 10, Len- 9, Derek- 10, Bruno- 10 = 39/40
Vinny and Koko – Jazz –  "Levels" by Avicii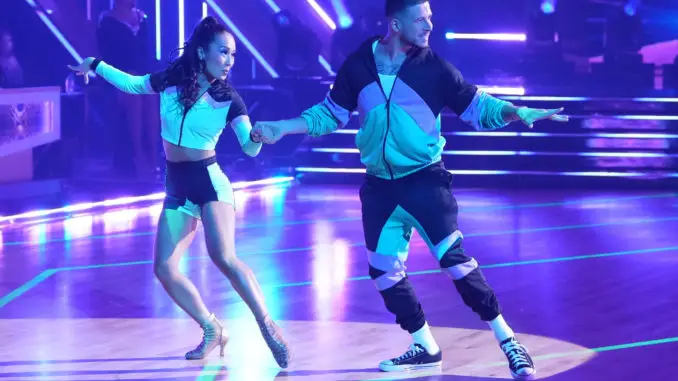 Vinny's most memorable year was 2009 when Jersey Shore aired and his life changed, and he compared the fame of the show to becoming The Beatles.
Koko is a very interesting choreographer. The dance started out so slow but finally picked up in the middle and looked like a full-on club.
Len says it was a terrific dance, simple but effective. Derek says Vinny has become one of his favorites and is what he loves about this show. Bruno asks Vinny how he's feeling, who says he's glad he got it over with, then Bruno says it was simple, effective, and suited him. Carrie Ann says he's the reason why so many people love the show.
Carrie Ann- 8, Len- 8, Derek- 8, Bruno- 8 = 32/40
Heidi and Artem – Rumba – "Can't Take My Eyes Off Of You (I Love You Baby)" by Lauryn Hill
Heidi's most memorable year was 1997 when she moved from Louisiana to NYC, the same year she met her husband.
This dance flowed really well and Heidi has great arms, but she lacked some major hip action for a Rumba. Good choreo too, on Artem's part.
Derek says she's improved so much and compliments her arms and says it was clean and beautiful, but needs more emotion in order to give her a 10. Bruno says his eyes were popping for her and compliments her leg placement. Carrie Ann says they've never had someone consistently evolve and grow week after week like she has. Len says he liked the feeling of the routine and felt a romance about it.
Carrie Ann- 9, Len- 9, Derek- 9, Bruno- 9 = 36/40
Wayne and Witney – Foxtrot – "Beautiful" by Jim Brickman & Wayne Brady
Wayne says his most memorable year was 2003 when his daughter was born, and she's made him step up and be a good man.
I've always loved Witney's Foxtrots, so beautiful but always a unique touch to them. Wayne danced it beautifully beside her, with amazing, extended arms.
Bruno says it was so pretty and so beautiful. Carrie Ann says he's come so far with his frame despite the height difference. Len says it was elegant and sophisticated, but reminds him to watch his hand on Witney's back. Derek says he doesn't want to judge tonight, he wants to watch and enjoy. 
Carrie Ann- 9, Len- 9, Derek- 9, Bruno- 10 = 37/40
Selma and Sasha – Waltz – "What The World Needs Now Is Love" by Andra Day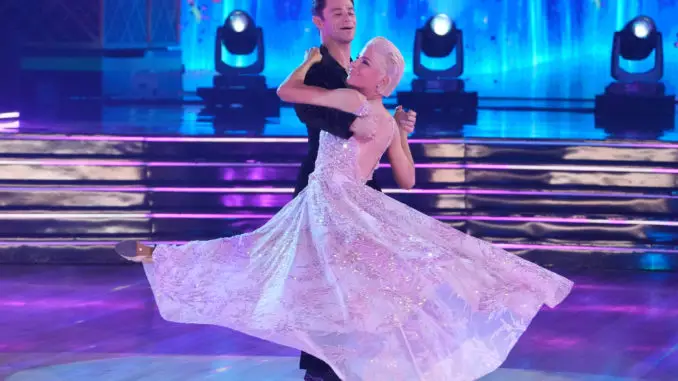 Selma says her most memorable year was 2018 when she was diagnosed with MS, and she started living again thanks to the universal support.
Selma then informs Sasha that after speaking with her doctors, she cannot continue with the competition, but wants to have one last dance with Sasha.
Selma and Sasha dance a beautiful, simple Waltz to "What The World Needs Now," leaving the entire audience in tears.
Tyra announces that no one will be eliminated tonight because Selma has left the competition.
Len says this competition is tough for anyone, but if the others climbed hills, she's climbed mountains. Derek says she's been a beacon of light and has brought nothing but joy to everyone. Bruno says he's privileged to know her and has all his love, respect and admiration. Carrie Ann says there was a lift but she'll forgive her (LOL), and then says she's been nothing but an inspiration to everyone.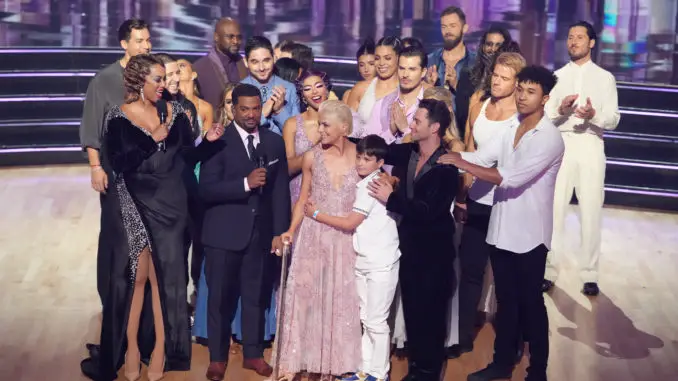 Carrie Ann- 10, Len- 10, Derek- 10, Bruno- 10 = 40/40 *scores will not affect compeition*
We all knew it would be an emotional night but was anyone expecting it to be THIS emotional?? Selma's dance journey has been so beautiful and inspiring to watch.
Join me back here tomorrow night when the remaining couples perform Prom Night and the dance marathon returns!