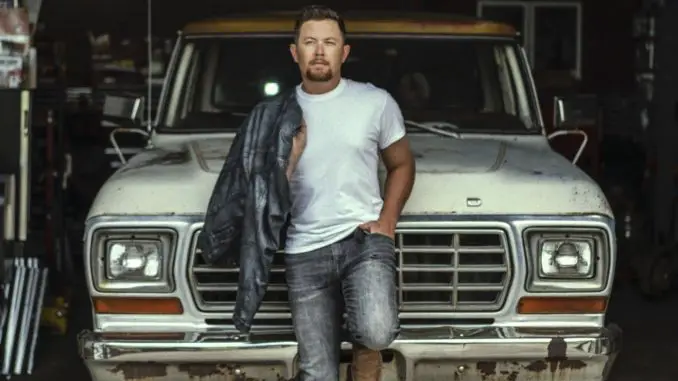 Scotty McCreery shares another new song, "Carolina to Me" from his upcoming album, Same Truck, set for release Sept. 17. This, as the American Idol season 10 winner's current  single, "You Time" nears the Top 5 on the Country Radio charts.
Written with Taylor Phillips and Jeremy Bussey, "Carolina To Me" is a reflection of Scotty's love for his home state and his deep faith. "To me, North Carolina is just a little piece of Heaven on Earth, and I hope when I get to Heaven, there's a little bit of North Carolina in it," the Garner, N.C. native shares.
Scotty will make his debut appearance on "Talk Shop Live" on Monday, Aug. 30 at 8pm ET (7pm CT) where he will perform several songs from the new album and answer questions from viewers. Fans can pre-order signed copies of Same Truck and hear his behind-the-scenes stories of making the album.
A limited edition, alternate cover for the album is also available exclusively at Scotty's online store, along with Same Truck-themed merchandise and more.
This Tuesday, Aug. 31, McCreery will return to the Grand Ole Opry stage to perform fan-favorite songs. Tickets are available at opry.com or listen to the broadcast on WSM Radio.
Scotty is performing songs from the new album on tour
Today's release follows title track "Same Truck," co-written with Ashley Gorley, Zack Crowell and Taylor Phillips. Once again produced by Frank Rogers, Derek Wells and Aaron Eshuis, the team who produced his previous project (the RIAA Gold certified Seasons Change).
In the midst of his You Time Tour, Scotty has been performing several songs from the new album in concert. "You never know how new songs are going to go over in the live show, but our audiences sure seem to enjoy them from the reaction we're receiving," he said.  Scotty also been direct support on select tour dates with Old Dominion.
Tracklist for Same Truck:
Same Truck (Scotty McCreery, Ashley Gorley, Taylor Phillips, Zach Crowell)
You Time (Scotty McCreery, Frank Rogers, Aaron Eshuis)
It Matters To Her (Scotty McCreery, Rhett Akins, Lee Thomas Miller)
Damn Strait (Trent Tomlinson, Jim Collins)
It'll Grow On Ya (Jeremy Bussey, Jason Blaine, Taylor Phillips, Adam Wood)
The Waiter (Scotty McCreery, Matthew West, Frank Rogers)
Why You Gotta Be Like That (Scotty McCreery, Jordan Schmidt, James McNair
Home (Scotty McCreery, Frank Rogers, Brent Anderson, Tammi Kidd)
Carolina To Me (Scotty McCreery, Jeremy Bussey, Taylor Phillips)
Small Town Girl (Scotty McCreery, Ashley Gorley, Zach Crowell)
That Kind of Fire (Scotty McCreery, Josh Hoge, Matt McVaney, Justin Wilson)
How Ya Doin' Up There (Scotty McCreery, Monty Criswell, Derek George, Tyler Reeve)