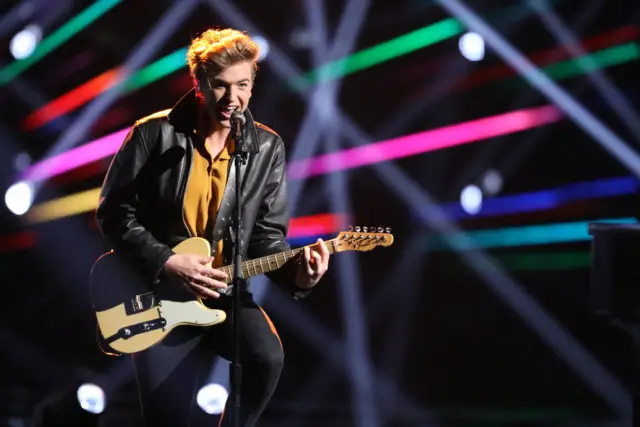 By the end of The Voice season 13 Top 8 semi-final, viewers said goodbye to four finalists. Eighteen year old Noah Mac from Team Jennifer Hudson was particularly difficult to see leave the competition. His musically gifted arrangements and clever song choices made him an early fan favorite.
In a conference call with reporters, the musician talked about his journey on The Voice, working with Jennifer Hudson, what's next on his plate, and more.
What's next for Noah? I am very excited to get out and start releasing my music. I have prepared an album that I'm working on. And of course, we're still under the contract so when that ends I'll be on that, and releasing that. I'm super excited.  It's going to be something that you didn't get to hear on The Voice. It's something that you didn't get to hear on my last EP that I released. It's something that's just very true to me. It's just me completely expressing emotion through music. And it almost defies a certain genre. 
When fans can expect some new music: I can say that I will be in the studio recording these songs next month. And so very shortly after that, they will be released.
On working with Jennifer Hudson and her "hands off" approach to working with him: Honestly, that was one of the coolest things — to have somebody like Jennifer, somebody that I respect so much as a vocalist and as a performer to really give me a lot of freedoms and give me a lot of truth and faith in what I do in regards to arranging each song for myself. It's one thing to have somebody who constantly tells you exactly what to do,  because that's a huge part of it. And she has done that for me, too. She's taught me so much. But it's even cooler when she knows, when she recognizes me as an artist and that has given me so much confidence throughout this process. I completely respect her and have loved my experience working with her.
What he was thinking when waiting for the results: Throughout this entire process I never saw this as a competition. Coming into this, I really saw this as an opportunity for me to learn and get my name out there. And I think those are the two things that happened for me. So pretty much anything else besides taking in everything from the contestants around me, from my coach, and having this massive amount of support, there was nothing else that I really focused on throughout the show. And so, the idea of competition itself – I never even thought about it, to be honest.
As a west coast native, did he feel disadvantaged competing in the instant save, which takes place on east coast time?  That's a good question. I think it's possible. But in the end, as an artist your job is to create art and to reach people all around. And for me, I've never actually thought [about] the instant save processes and the competitive aspects of the show. So it's not something that necessarily I've thought about a lot. If you're an artist it shouldn't matter. If you are really doing what you love and you're really starting to reach people. The important thing is that people are seeing what you do and they're seeing your art. And for me, that was the most important thing coming into this.
On choosing his songs. Did he have a game plan coming into the competition? Or did he make his choices week by week. Completely being honest, I did not know that I'd make it nearly as far as I did. Making it past the blind audition was shocking to me. So I didn't come in here with any kind of strategy or game plan. I just kept on telling myself I'm going to stay true to myself. The biggest battle and the biggest competition was actually with myself. And so week by week, a lot of the challenge was to pick songs that were okay with The Voice and okay with the platform I'm on. So a lot of it was about compromise — trying to stick up for myself as much as possible while staying within those limits. Each song was my opportunity to take a song that I may not have picked for myself, but turn it into a song that I can at least feel proud of. And so for every round I arranged it differently and put my own spin on things. And I'm incredibly grateful for that opportunity to be able to do that.
Was it hard to get songs that he wanted to do cleared? For sure. I mean, you're dealing with a huge television company that streams music for all of America. And so the choices that would work for mainstream media may not always be what works for the individual artist. But it's up to you to kind of find a compromise. I think "In the Air Tonight" was a great song, a great compromise. "River" was a great song and a great compromise. "Hold Back the River" was a great song and a great compromise. It's not like every song is giving up something from you. It's  your job to work with the people that are giving you this opportunity.
On watching the iTunes charts: It's a huge thing to see yourself so high up on the charts. Like I never knew that was even a part of this process. And Brooke Simpson actually has been great at telling me how far I made it on the charts and stuff. It's super exciting to see your name along with all these great people that you look up to. Seeing myself as number one on the rock charts for "In the Air Tonight" was one of the coolest things I think ever. One of the things that I'm most proud of is seeing my EP ranked among–I think it's number seven right now on the R&B charts for albums. And seeing my original music, seeing the music that I actually made by myself ranked up there too. I think that for me is my biggest accomplishment so far. And I love that. Yes, it's extremely exciting to see that.
On his favorite The Voice performance and why: I love different elements of each performance of mine because they each meant something different to me. But for me, I think "In the Air Tonight" was the first time that I really felt comfortable up on the stage and really gave a performance that I felt like I was in control of. I just felt good in that moment and I felt good looking back on it. And it was kind of the moment where I told myself–okay well I did that. I'm good. Let's go. And I'm cool going home and starting to make some music after that. You know, I'm chilling.