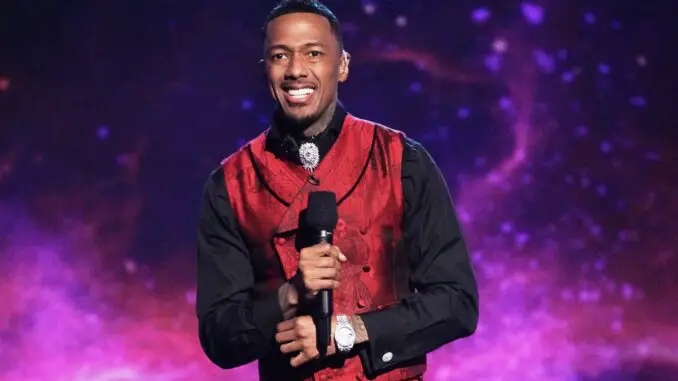 Wowzers. The Masked Singer host Nick Cannon has announced the birth of his eleventh child. It's the third child he's had with Abby De La Rosa. "11/11/2022 A BEAUTIFUL DAY for 'BEAUTIFUL ZEPPELIN CANNON' to arrive! Mommy @hiabbydelarosa you make it ALL look so easy and effortless but I am forever indebted to your tireless work of constant dedication, diligent effort and selfless love that you give to our children and myself," he wrote on Instagram.
He continued: ""Beautiful is privileged to have such a Loving and Spiritually inclined Mother. Your resilience and strength doesn't go unnoticed. Watching you smile through the world's madness and my constant craziness is so impressive. Not a day goes by that I am not filled with gratitude for all your care, words of affirmation, kindness and inspiration. Thank you!! If I don't say it enough! You are the definition of steadfast and virtuous and it is my continued duty to make you and our children feel valued and protected every single day! BEAUTIFUL ZEPPELIN aka BZC aka BIZZY B! Get ready because the world is yours! Daddy loves you!!"
 

 

View this post on Instagram

 
Nick had a child in September and another is on the way
This new child comes only a few months after Nick had his third child, Rise Messiah, with Brittany Bell on September 23. Also DON'T FORGET that Nick recently announced that the mother of his late child, Zen, who died at 5 months of a brain tumor, is now pregnant with their second child. Eventually, Nick will be the father of 12 kids in total. 
Nick became a father for the first time in 2011 with wife at the time, Mariah Carey. They are parents to twins, Moroccan and Monroe. But they remained Nick's onlies for the next six years before daughter, Golden Saigon, with Brittany Bell, came along in 2017. Three years later in 2020, Nick and Bell had twins. And since then, the host has been churning kiddos out once, twice or even three times a year. Check out the comprehensive timeline of the births of Nick Cannon's children below.
A list of Nick Cannon's children with names and DOB
Nick is expecting baby No. 12 with Alyssa Scott, the mom of Zen, who tragically died of a brain tumor at 5 months in 2021.
Eleventh child Zeppelin, Nick's third child with Abby De La Rosa was born on November 11, 2022
Nick welcomed his 10th child, Rise Messiah on September 23 2022 with mother Brittany Bell with whom he shares two other children.
Nick and a BRAND NEW baby mama, model LaNisha Cole welcomed Nick's 9th child, a daughter, Onyx Ice Cole Cannon on September 14, 2022. 
His 8th child, a son, Legendary Love, was born in June 2022 to Bre Tiesi
The 7th child, a son named Zen with Alyssa Scott was born in June 2021, but tragically died 5 months later of brain cancer.
Also in June 2021, Nick welcomed his 5th and 6th children, twins Zion and Zillion, with Abby De La Rosa
A 4th child, a daughter Powerful Queen, was born December 2020 to Brittany Bell.
His 3rd child, Golden Sagon was born February 2017 to Brittany Bell
And his 1st and 2nd children–the OGs, Moroccan and Monroe, were born to Mariah Carey, his wife at the time, in April 2011