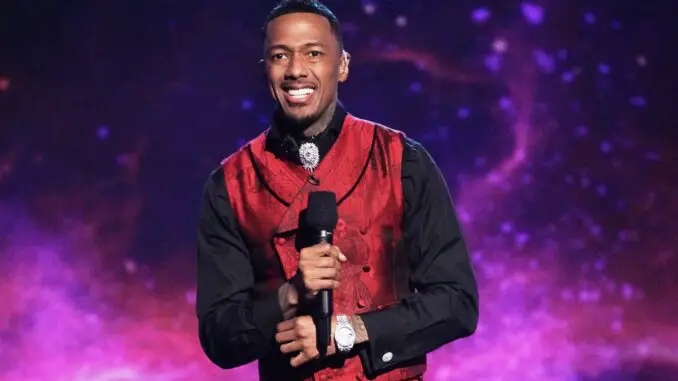 Nick Cannon confirms that he is expecting his 11th child with Alyssa Scott. She's the mother of Zen Cannon, born in June 2021, who tragically died of a brain tumor at only 5 months.
"This is a MIRACLE & a BLESSING," Alyssa wrote on Instagram Nov. 3, confirming the pregnancy alongside a photo of her and the former AGT host and current The Masked Singer helmer in a bathtub. "Thank you to my beautiful and talented friend @Glorydayyys for re-creating and recapturing this very special moment. This will forever be my favorite piece of artwork."
Alyssa announced that she was pregnant on Oct. 26 by sharing a photo of her baby bump on Instagram.
 

 

View this post on Instagram

 
Nick became a father for the first time in 2011 with wife at the time, Mariah Carey. They are parents to twins, Moroccan and Monroe. But they remained Nick's onlies for the next six years before daughter, Golden Saigon, with Brittany Bell, came along in 2017. Three years later in 2020, Nick and Bell had twins. And since then, the host has been churning kiddos out once, twice or even three times a year. Check out the comprehensive timeline of the births of Nick Cannon's children below.
A list of Nick Cannon's children with names and DOB
Nick is expecting baby No. 11 with Alyssa Scott, the mom of Zen, who tragically died of a brain tumor at 5 months in 2021.
Nick welcomed his 10th child, Rise Messiah on September 23 2022 with mother Brittany Bell with whom he shares two other children.
Nick and a BRAND NEW baby mama, model LaNisha Cole welcomed Nick's 9th child, a daughter, Onyx Ice Cole Cannon on September 14, 2022. 
His 8th child, a son, Legendary Love, was born in June 2022 to Bre Tiesi
The 7th child, a son named Zen with Alyssa Scott was born in June 2021, but tragically died 5 months later of brain cancer.
Also in June 2021, Nick welcomed his 5th and 6th children, twins Zion and Zillion, with Abby De La Rosa
A 4th child, a daughter Powerful Queen, was born December 2020 to Brittany Bell.
His 3rd child, Golden Sagon was born February 2017 to Brittany Bell
And his 1st and 2nd children–the OGs, Moroccan and Monroe, were born to Mariah Carey, his wife at the time, in April 2011