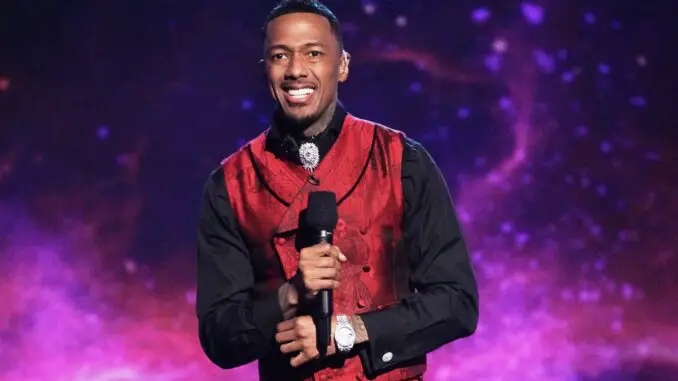 In a truly unbelievable turn of events…or maybe not! Nick Cannon announced that he is expecting his 10th child. That's right, the Nick Cannon baby express is now in double digits.
The Masked Singer host posted a video and photos on his Instagram account. The child's mother is model Brittany Bell who also shares five year old Golden and 1 year old Powerful with the former America's Got Talent host. 
In the video, she's topless, clearly pregnant and covering her breasts with her hands as Nick nuzzles her neck. In another clip, she's wearing a pink outfit that exposes her belly while, again, Nick nuzzles her neck. Then, Bell models more outfits while smiling, blowing kisses and showing off her belly.  Eventually, the entire family poses for a photo shoot. Nick captions the video "Time Stopped and This Happened." OK then.
 

 

 

View this post on Instagram

 

 
Meanwhile, Nick is expecting ANOTHER child, his ninth. Currently, Nick has seven children. A 6the tragically passed at 5 months of brain cancer. Let's do a recap of Nick's prodigious fatherhood. Ten children, five moms. That's a lot.
Nick announced that he's expecting his 10th child with mother Brittany Bell with whom he shares two other children
Nick is also expecting a child with DJ Abby De La Rosa. The two share a set of twins.
An 8th child, a daughter Powerful Queen, was born December 2020 to Brittany Bell.
His 7th child, a son Legendary, was born in June 2022 to Bre Tiesi
The 6th child, a son named Zen with Alyssa Scott was born in June 2021, but tragically died 5 months later of brain cancer.
Also in June 2021, Nick welcomed his 4th and 5th children, twins Zion and Zillion, with Abby De La Rosa
His 3rd child, Golden Sagon was born February 2017 to Brittany Bell
And his 1st and 2nd children–the OGs, Moroccan and Monroe, were born to Mariah Carey, his wife at the time in April 2011
Nick Cannon is currently the host of The Masked Singer, which premiers it's 8th season in September. He also hosts MTV's Wild n Out. He hosted a short lived afternoon talk show that was initially postponed a year after an anti-semitic controversy, but then cancelled after 1 season due to poor ratings.