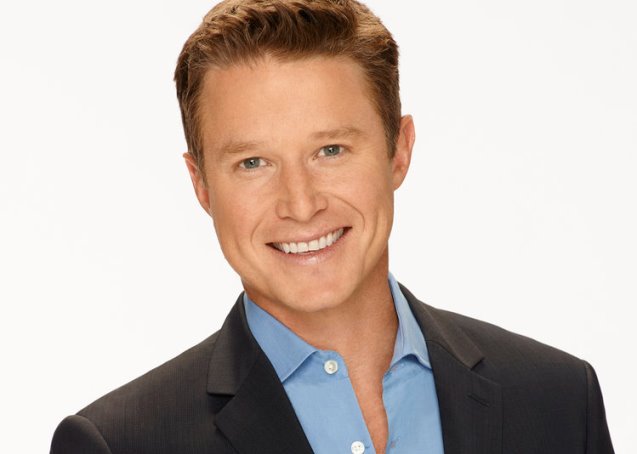 Billy Bush is leaving NBC's Today.
NBC made the official announcement on Monday. But, Bush has been expected to leave the morning showsince the release of Access Hollywood footage more than a week ago showing him engaging in crude sexual banter with Donald Trump in 2005.
"Billy Bush will be leaving the Today show's 9 a.m. hour, effective today," the network said in a statement to its employees. "While he was a new member of the Today team, he was a valued colleague and longtime member of the broader NBC family. We wish him success as he goes forward."
Bush released this statement: "I am deeply grateful for the conversations I've had with my daughters, and for all of the support from family, friends and colleagues. I look forward to what lies ahead."
Bush joined Today in August. He was suspended last week after the taped leaked to The Washington Post. Today executive, Noah Oppenheim wrote in a memo to his staff, "Let me be clear — there is simply no excuse for Billy's language and behavior on that tape. NBC has decided to suspend Billy, pending further review of this matter."
Rumor has it nobody on set will miss Billy. During the Olympics, Bush and weather guy Al Roker got into a heated debate over Ryan Lochte's Rio incident. Roker was incensed when Bush took a "boys will be boys" attitude towards his trashing a Rio gas station, and subsequently lying about being robbed. He might not have lasted in the position in any case.
What's next for Bush? After a long vacation at the family compound in Kennebunkport…Dancing with the Stars to have his celebrity status rehabilitated. Ha ha.
All kidding aside, after he lays low and the PR fixers will get to work. Bush will land somewhere, maybe even back at NBC. Personally I find his obsequious celebrity butt-kissing unbearable. If he didn't come back, I wouldn't miss him.
UPDATE: Billy Bush's exit announced on the Today show.
Last night, @NBCNews announced that Billy Bush would be leaving TODAY, effective immediately. https://t.co/zqxYx0rTYS pic.twitter.com/HiDTdRh5DY

— TODAY (@TODAYshow) October 18, 2016