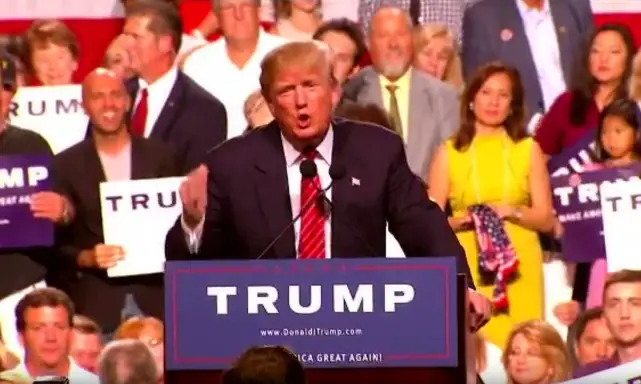 The Washington Post released a bombshell video on Friday. The clip captures Donald Trump, the Republican nominee for president, talking with Billy Bush, then
with Access Hollywood, on a bus with the show's name written across the side. The two were arriving on the set of Days of Our Lives to tape a segment about Trump's cameo on the soap opera.
The tape includes damning audio of Bush and Trump talking inside the bus, as well as audio and video once they leave from it to begin shooting the segment.
In that audio, Trump discusses a failed attempt to seduce a woman, named "Nancy" who has been identified as entertainment reporter, Nancy O'Dell.
"I moved on her, and I failed. I'll admit it," Trump is heard saying. It was unclear when the events he was describing took place. The tape was recorded several months after he married his third wife, Melania.

"Whoa," another voice said.

"I did try and f— her. She was married," Trump says.

Trump continues: "And I moved on her very heavily. In fact, I took her out furniture shopping. She wanted to get some furniture. I said, 'I'll show you where they have some nice furniture.'"

"I moved on her like a bitch, but I couldn't get there. And she was married," Trump says. "Then all of a sudden I see her, she's now got the big phony tits and everything. She's totally changed her look."

At that point in the audio, Trump and Bush appear to notice Arianne Zucker, the actress who is waiting to escort them into the soap-opera set.

"Your girl's hot as s—, in the purple," says Bush, who's now a co-host of NBC's "Today" show.

"Whoa!" Trump says. "Whoa!"

"I've got to use some Tic Tacs, just in case I start kissing her," Trump says. "You know I'm automatically attracted to beautiful — I just start kissing them. It's like a magnet. Just kiss. I don't even wait."

"And when you're a star, they let you do it," Trump says. "You can do anything."

"Whatever you want," says another voice, apparently Bush's

"Grab them by the p—y," Trump says. "You can do anything."
Trump's remarks go beyond gross locker room talk about women, crossing over into boasting about sexual assault. I think Trump has finally done it. He was losing ground in the polls after his poor performance in the first Democratic debate and subsequent twitter meltdown. But any hope of luring undecided, independent voters at this point have been dashed. The tape lends credence to reports of Trump's boorish behavior on the Apprentice set. Nearly every Republican has condemned the tape, but main players like RNC chief Reince Priebus and House Speaker Paul Ryan have not withdrawn their endorsements.
Trump issued a non-apology:
"This was locker-room banter, a private conversation that took place many years ago. Bill Clinton has said far worse to me on the golf course — not even close," Trump said in a statement. "I apologize if anyone was offended."
Apparently, the Trump campaign will be releasing a taped statement from the candidate. Watch for that in this space.
According to a 2007 report from TMZ, Trump tried to get O'Dell fired from hosting the Miss Universe pageant.
NBC announced today that "Access Hollywood's" Nancy O'Dell will host next month's Miss USA Pageant, but if it had gone Donald Trump's way, that wouldn't be the case.

A source tells TMZ that the enigmatic real estate mogul wanted to drop O'Dell as host because he doesn't like the way pregnant women look. But it's not The Donald's call: O'Dell is under contract with NBC and is the host of the "Access Hollywood" (which is syndicated on many NBC stations), and she will also be fronting the network's Oscar coverage this weekend. The lesson here: Don't pick on the Peacock's golden girl, Donald!
Here's Trump's "apology." Awkward, insincere, as convincing as a hostage video. And he's still attempting to throw blame back on the Clintons. Deplorable.