At 8 pm ET, singer and actress, Lucy Hale, hosts the VMA pre-show, where nominees Fifth Harmony are set to perform.  Inside The Forum, Jessie J will open the show with "Bang, Bang," featuring Nicki Minaj and Ariana Grande, who will both perform their own singles "Anaconda" and "Break Free".  Beyonce is rumored to perform a  14 song medley of her entire album, Beyonce. That should be something.  Maroon 5, Taylor Swift, Sam Smith and more are set to perform.  We'll be liveblogging the action beginning here at 9 ET.
Here are some familiar faces on the red carpet!
Katie Stevens (AI 9) Jordin Sparks (AI 6) Darren Criss (Glee)
HERE WE GO.
Ariana Grande takes the stage to sing her hit "Break Free" and somewhere in the Big Brother habitat, brother Frankie is sobbing.  She's got a crazy range and big voice reminiscent of those divas of yore. That was over quick, before former American Idol judge, Nicki Minaj appears to sing "Anaconda." She's feeling herself up. Cut to Kim K in the audience, who does not look amused.  Lots of twerking and ass thrusting. LOOK AT HER BUTT. No really you betta look at her butt. Nicki finishes with a little wink to the audience. She's not serious.   Jessie J. SOMEBODY OUT THERE KEEPS TRYING TO MAKE HER HAPPEN. She sings her tune "Bang Bang" and this works out because Ariana and Nicki are featured singers. This is pretty catchy.  Kudos to Ariana and Nicki for those quick changes into new outfits.  Well. Nicki, not so much. She didn't quite finish dressing. She had to hold her stuff together through the entire number.
Wow.
Gwen Stefani and Snoop Dogg are here. Snoop does a neighborhood shout out. "Englewood up to no good." intones Gwen, Snoop calls her the queen of punk rock. Uhm. NO. This is the LA Forum's first major award show. How about that.  They hand out Best Female Video to Katy Perry and Juicy J for "Dark Horse." She thanks the Katy Kats for voting.
SNL star, Jay Pharoah is next.  He can't get over that Nicki Minaj Anaconda deal. Some unfunny jokes ensue, including joking about how Ariana Grande is underage, except she's not. Ha ha ha ha. He's not just here to crack really terrible jokes! No. Here's here to remind YOU to keep voting for the Artist to Watch.
Lorde introduces her Best Friend Forever, Taylor Swift, who takes the stage to sing her latest single, "Haterz Suck part 110."  Kidding. The new tune is called "Shake it Off."  It can be haters, or even country music.  Live singing? Terrible as ever. Give her props for trying!  The outfit is a shimmery midriff with cute glittery shorts. There are matching dancers behind her (Spotted: SYTYCD alum, Jasmine Harper).  Taylor teases like she's going to jump off the giant "1989" prop. But she's all THAT'S DANGEROUS and makes a reference to the Nicki snake bite incident. Miley looks mildly amused.  Gwen Stefani does some weird "finger clap."
DEMI AND TAYLOR SELFIE TIME
Chelsea Handler is next. She presents Best Male Video. She thanks Taylor Swift for being whiter than she is. And the Moonman goes to Ed Sheeran for "Sing." Confession: If I were a teen, I'd be a Sheerio. FACT.
Something called the "instaglammies" are happening and it's a pimp for Cover Girl, so I don't really care.
Jay Z takes the stage. OK. Not really.  It's Jay Pharoah adding  a crappy impression on top of his crappy jokes. The real Jay Z manages a smile in the audience as Pharaoh continues to torture and remind us to vote for "Artist to Watch." As if MTV doesn't have the winner set already.
DUMB AND DUMBER! Jeff Daniels and Jim Carrey take the stage to do some Grade A Shtick involving a scarf and major face pulling. NOSTALGIA. "I hope Sorkin is watching" says Jim. Yeah. That would be a reference to HBO's "Newsroom."  You know. Jeff won an Emmy for that. They hand the Best Pop Video to Ariana Grande. She's completely unprepared and rambles some thank yous. No mention of her "social media mogul" brother, Frankie.
Kim Kardashian, seeming even more wooden than usual, introduces "my friend" Sam Smith. He sings his beautiful hit song "Stay With Me." He's really singing. His face off, as a matter of fact. And he sounds fabulous.  The audience, including Jlo and others, are entranced. The camera keeps cutting to the Kardashians, as if I care what they think. Please get then off my TV. I will forgive Sam his friendship with the Kardashians just as I forgive Chris Colfer for getting down with the Housewives.
Time for a shout out to the town of Furguson from Common. "Hip Hop has always been a voice for revolution," he says, before calling a moment of silence for Mike Brown who was killed by police in that Missouri town. Don't want to get political here, so I'll just leave it at that. The moment segues into the presentation of Best Hip Hop Video to Drake for "Hold on We're Going Home." Drake ain't in the house. Probably still recovering from the Nicki Minaj assault in the Anaconda video.
Now, Jay Pharoah is doing Kanye West. More excuses to cut to the Kardashians in the audience. I'm tuning…out…way….out. WE GET IT. VOTE FOR ARTIST TO WATCH. Pleeze stop. The K's faces stay frozen throughout the comic's "Kim be smart" jokes. Oh boy. Kanye may actually punch you out, Jay.
Taylor Schilling. Uzo Aduba and Laverne COX from Orange is the New Black. They compare the VMAs to their prison show. CRAZY EYES. These ladies are super awesome. They introduce Usher and Nicki Minaj. TWO EX REALITY SHOW JUDGES JOIN FORCES. They sing "She Came to Give it to You."  Nicki is a busy lady tonight. This is her 3rd performance.  Usher gives her a little playful slap on the butt. He plays butt! Er, I mean bass. She's wearing some fake fur thingy that completely covers her front. If you are waiting for another wardrobe malfunction, you're out of luck. Usher rules.  I love a man who can dance AND sing at the same time.
Nina Dobrev and Trey Songz hand the Best Rock Video award to  Lorde for "Royals". He calls the Black Keys "Black Eyes."  "THERE'S EVEN A LADY IN THE MIX," he says when reading off the nominees. OY.   Lorde  hugs Taylor Swift before she takes the stage. She is super grateful. A little flustered, she swears. Oops. The thank you speeches are super short tonight. Eh. Lorde is a rock artist? Really? OK.
Dylan O'Brien and Chloe Grace Moretz are here to reminisce about the 90s and to introduce 5 Seconds of Summer who were barely 5 seconds old in the back then. Their live performing skills have improved since the last time I remember them. For the kiddies who are tired of One Direction…here you go. Shot to Katy Perry and Sam Smith in the audience looking all WTF.
Jay Pharoah is finally done begging us to vote for Artist to Watch. He hands the award to Fifth Harmony!!!! Good going girls. They are quaking! They thank Simon Cowell, their fans and God. Awww.  The resultsis a real upset. Such a coincidence that MTV and Billboard have been pimping the group so hard lately…
Next, there's a tribute to the late comic, Robin Williams. It lasts a second before the show cuts to a Tresseme Style Setter Check in. What a perfect segway!. Hm.
Jennifer Lopez is in the house! She introduces Iggy Azalea and Rita Ora who sing Black Widow. "I was a fan of this girl when she was grinding on mixtapes." Oh Jlo. So hip! She pimps her upcoming collab (a remix of "Booty) with Iggy. OBLIGATORY SHOT OF TAYLOR SWIFT ROCKING OUT.  Another check in with Katy Perry and Sam Smith. They look a tad bit more excited, but not much. Oh look. Miley is sitting next to them.
HA HA HA Jlo throwing shade at Miley
AND OMG AT NICKI
Speaking of Katy Perry–social media is going crazy over her and Riff Raff's Britney/Justin Circa 2001 outfits.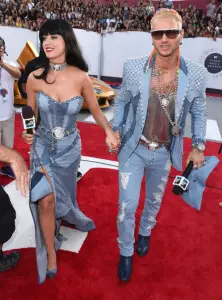 Demi Lovato and Jason Derulo are up!  She's wearing bright red with a racy plunging neckline. Tape those girls! She makes a point of promoting her fall world tour.  They introduce Maroon 5 who are singing outside. It's some promotion for Kia cars. REALITY SINGING SHOW CONNECTIONS ALL AROUND. The band sings "Maps." Not gonna lie, I kinda like this song. The chorus is hella catchy.
Jimmy Fallon is here! YAY. "Hey it's your boy Sway." Hee. IT'S TIME FOR THE HUG CAM. OMG. THE HIGH FIVE CAM! Katie and Sam are game.  GIVE THE PERSON NEXT TO YOU 5 DOLLARS CAM.  The Kardashians play along.  Why couldn't we have Jimmy all night long?
He hands Video of the Year to Miley Cyrus. She's so clever. She has a teen homeless guy accept the award on behalf of  homeless youth everywhere. He directs everyone to Miley's Facebook page to donate. She's crying off stage. The girl is good. SHE'S REALLY REALLY GOOD.
Maroon 5 continues their Kia pimping concert outside as we go to commercial.
Beyonce is next! She's rumored to be singing a medley of a billion songs as she is awarded the coveted Michael Jackson Video Vanguard award.  "MTV Welcome to my world," she says. I'm afraid to say anything bad about her or the Beygency may come after me. But actually? Nope. Nothing to diss. The girl is flawless, as usual. She glides through her Beyonce setlist, effortlessly, through a haze of light and stage smoke. The lady is otherworldly.  Aww. Blue Ivey is in the audience, sitting on Jay Z's lap. Yep. This is pretty epic. Got to hand it to Bey. JORDIN SPARKS SIGHTING. She's obviously digging it. Aw. Videos of Blue Ivy flashing on the screen as momma sings. She dedicates "XO" to her "incredible fans."  The audience sings along.  SWAYING.
Beyonce cries as Jay Z and BLue Ivy join her on stage. He hands her the Michael Jackson Video Vanguard Award. He calls her the "greatest living entertainer." She says, "I have nothing to say, I'm filled with so much gratitude." She kisses her daughter before she leaves the stage. "Good job mommy," says Blue Ivy. Sniff.
Oh. And I guess that's it, because the repeat begins immediately We're out! I mean…who can follow Queen Bey? Nobody.
MTV VMAs 2014 – Winners List
VIDEO OF THE YEAR
Iggy Azalea ft. Charli XCX – "Fancy"
Beyoncé ft. JAY Z – "Drunk In Love"
Pharrell Williams – "Happy"
Sia – "Chandelier"
Miley Cyrus – "Wrecking Ball" – WINNER
BEST HIP HOP
Eminem – "Bezerk"
Drake ft. Majid Jordan – "Hold On (We're Going Home)" – WINNER
Childish Gambino – "3005?
Kanye West – "Black Skinhead"
Wiz Khalifa – "We Dem Boyz"
BEST MALE
Pharrell Williams – "Happy"
John Legend – "All Of Me"
Ed Sheeran ft. Pharrell – "Sing" – WINNER
Sam Smith – "Stay With Me"
Eminem ft. Rihanna – "Monster"
BEST FEMALE
Iggy Azalea ft. Charli XCX – "Fancy"
Beyoncé – "Partition"
Lorde – "Royals"
Ariana Grande ft. Iggy Azalea – "Problem"
Katy Perry ft. Juicy J – "Dark Horse" – WINNER
BEST POP
Pharrell Williams – "Happy"
Iggy Azalea ft. Charli XCX – "Fancy"
Jason Derulo ft. 2 Chainz – "Talk Dirty"
Ariana Grande ft. Iggy Azalea – "Problem" – WINNER
Avicii ft. Aloe Blacc – "Wake Me Up"
BEST ROCK
Imagine Dragons – "Demons"
Arctic Monkeys – "Do I Wanna Know"
The Black Keys – "Fever"
Lorde – "Royals" – WINNER
Linkin Park – "Until It's Gone"
MTV ARTIST TO WATCH
Sam Smith – "Stay With Me"
5 Seconds of Summer -"She Looks So Perfect"
Charli XCX – "Boom Clap"
Schoolboy Q – "Man Of The Year"
Fifth Harmony – "Miss Movin On" – WINNER!!!!
Best Lyric Video
5 seconds of Summer – "Don't Stop" – WINNER
Demi Lovato – "Really Don't Care"
Austin Mahone "Mmm Yeah"
Ariana Grande/Iggy Azalea "Problem"
Katy Perry "Birthday"
BEST COLLABORATION
Beyoncé ft. JAY Z – "Drunk In Love" – WINNER
Ariana Grande ft. Iggy Azalea – "Problem"
Pitbull ft. Ke$ha – "Timber"
Chris Brown ft. Lil Wayne and Tyga – "Loyal"
Eminem ft. Rihanna – "Monster"
Katy Perry ft. Juicy J – "Dark Horse"
MTV CLUBLAND AWARD
DJ Snake & Lil Jon – "Turn Down For What"
Zedd ft. Hayley Williams – "Stay the Night" – WINNER
Calvin Harris – "Summer"
Martin Garrix – "Animal"
Disclosure – "Grab Her!"
BEST VIDEO WITH A SOCIAL MESSAGE
Angel Haze ft. SIA – "Battle Cry"
Avicii – "Hey Brother"
Beyoncé – "Pretty Hurts" – WINNER
J. Cole ft. TLC – "Crooked Smile"
Kelly Rowland – "Dirty Laundry"
David Guetta f/ Mikky Ekko – "One Voice"
BEST CINEMATOGRAPHY
30 Seconds to Mars – "City of Angels"
Beyoncé – "Pretty Hurts" – WINNER
Arcade Fire – "Afterlife"
Gesaffelstein – "Hate or Glory"
Lana Del Rey – "West Coast"
BEST EDITING
Eminem – "Rap God" – WINNER
MGMT – "Your Life is a Lie"
Zedd ft. Hayley Williams -"Stay the Night"
Beyoncé – "Pretty Hurts"
Fitz and The Tantrums – "The Walker"
BEST CHOREOGRAPHY
Sia – "Chandelier" – WINNER
Beyoncé – "Partition"
Usher – "Good Kisser"
Michael Jackson f/Justin Timberlake – "Love Never Felt So Good"
Jason Derulo f/2Chainz – "Talk Dirty"
KIESZA – "Hideaway"
BEST DIRECTION
DJ Snake & Lil Jon – "Turn Down For What" – WINNER
OK Go – "The Writing's On the Wall"
Miley Cyrus – "Wrecking Ball"
Beyoncé – "Pretty Hurts"
Eminemft. Rihanna – "The Monster"
BEST ART DIRECTION
DJ Snake & Lil Jon – "Turn Down For What"
Iggy Azaleaft. Charli XCX – "Fancy"
Eminem – "Rap God"
Arcade Fire – "Reflektor" – WINNER
Tyler, The Creator – "Tamale"
BEST VISUAL EFFECTS
DJ Snake & Lil Jon – "Turn Down For What"
OK Go – "The Writing's On the Wall" – WINNER
Disclosure – "Grab Her!"
Eminem – "Rap God"
Jack White – "Lazaretto"