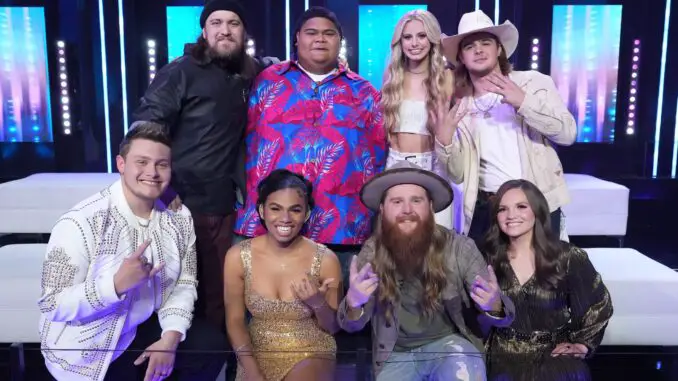 American Idol Encore Contest Returns: Vote for your favorite Top 8 singer to perform on Live with Kelly and Mark
Once again, Live's American Idol encore contest returns. The annual viewer poll will bring back a fan-favorite American Idol finalist for a daytime encore performance on Live with Kelly and Mark.
While American Idol 2023 winner Iam Tongi will perform on Tuesday May 23 and runner-up Megan Danielle on Thursday May 25, the remaining members of the season 21 Top 8 will compete for a chance to perform on Tuesday May 30.
The poll is open beginning 9 am Monday May 22 and will close on noon Tuesday May 23 (EDT). Further details and voting can be found on the Live website LiveWithKellyandMark. Get your votes in now!
The remaining American Idol 2023 Top 8 eligible for the poll are:
Colin Stough (3rd place)
Wé Ani (Top 5)
Zachariah Smith (Top 5)
Haven Madison (Top 8)
Warren Peay (Top 8)
Oliver Steele (Top 8)
Former winners of the Live "American Idol Encore" include: Cade Foehner 4th place, season 16; Madison Vandenburg 3rd place, season 17; Julia Gargano Top 7 season 18; Grace Kinstler 3rd place season 19; and Fritz Hager Top 5 season 20. 
On Sunday night (May 21) Iam Tongi won American Idol 2023, while Megan Danielle finished in second place. Country singer Colin Stough left halfway through the broadcast in 3rd place. Former American Idol judge Keith Urban mentored the Top 3 for an Urban themed round. The Top 3 also performed songs dedicated to their hometowns on the heels of trips back home earlier in the week, filmed for the broadcast.
After Colin left the competition, Iam and Megan performed their newly recorded original songs. After fans voted throughout the night, host Ryan Seacrest crowned Iam Tongi the winner. (Read our Recap)