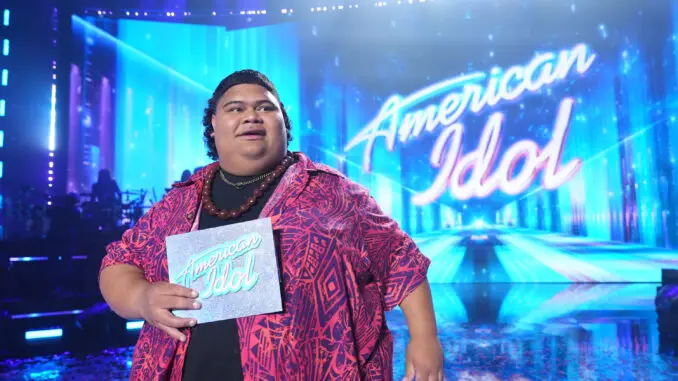 American Idol 2023: Viral sensation Iam Tongi wins Season 21
The three-hour finale of American Idol Season 21 on Sunday night (May 21) had some surprises, but the ending felt rather anticlimactic as the clear-cut favorite of the season Iam Tongi took home the championship (Read our Recap).
Iam's audition was a viral sensation, notching over 32 million views on Instagram and 16 million views on YouTube. Iam made history as Hawaii's first winner, and he also broke the streak of male country winners as artist's from the popular genre had won the last two seasons of American Idol (Chayce Beckham in 2021 and Noah Thompson in 2022) and technically the last three seasons on a stage (as Season 18 was filmed remotely during the pandemic).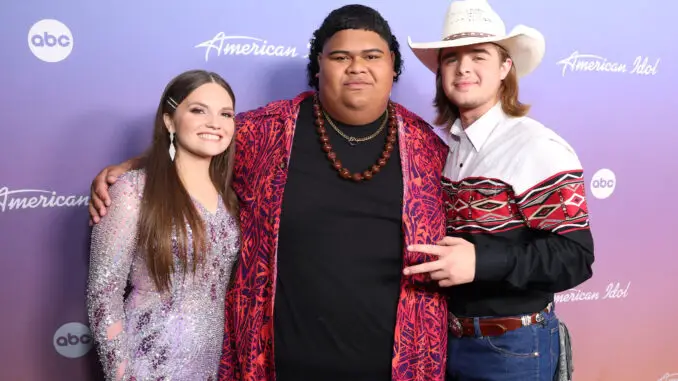 Iam Tongi beat out runner-up Megan Danielle and third place finisher Colin Stough
Iam beat out fellow competitors, Megan Danielle, runner-up, and Colin Stough, third place finisher. Both Iam and Megan performed three solo performances and a duet before Iam was crowned winner and performed a reprise of his Hawaii performance. Iam's night mostly consisted of what he does best, which is rearranging songs into his style. He sang ballads, but kept the audience on their feet by mixing in one up-tempo performance. Let's take a look at his finale night.
Iam first took on "Making Memories of Us" by Keith Urban for the Keith Urban theme as the former American idol judge returned to Idol as a mentor. Keith notices his immediate emotional connection and Iam explains the song was one his parents used to dance to. Iam's mom also got to meet Keith during the mentor session. This theme could have been a challenge to Iam as the only competitor left who was not country adjacent, but he breezed right through it. It wasn't his strongest performance, but his tone and emotions shined through.
Iam's hometown visit to Hawaii attracted massive crowds
In his hometown visit, the high school Iam would have graduated from if his family weren't forced to move to the mainland awarded him an honorary diploma. He never wanted to leave Hawaii in the first place, he says. He also played to 14,000 fans at Turtle Bay Resort and was joined on stage by Hawaii's own Jack Johnson. His uncle spoke and they took a moment of silence for Iam's father Rodney. After the clip aired, the camera panned to another Hawaiian contestants, Jasmine Trias, who finished third on season 3.
For his dedication performance, he dedicated "Cool Down" by Kolohe Kai to his hometown of Kahuku, Hawaii. This performance was loads of fun as Iam brought some reggae and island flair, and for the first time all season Iam goes full-on uptempo. His voice seems more animated in a good way during the performance. This would be a smart direction for Iam to take post-show.
James Blunt joined Iam for an emotional performance of "Monsters"
After the cut down to the final two, Iam sings his viral audition song, "Monsters" with James Blunt. It's a beautiful and vulnerable duet where James allows Iam shine. He breaks down some, but recovers and puts on the performance of his life. The two hug after the performance. Just a half an hour after the show, James Blunt's Monsters has raced up to number 3 on the US iTunes Chart. The pair should record and re-release the song together. It would be a smart move for both sides.
Just minutes before the announcement, Iam took on his winners single, "I'll Be Seeing You" penned by Season 18 contestants Francisco Martin. It's a slow burning ballad that suits Iam's style, although it isn't super catchy like some of the past year's singles. It still does the job, as Iam deeply connects to the lyrics about coping with loss.
"I'll Be Seeing You" hits No 1
As of 7 am Tuesday morning, "I'll Be Seeing You" is No. 1 on the iTunes overall chart, while James Blunt's "Monsters" is No. 2.
Finally, Ryan announces the winner of 2023, Iam Tongi. The confetti falls and he sings Spawnbreezie's "Don't Let Go" which was a fan favorite performance of his. He sings as the top 12 join him on stage.
Speaking of the top 12, they also performed on finale night. Some had beautiful moments. There were four stunning duets tonight. Two came from the final two, Iam and James Blunt and Megan Danielle and Lauren Daigle. The other big moments of the night were Wé Ani and Jazmine Sullivan and the annual Katy Perry duet which was with Haven Madison this year.
Despite the predictable outcome, it was a fun finale. Until next year…