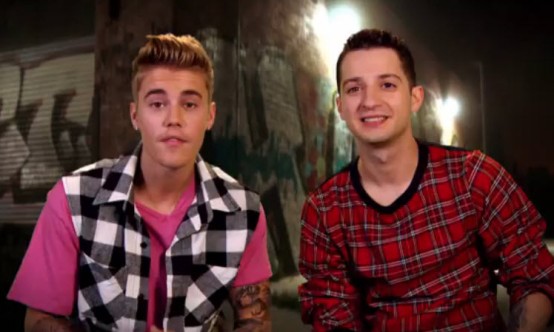 Watch professional asshat pop star, Justin Bieber, and his choreographer, Nick DeMoura, introduce the new Dance Crew competition on So You Think You Can Dance.
Got to hand it to producer, Nigel Lythgoe. He knows how to stir the pot! Whether Bieber's appearance helps the series' flagging ratings remains to be seen. But the appearance has at least got people talking.
Beginning with tonight's season premiere, airing 8/7c PM on FOX, Justin and Nick will showcase two dance crews on each of the four audition episodes. After the crews are showcased, hash tags will be revealed that viewers can use to tweet their favorite of the two crews. The tweets will be tallied and the most popular crew overall will be invited to perform on the finale.
Other changes for the 11th season of SYTYCD include the return to one winner, rather than boy and girl champs. Also, the judges will allow America to choose who is going home starting with the Top 10 performances.
We'll be live blogging the show tonight, as we have done since Season 4. Make sure to join us!
UPDATE: SYTYCD Season 11 Schedule:
Guest judges in the audition cities include Jenna Dewan-Tatum (Atlanta), Charles "Lil Buck" Riley (Atlanta), Billy Porter and Misty Copeland (Philadelphia), Wayne Brady (New Orleans), Jenna Elfman and Fabrice Calmels (Chicago) and Christina Applegate (Los Angeles). Guest judges at the Pasadena callbacks include Adam Shankman, Stephen "tWitch" Boss, Tara Lipinski and Irina Dvorovenko.
Beginning Wednesday, July 2 (8:00-10:00 PM ET live/PT tape-delayed), and until the Top 10 are determined, the Top 20 finalists will be paired with a partner to perform a randomly chosen style of dance.  Eliminations will begin Wednesday, July 9 (8:00-10:00 PM ET live/PT tape-delayed).
Once the series is down to the Top 10, each finalist will be joined by a SO YOU THINK YOU CAN DANCE All-Star dancer. These All-Stars are experts in various styles of dance – Ballroom, Ballet, Hip-Hop, Contemporary and Jazz – and will partner with one of the Top 10 finalists to perform in their specialty. Each week, based solely on America's votes, it will be revealed who keeps dancing and who goes home.
Wednesday, May 28 New Orleans and Chicago
Wednesday, June 4 Chicago and Los Angeles
Wednesday, June 11 Los Angeles and Philadelphia
Wednesday, June 18 Atlanta
Wednesday, June 25 Callbacks
Wednesday, July 2 First Live Performance Show;
Meet the Top 20 Performances/200th Episode
Wednesday, July 9 Live Performance Show and First Elimination Show
Wednesday, July 16 Live Performance Show and Elimination Show