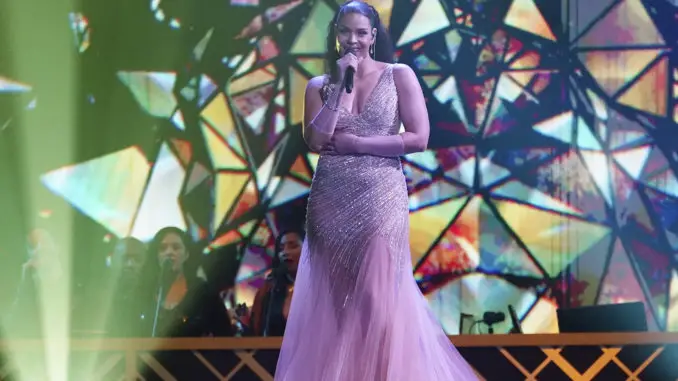 In a sidewalk interview with TMZ, Jordin Sparks stuck up for Chris Brown, insisting he should have been allowed to perform at the American Music Awards on Sunday. "We love Chris!" the American Idol season 6 winner said. "He should have been there."
In 2009, Brown was arrested for beating up singer Rihanna, his girlfriend at the time. The beatdown left her with bruises all over her face. The music business shunned him for a time. But he's back to touring and releasing music.
"Honestly, I think that shouldn't even be a conversation anymore," Jordin, who recently competed on Dancing with the Stars, told TMZ. "It's about his talent. They just shouldn't have cancelled the performance, that's how I feel about it." She added, "People deserve to grow and learn and be able to live their life without things hanging over them. Everybody deserves that. Him especially.
According to Brown, the AMAs canceled his Michael Jackson tribute. Producers still haven't offered a reason.
While Brown didn't perform or even attend Sunday's AMAs, he won a trophy for Best R&B artist. Kelly Rowland accepted the award for him, and shushed those in the crowd who booed. "Excuse me! Chill out!" she admonished the crowd. She went on to thank Brown "for making such great R&B music and I want to tell him thank you for being an incredible performer."
Jordin has a personal connection to Chris Brown. Her biggest hit, the 2008's "No Air" was a duet with him. Both singers were still teenagers at the time, and it was about a year before the Rihanna incident. Earlier this year, Jordin joined Brown on stage for the first time in 15 years to perform the song with him once again.
Jordin and her pro-partner Brandon Armstrong exited Dancing with the Stars in 9th place during Halloween Week. On the finale, Jordin returned to perform "No Air" (sans Brown!) as fellow DWTS contestants, Selma Blair and Sasha Farber danced a Contemporary routine.
Recently, Jordin released a new song "Stop This Feeling" written by Jamall Smith, Sparks and Randy Nevels. Next, the singer will perform on NBC's Macy's Thanksgiving day parade on Thanksgiving morning.
The singer appeared on Good Morning America on Tuesday (Nov 22) to perform a medley of her songs, including "No Air."