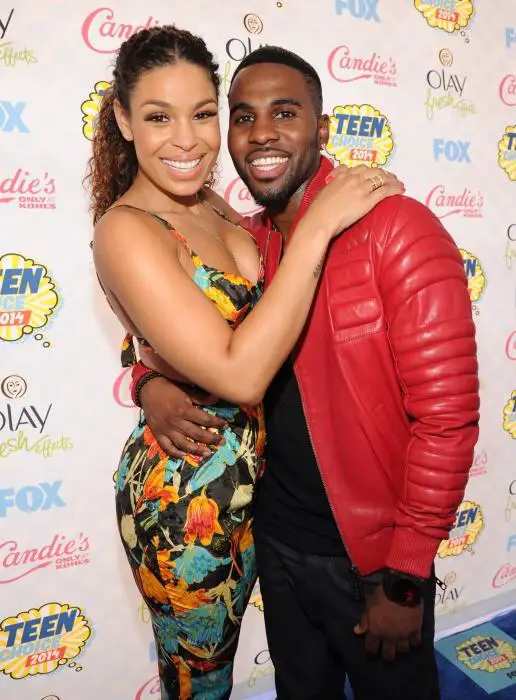 Other than a sweet little tweet, American Idol alum, Jordin Sparks, has kept quiet about her recent split with Jason Derulo. The couple separated after being a twosome for 3 years.
Jason, on the other hand, seems to have plenty to say. Maybe too much if you ask me.
Besides dishing on the breakup with US Magazine, Jason spills even more details in a call to Ryan Seacrest this morning.
It appears that Jordin was waiting for Jason to put a ring on it, but he wasn't ready for marriage.
What happened … in a nutshell, there was a lot of tension in the relationship for a lot of different reasons. Every relationship has ups and downs. There was a lot of pressures of marriage. There was a lot of arguing and stuff like that that just weighed on our relationship over time. When you stop having more good times than bad bad times, it's time to call it quits. It becomes something that is unhealthy.
Jason says the split wasn't entirely friendly.
I wouldn't say good terms. I'll be lying if I said that, but it's not a bad situation. There's no bad blood. We didn't end off on a weird way or a negative way. It's not like we're hitting each other up, like, 'Hey, what are you doing today?
The pressure to marry really got to him.
Yeah, and to be fair, it was not just from her either. It was kind of from everybody. That's not the sole reason, but it definitely played a part.
Their busy schedules kept them apart, and it was especially tough on Jordin.
It weighed on the both of us. We think it may have weighed on her more than it weighed on me. Yeah, she got frustrated a lot. She was in that frustrated space a lot and I think part of that was part of my problem. There's different stories, like me just having too much going on right now, but it's a combination of a lot of things. No, there was no infidelity.

Three years … very long time. I think sometimes you can be in a relationship so long, it becomes a part of your life and you feel like you're obligated. And when you start feeling obligated and you start feeling like it's something you have to do because it's necessary, like breathing, that's not a good situation either. It should be something different.
Welp. I think we got the jist of the breakup. We can all move on now.
ETA: I agree with the general comments consensus. Jason is bent out of shape because the world was pressuring him to marry Jordin. Boo Hoo. Maybe if he hadn't been so enthusiastic about leveraging his relationship with her for public relations–writing a song called "Marry Me" featuring Jordin in the video, declaring his intentions to pop the question at any minute–there wouldn't have been so much pressure.
Jordin is staying classy. Admirable, considering it sounds like Jason is the one who broke it off. Now he's so worried about public backlash, he can't stop spilling private details to the press. Here's a tip Jason: RUNNING YOUR MOUTH IS MAKING YOU LOOK WORSE MMKAY?