Tonight, it's the America's Got Talent FINALE! Which of the Top 6 will take the crown and the $1 million dollars?  8/7c PM NBC.
There's another eviction on Big Brother tonight. Which houseguests will make it to the final 3? 8/7c PM CBS.
The American Idol judges round auditions continue in New York
It's the second day of judges round auditions in New York, with Adam Lambert filling in for Keith Urban.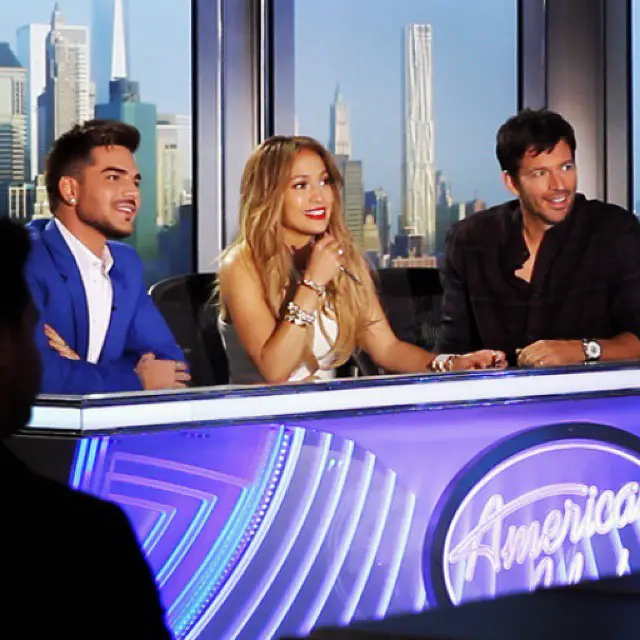 Karina Smirnoff, Chelsie Hightower & More Set for DANCING PROS: LIVE Tour – Dancing Pros: Live!is thrilled to announce its 2014-2015 national tour. Hosted by Alan Thicke, star of the hit TV show "Growing Pains," and featuring Karina Smirnoff, Edyta Sliwinska and Chelsie Hightower from "Dancing with the Stars,"and Benji Schwimmer and Ryan Di Lello, from "So You Think You Can Dance," the best dancers from around the world will thrill and dazzle audiences coast to coast! The national tour will launch in Chicago, Illinois on Saturday, November 1, 2014 at the Cadillac Palace Theatre. The tour will play over 50 cities nationwide through April 2015, including Indianapolis, Indiana; Flint, Michigan; Providence, Rhode Island; Schenectady, New York; Virginia Beach, Virginia; Fort Lauderdale, Florida; Fort Myers, Florida; Dallas, Texas; and San Diego, California. For a complete list of tour cities, visit www.DancingProsLive.com. – Read more at Broadway World
He can belly-dance? 7 things we learned about Phillip Phillips – To help celebrate the Orange Room's one-year anniversary, Phillips gave a very special acoustic performance of his hit single "Raging Fire," and then stuck around for a Facebook chat, answering questions about everything from his underwear preference to the one thing he says he would change about himself. 1. Even Phillip Phillips gets starstruck. Phillip Phillips: She caught me off guard! She's so nice. (Kirsten Dunst crashed Phillip's chat!) 2. When it comes to underwear choice, it's all about convenience. Brett Lemire: Boxers or briefs? Phillip Phillips: Whatever is closest to my reach, I guess. – Today
Didi Benami Full Length Debut Album "REVERIE" – Los Angeles, CA — (ReleaseWire) — 09/15/2014 — We are pleased to announce "Reverie," Didi Benami's first full-length debut album set for release on 30th September, that will feature ten original songs written or co-written by the popular singer. In 2013, Didi joined forces with Grammy nominated producer, songwriter, and multi-instrumentalist Billy Mohler to start work on "Reverie." Together they brought in fellow songwriters like Jamie Drake, Annaliese Schiersch and Jason Gaviati to collaborate on the album. These songs are all deeply personal and deal with issues from the death of her best friend and Belmont University roommate Rebecca Joy Lear, to her difficult relationship with her father, lost relationships and post American Idol life. Even though there is a loss and longing it maintains a sense of hope. – Read more at Digital Journal
Sporty Sparks! Jordin shows support for her home team at first ever NFL Hall Of Fashion event – Jordin Sparks was showing off her sporty style – and her favourite team – at the NFL Inaugural Hall Of Fashion event launch on Tuesday. The singer looked sexy in a black pencil skirt and an Arizona Cardinals jersey which she proudly pointed to on the New York City red carpet. Jordin went for a super coordinated look, also sporting a pair of black heeled sandals and lipstick in the team's deep red. – Read more at DailyMailUK
Rising Star: ITV axes 'new X Factor' before it's even aired – Rising Star has been axed by ITV – before it even aired. The singing show – which was initially expected to fill the Dancing on Ice slot in January – was a huge success in Israel and was snapped up by ITV last year. However, the program flopped in the US this summer and the German series was recently reduced after a "lack of audience response". Some reports suggested that concerns about the program had led ITV to consider stripping the show across one week, but it has now decided not to show it at all. The news that ITV had decided to drop the show emerged in Broadcast today, with a spokesperson confirming the end of the singing show. – DigitalSpy.com
Lolo Jones — EMOTIONALLY BROKEN … After 'Dancing with the Stars' Loss – Lolo Jones says she felt broken, unlovable and embarrassed after she was eliminated from "Dancing with the Stars" Tuesday night … and penned an emotional letter saying she's sick of being a loser. The former Olympian unloaded on Facebook right after she got the boot from the ballroom … saying, "When I was dancing last night and messed up I had flashbacks of the three Olympics and that people constantly tease me about. I thought oh no here it comes again. People are going to ridicule me. I'm so tired of feeling embarrassed." "I joined the other competitors upstairs and I couldn't force a smile on my face. I felt like vomiting and in between the other dances I went in a back room and fought back tears. I felt so broken. So unlovable. Embarrassed." – Read more at TMZ
'Big Brother 16': Frankie Grande on the Rewind Blindside and Team America Curse – If the Big Brother Rewind affected one houseguest the most, it was you. Prior to the rewind, you won the HOH and POV competitions, almost ensuring that Victoria would be going home and the Final 4 deal with Caleb, Cody and Derrick would remain intact. When the rewind came into effect, why were you targeted?
I was targeted because this is a game for $500,000 and greed will almost always win out over loyalty. It is not in my character to play that way, so during my reign as HOH, I honored the Final Four deal and was proud to have done so. However, I knew I was the biggest target and that it would be detrimental to everyone else's game if I remained in the house. – Read more at The Hollywood Reporter
Frankie of 'Big Brother' says he does not regret pushing the Rewind button and wants to marry Zach – Anyone that does not win this game will have a regret or something they wish they could go back in time and change. What's your biggest regret? Trusting Caleb. Period. I should have known that if I was able to manipulate him so easily, someone else would have figured it out and use it against me. And looking back it should have been either him or Derrick sitting next to Victoria in my last HOH, not Cody. Finally, what becomes of Zankie now that you are about to be reunited with Zach in the Jury house? I've never been more excited about anything in my entire life. I'm hoping he's waiting there with a ring and a bouquet. If he asked me to marry him, I'd say yes! I'm walking into the jury house with my 'Team Zach' shirt. – Read more at Entertainment Weekly