Clay Aiken performs at Northern Lights Theatre in Milwaukee, WI.
Constantine Maroulis performs in Jekyll & Hyde the Musical at the Winspear Opera House in the AT&T Performing Arts Center in Dallas, TX.
Taylor Hicks performs at Bally's Las Vegas in Las Vegas, NV.
Phil Stacey performs at the Life Church of Chicagoland in Palos Heights,  Via American Idol
Adam Lambert, Kelly Clarkson, Jordin Sparks and more perform on the VH1 Divas live special tonight beginning at 9 pm.  Adam will also host, as well as perform.
Adam Lambert on Hosting 'VH1 Divas': 'Men Are Divas, Too' – This means seeing the American Idol favorite singing, acting, and of course, displaying his own unique sense of style. "A lot of the ideas for how I'll be dressed are mine," he teases. "Some of them I wish I could blame on somebody else, but I can't." He promises to change outfits "a zillion times." Lambert's hosting gig is a maiden voyage for the rocker that's sure to show his range. On the run-of-show: a sketch with non-performer and Real Housewife Ne Ne Leakes, who will act as a diva coach for the 30-year old Idol season eight finalist. "We've pre-recorded a sketch that's quite funny," he tells The Hollywood Reporter. "I haven't seen the final edit yet so I hope I'm actually funny … But we had so much fun filming it so I think people will get a kick out of it." – Read more at the Hollywood Reporter
Adam Lambert Rehearsing – VH1 Divas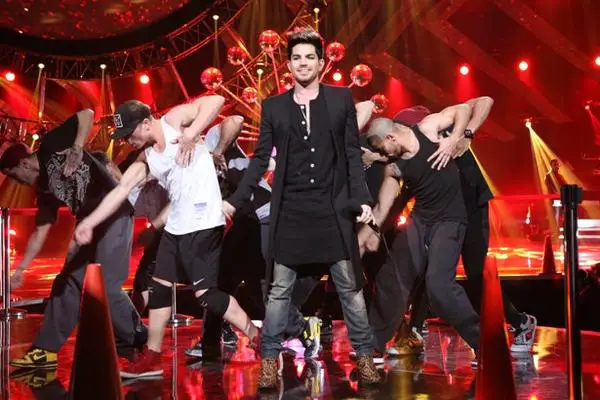 Adam Lambert Rocks Out at the Star 101.3 Jingle Ball – Giving his fans a memorable night, Adam Lambert performed at the Warfield in San Francisco on Friday (December 14). The 30-year-old rocker wowed the crowd in a yellow-and-black studded leather jacket as he belted out his hits, including "Fever," "Trespassing," and "Cuckoo," to a packed house. – See the photos at Celebrity-Gossip
Clay Aiken: 'American Idol' is Now All About the Judges – Next year will also mark the 10th anniversary of his runner-up turn on "American Idol's" second season, but Aiken isn't expecting to commemorate the occasion. "I don't know that I would commemorate it on the show," he says. "I don't know that they did it with Justin Guarini and all those folks. But 'Idol' back in those days was about the contestants. Kelly (Clarkson) and Justin and Tamyra (Gray) and Nikki McKibbin, they were all the starts of the show. And when I was on, Ruben (Studdard) and myself and Kimberly Locke were the stars of the show. Now 'Idol' is about the judges. I don't even know if they remember there are contestants anymore." – Read more at Billboard
Simon Cowell calls X Factor crisis meeting to save show – Simon Cowell is to return to London in the middle of January for an X Factor "crisis summit" to decide how to revive the programme for 2013. The TV audience for the final show last weekend was the lowest since 2006, although 11 million viewers still switched on. Richard Holloway, executive producer of The X Factor, said: "There is not one element we will not be looking at carefully – from judges and start times to auditions and glitzy productions." He revealed that Cowell could even return as a judge: "I'd love him to come back. He's the best judge in the world, Never say never! If we can find a way to reintroduce him, we will. But it is impossible for him to be in two places." – Read more at Guardian.co.UK
Transitional year pleases 'Glee's' acting alumni – LOS ANGELES | Life isn't easier for the cast of "Glee," even though the show has become bi-castal. According to Lea Michele — who's in the New York faction of the TV musical — "we're always busy. When they're doing their scenes (in the high school segment), I'm in the recording studio or the dance studio learning my routines." When the two come together — for holiday visits — it's like old-home week, she says. Harry Shum Jr., who played one of McKinley High's 2012 graduates, says a big question mark hovered over the 2012-2013 season. "We didn't know how much we'd be on the show. But it's actually the best of all worlds. You get to be part of the show you started from the beginning, but you're also able to do other things." – Read more at Sioux City Journal