Download "Too Young" the new single from Season 7 Idol alum, Josiah Leming at iTunes. Download Here.
Scotty McCreery & KR Highway106 Oct 31,2011
Radio interview today. Scotty reveals he'll be heading down to Orlando to tape a segment for the Disney Christmas Day Parade. He'll also perform in the Macy's Thanksgiving Day Parade.
Scotty McCreery & KR Highway106 Oct 31,2011 by KAR Productions
American Idol Winner David Cook to Perform at Gillioz Next Month
(Springfield, MO) — Missouri native David Cook, who won the seventh season of American Idol in 2008, plans to play at the Gillioz Theatre in downtown Springfield next month. The theatre says Cook is slated for a concert Monday, November 28, 2011 at 8 p.m. He'll be joined by the band Carolina Liar.
Read more at OzarksFirst.com
Former 'American Idol' winner David Cook to perform Nov. 23 at Jefferson Pointe
Season 7 "American Idol" champion David Cook will perform a free holiday concert Nov. 23 at Jefferson Pointe mall.
Cook, who won the 2008 edition of the hit FOX talent show, is scheduled to play an acoustic concert from 4 to 4:30 p.m. and then stay around for a meet-and-greet event at the mall's Vera Bradley store, said a news release from radio station WAJI, Majic 95.1-FM. WAJI is sponsoring the event with Vera Bradley and the mall.
Special VIP passes will be given away at the mall between now and the concert date, the news release said. Pass holders will get to be among the first people to meet Cook and to get a free photo with him, the news release said.
Read more at News-Sentinal.com
David Cook: Exclusive Tour Diary Preview (Video)
The Hollywood Reporter hit the road on Oct. 26, joining David Cook for his show at Pomona, California's Fox Theater, where the American Idol winner sat down for an exclusive interview with music editor Shirley Halperin.
Check out a preview clip below and look for the rest of THR's tour diary on Friday.
Lauren Alaina: 'I Don't Want to Be Skinny'
"I don't want to loose any more weight," Alaina said, referencing the Us Weekly story that ran on the internet last week. The interview with the publication actually happened a couple weeks back. "I've lost a little bit more [since then], but I don't want to be skinny. I like having curves. Curves are in!"
Read more at Taste of Country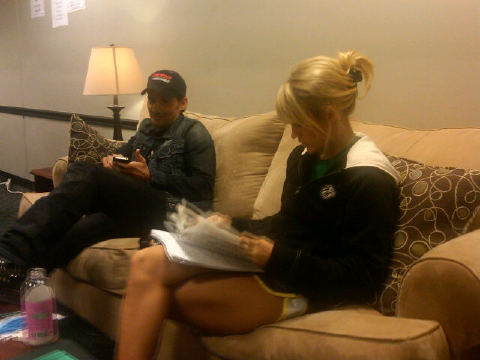 Carrie Underwood and Brad Paisley at a Script meeting today for the CMA's tweeted by writer David Wild (@WildAboutMusic)
'The X Factor': 10 Tips to Improve the Show
1. Dare to be really different: It takes a brave show to admit that the circus freak aspect is played out. Seriously, why not market next season's X Factor as one that will completely dispense with the stupid antics of people who clearly can't sing or are in some way there to play the fool? That joke isn't funny any more and hasn't been for the last four iterations of American Idol. Next time, have the guts to say that while you're still going to hold auditions – obviously – that you've weeded out all the patently bad acts and will only focus on singers who actually have a chance to pass their audition. The audience will thank you. And you really will be different than Idol.
Read more at THR