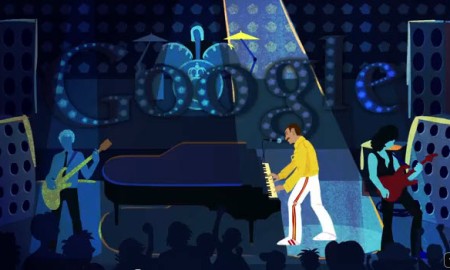 Freddie Mercury would have been 65 years old yesterday if AIDS had not robbed him of his life in 1991.  Twenty years after his death,   the music of Freddie's band, Queen still resonates throughout pop culture.  The countless covers performed on American Idol and Glee for starters, have helped introduce the music to a new generation.
That glorious 4 octave range was one of a kind. So was Freddie's sense of humor, drama and musicality.
So in honor of Freddie's birthday, Google has posted an animated doodle on their front page today, set to the tune "Don't Stop Me Now".
Read an interview with Queen's guitarist, Brian May, on the occasion of Freddie's birthday HERE.
Check out the colorful, celebratory doodle below.
The Idols Sing Queen
Adam Lambert and Kris Allen with Queen – Season 8 Finale
Constantine Maroulis – Bohemian Rhapsody
Casey Abrams & Jack Black – Fat Bottomed Girls – Season 10 Finale
Michael Johns – We Are the Champions
http://www.youtube.com/watch?v=uFwR9mn7890
Fantasia Barrino – Crazy Little Thing Called Love
Elliott Yamin – Somebody to Love
http://www.youtube.com/watch?v=NicCB6a0_D4
Carly Smithson – The Show Must Go On
Katharine McPhee – Who Wants to Live Forever
Chris Daughtry – Innuendo