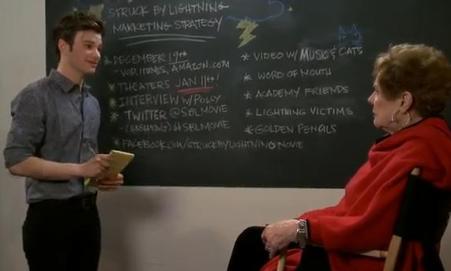 Promoting an independent film isn't easy, as Glee star, Chris Colfer illustrates in a new video promo for his debut film, Struck by Lightning.
Watch as he attempts to share the film's advertising plan with  legendary film and TV star, Polly Bergen, who plays grandmother to Chris's character in the film, Carson Phillips.  Written by Chris, the promo is an hysterical send-up of the world of low budget film making. More than just the promo budget is affected, as Polly has no qualms making clear.
The clip is worth watching just for the dancing LOL CATS. And the sex tape. OK , it's just a suggestion. But still. Also, check out the list of promo ideas on the blackboard. Ha.
The  rest of the impressive cast includes, Allison Janney, Dermot Mulroney, Christina Hendricks, Sarah Hyland, Rebel Wilson, Ashley Rickards, Allie Grant and Angela Kinsley.  Chris wrote and stars in the film. It's directed by Brian Dannelly (director of a wonderful little film called Saved!)
After its streaming debut, the film is set to open in select theaters on January 11.
The promo is adorbs. Do watch.
Clips from the film
Career Day with Angela Kinsey
Cheer Float with Sarah Hyland