Glee Season 6 Spoilers Episode 9 – Child Star
After all the excitement of the Brittana/Klaine weddings in Episode 8, it's time to bring the plot of Glee back down to earth for a bit. Episode 9, "Child Star," which airs Friday February 27, focuses on New Directions, and more specifically, the newbies–Roderick, Spencer, Jane, Madison and Mason.
As always…Watch for updates!
Here's the "Child Star" episode summary from FOX studios: (SOURCE)
Sue still harbors an unrequited crush on the school district's Superintendent, and gives his thirteen-year-old nephew – the precocious, demanding, and surprisingly talented Myron Muskovitz – free reign to avail himself of New Directions' auditorium and talent as he prepares an elaborate musical performance for his upcoming Bar Mitzvah. Will and Rachel seize the opportunity in the hopes it will help the glee-clubbers bond in preparation for Sectionals. Despite their obvious differences, gleeks Roderick and Spencer discover they have something in common… they each need the other's help to overcome seemingly insurmountable obstacles. While the doughy Roderick is in desperate straits trying to measure up to the rigorous physical standards Sue demands of her students, Spencer is equally desperate to catch the eye of Roderick's bookish lab partner, who seems utterly unimpressed with the gay jock. The two strike an unlikely alliance, but they make minimal progress in their tasks until fate intervenes and an act of faith takes center stage. Meanwhile, Mason grows increasingly frustrated when his attempts to flirt with Jane are constantly being thwarted by his dominant and controlling twin sister, Madison, forcing him to finally stand up for himself, with unexpected results.
Judging on this week's production stills, Spencer's long haired crush is quite the cutie. And Mason and Jane!  Is there an adorable shipping name for them yet?  Reportedly, Kurt and Blaine won't be in this episode much. Maybe they're off on their honeymoon? ETA: Also. No graduates in this episode! It's all focused on the kids who currently live in Lima.
"Child Star" Song List: (Source)
*There are very specific spoilers about three songs that were performed during a Bar Mitzvah scene from extras who were on set. (Source)
"Friday I'm In Love" by The Cure
*"I Want To Break Free" by Queen sung by Mason
*"Break Free" by Ariana Grande – sung by Rachel plus newbies, Sue, Will, Beiste (has a short solo) and Sam. (Bar Mitzvah performance)
*"Uptown Funk" by Mark Ronson ft Bruno Mars – sung by New Directions. (Bar Mitzvah performance)
"Lose My Breath"  by Destiny's Child
"Cool Kids" by Echosmith
A few BTS Photos from The Bar Mitzvah shoot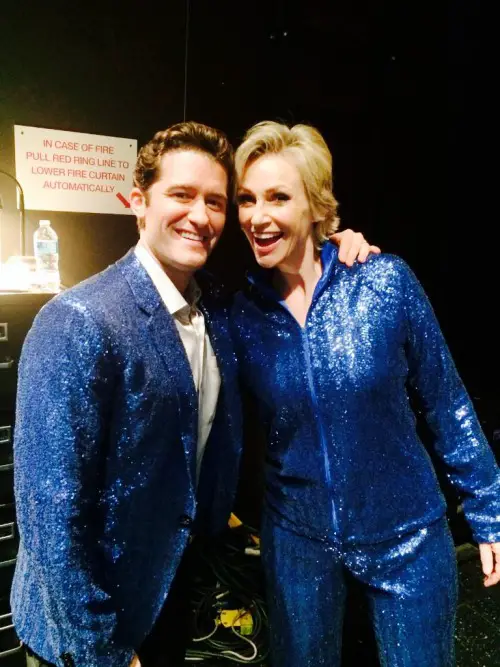 Glee Episode 9 – "Child Star" Production Stills
TV Promo
http://youtu.be/OKO1sz_XDE0