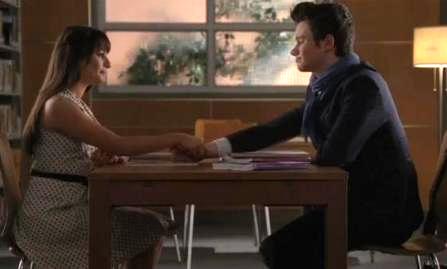 Glee co-creator, Ryan Murphy, continues to reach into his goodie bag to bring fans deleted scenes! Tonight, we have Rachel (Lea Michele)  reading her yearbook message to Kurt (Chris Colfer), deleted from the Glee finale, "Goodbye". The scene is beyond sweet.  "Because of you, I will never apologize for who I am or how I look," writes Rachel.  Aw. Tears all around!
The second is a moving  scene that finds  Santana (Naya Rivera) coming out to her fellow Cheerios,  with a proud Brittany (Heather Morris) sitting in the stands.  Santana's fellow co-captain, Becky (Lauren Potter), adds some levity. The scene was cut from "I Kissed A Girl," which was about Santana's coming out and learning to accept herself. Not sure why a scene where she explicitly reveals she's a lesbian would be cut.
Initially, Ryan reverted back into douche mode, challenging fans to vote for their favorite scene. "Gleeks! More never before seen scenes coming. Gonna give you some choices and then make you vote! The most passion wins." Oy. He thought better of that eventually, and posted them both.
Rachel Reads her Yearbook Message to Kurt
Santana Comes Out to the Cheerios