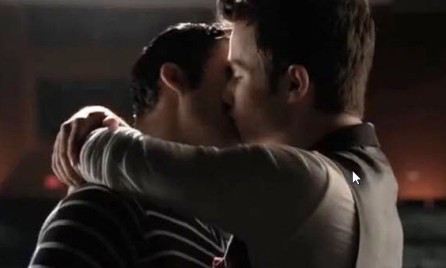 I'm probably going to be ridiculous and slightly insane with the Glee stuff until after Tuesday night, when the big Virginity Sweeps Extravaganza airs.  As sarcastic as I am about Ryan Murphy's ploy to grab some ratings during sweeps month with a controversial subject–I'd be lying if I said I wasn't highly highly anticipating Tuesday's episode, "The First Time".  In case you've been hiding under a rock, two beloved couples–Rachel/Finn and Kurt/Blaine have sex for the first time.
Glee Previews: Watch Video clips from "The First Time"
Glee Songs: Listen to full songs from "The First Time"
Glee Spoilers:  Can't wait til Tuesday? Plot details from "The First Time"
Check out a brand new video preview that features interviews with Corey Monteith, Chris Colfer and Darren Criss discussing the episode.  There's also new footage of the 2 couples together that will literally melt your heart and scenes from the school musical, "West Side Story".
"We're finally putting on the production of West Side Story," says Darren, "What you have are these musical numbers that are happening on stage that really kind of reflect what's happening off the stage."
"It's very very emotional, and very very sweet," says Chris, "It reminds me so much of the episodes we did in the first season–kind of like "Preggers" and "Wheels"…the touching stories."
"It's been one of my favorites to shoot," says Corey, "I'm really proud of it."
http://www.youtube.com/watch?v=S2elz_TG6tU
New Australian Promo: More dialogue + Klaine Bedroom scene
http://www.youtube.com/watch?v=TskSHFwP-TM&feature=youtu.be
(Via Tumblr)
Also, it looks like Chris is making the interview rounds to promote the episode.  Read his interviews with TV Line,  Entertainment Weekly,  EOnline and Billboard
Chris tells TV Line that his favorite scene in the episode was between him and Dave Karovsky (Max Adler)
".. it was great to see that character again and see what happened to [him]. The honesty behind [Karofsky] is kind of heartbreaking. That's his life now. That grungy bar is the place where he found acceptance."  On Kurt and Karovsky getting together, "I think it's a great idea. I think people love Kurt and Blaine so much that they would never stray from that. But maybe if Blaine and Kurt take a break that would be a great alternative. I would like to see that happen."  (I'm vehemently against that, because Karovsky was an abuser, but I won't digress here…)
"It was much tamer than even I was expecting," Chris tells EW about the love scene between Kurt and Blaine,
" My imagination went all over the place. I think everyone is going to walk away from it wishing their first time was like that."  He adds, "The love scene is, with all due respect to the episode and all the people behind it, I think the love scene was all physical. We don't say anything. We kissed and rolled around a bit."
Chris tells EW that he expects to hear from television watchdog groups like the Parents Television Council.
"Teens are having sex," argues Colfer. "There's not that much you can do to stop it, and we're just showing a story about it….It's about an experience in these teen's lives that everyone has."
"I think it's promoting safe teen sex," Chris continues, "I believe there's lots of safe sex innuendos and mentions in the episode. And it goes back to what Burt said when he had that sex talk last year — don't throw yourself around. Make it matter, make it meaningful. Make sure it's with the right person and that you don't regret it later."
Chris feels the episode sends a positive message to gay teens. He tells E Online:
"I really hope that if Kurt and Blaine do anything for society or the world or anything like that, I really just hope it kind of sets the standard for gay kids. I don't mean to upset anyone by saying this, but it is just kind of a known fact that a lot of gay kids are very promiscuous and non-exclusive with each other when they have relationships, which is really sad. But I think with Kurt and Blaine, I would hope would set an example of what something should be and could be. You know, two people finding each other and really loving each other and wanting to give the world to each other."
Chris talks with Billboard about  Kurt's reaction to his first visit to a gay bar:
Kurt's kind of a homebody, he didn't really want to go, but he was kind of persuaded by an outside source to go out and have a night of fun. He didn't want to hold Blaine back, and of course he didn't want Blaine to go by himself, so he tagged along. And he, of course, was the designated driver.