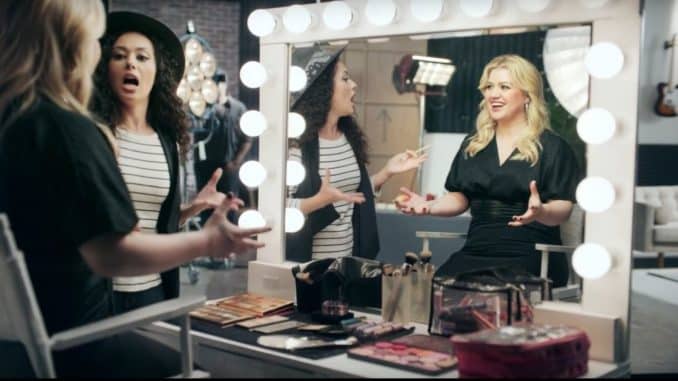 Kelly Clarkson's new talk show The Kelly Clarkson Show debuts on Monday, September 9 on NBC. And if you're looking for tickets to sit in her studio audience, they are available now. Just head on over to 1iota.com. The first taping is set for August 13. But there isn't even a waitlist for that show. The tapings begin again two weeks later on Wednesday August 17, when it maintains a 3-4 days a week schedule. Click this link to request your tickets.
Kelly's new show will combine interviews with famous and not so famous people. There will also be live performances, including from Kelly herself.
Kelly Clarkson, Chevel Shepherd Sing Indianapolis 500 2019 (VIDEO)
Additionally, on Friday August 2, Saturday August 3, Wednesday August 14 and Thursday August 16 Kelly and her fellow The Voice coaches, Blake Shelton, John Legend and Gwen Stefani will be taping The Voice Battle and Knockout rounds. The Voice season 17 premieres on NBC Monday September 23. The Voice studio audience tickets are waitlisted right now, but also available. Click here.
The Voice Knockouts Return For Season 17! See the Taping Schedule
Anxious Adam Levine Turned Down 30 Million The Voice Payday
Kelly is going to be one busy lady beginning in August. Check out the latest promo for The Kelly Clarkson Show below. In it, Kelly practices an opening theme, to extreme comic effect. Watch it below.