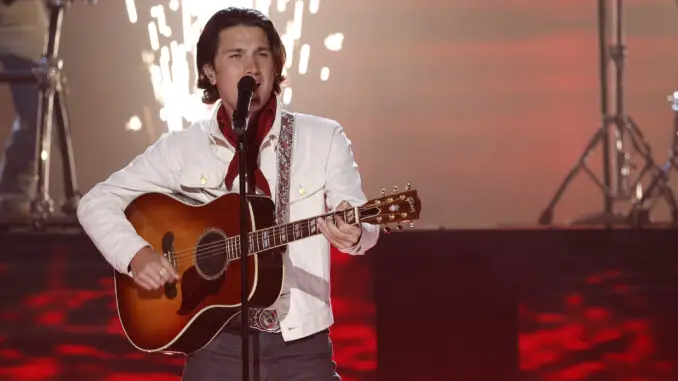 Simon Cowell teases Drake Milligan will compete on new AGT Spinoff
Country singer Drake Milligan appeared on the America's Got Talent results show Wednesday (Sept 13) to perform his new single "I Got a Problem." After his high energy performance, Simon Cowell congratulated him and teased that he would be appearing on a new AGT spinoff.
After calling Drake "amazing" and congratulating him on "everything" he's done after the show, the AGT judge also called the singer a "superstar" and complimented the song. "I told you I'd always come back for you, and here I am," said Drake in response.
Then Simon began to tease, "We might hopefully be seeing us sooner rather than you think." adding, "because we are about to announce another show. It is about America bringing back the best-ever contestants, so hopefully, I have a feeling maybe we'll be seeing each other again soon."
"Absolutely," said Drake with a big thumbs up.
What is 'America's Got Talent Fantasy League'
The new show is probably America's Got Talent Fantasy League, which already has a page up at On Camera Audiences. It's likely that OCA is getting ready to seat upcoming tapings soon.
NBC has aired several AGT spinoffs in the winter season, which have mostly been variations of "best of" formats, including America's Got Talent: The Champions and America's Got Talent: All-Stars. However, the new show promises a new element. NBC taped the two prior shows from beginning to end with off camera "superfans" voting contestants through and choosing the winner. But while "Fantasy League" will also feature past contestants, the new iteration promises a voting "twist."
"Join us to be part of the studio audience for America's Got Talent Fantasy League, the next special edition of the world's most successful TV franchise," says the blurb on the OCA page.
"This new global extension will welcome some of the best acts to ever grace the "Got Talent" stages from all over the world…but with a twist!" The description continues, "For the first time in AGT history, fans will be given the voting power right from the start."
Will the audience vote instead of mysterious "superfans?" Could the show find a way for fans at home to vote? It's hard to tell from the vague description. Stay tuned.