UPDATE: American Idol is not promoting Laine Hardy's duet on social media.
Tonight is definitely a night to remember. Catch the #AmericanIdol reunion at 8/7c on ABC, and stream on Hulu! pic.twitter.com/QWWJ9UqoV2

— American Idol (@AmericanIdol) May 2, 2022
However, Laine's duet partner Laci Kaye Booth is promoting it. Country Now, the original source spoke with Idol reps. My guess is that the special, which was taped from beginning to end in front of a live audience in early April, will stay as is, but Idol won't promote Laine's duet.
NOTABLE: David Archuleta, Justin Guarini and William Hung are also pictured here!
It was so nice gettin' to see everyone! ? You're not gonna wanna miss all of these beautiful performances! Tune in tonight? @AmericanIdol pic.twitter.com/AOWraypeHw

— Laci Kaye Booth (@lacikayebooth) May 2, 2022
Despite being arrested last week for planting a recording device in his ex-girlfriend's dorm room, the performance Laine Hardy taped for Monday night's "Great Idol Reunion" will still air.
According to reports, representatives for Laine and American Idol confirmed that the singer's duet with Laci Kaye Booth will not be edited out.  The special, which celebrates 20 seasons of American Idol, was previously taped during the second week of April. 
After authorities issued an arrest warrant, the Louisiana State University police jailed the season 17 winner, after which he was released on bond. According to LSU spokesman Ernie Ballard, Laine faces a felony charge of interception and disclosure of wire, electronic or oral communication.
Prior to his arrest, Laine spoke out after a warrant was issued for his arrest.
"Earlier today, I received a warrant due to allegations made against me and have been fully cooperative with the Louisiana State University Police Department," Laine wrote. "I understand that my career has thrust me into the public spotlight, and I embrace that wholeheartedly as my entire world belongs to my music and my fans."
He continued, "However, due to the sensitive nature of this allegation, I humbly ask for privacy at this time. I have the utmost respect for the law and will assist in their investigation as needed moving forward."
LSU police issued the warrant after the victim found the device under her bed at LSU's Azalea Hall back in February. She told police the device first appeared to be a phone charger, but she realized it was an audio recorder after looking it up online.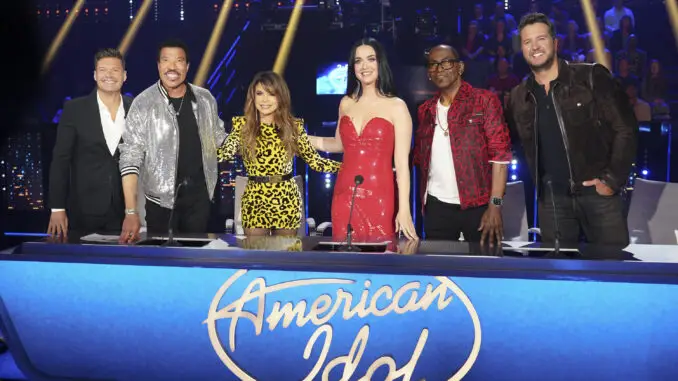 The "Great Idol Reunion" is an hour long special featuring a slew of American Idol alums singing duets, including David Cook and Kris Allen; Jordin Sparks and Ruben Studdard; Scotty McCreery and Lauren Alaina; Willie Spence and Grace Kinstler; Maddie Poppe and Caleb Lee Hutchinson; Laine Hardy and Laci Kaye Booth. Plus, former judges Randy Jackson and Paula Abdul will stop by to visit. Other surprises are also in store. For instance, David Archuleta was spotted on the set. 
At this point, editing out a performance without another to replace it was probably difficult. Perhaps the show will make a point of telling viewers it was filmed in early April.
The "Great Idol Reunion" will air on ABC Monday May 2 at 8 pm ET/PT.