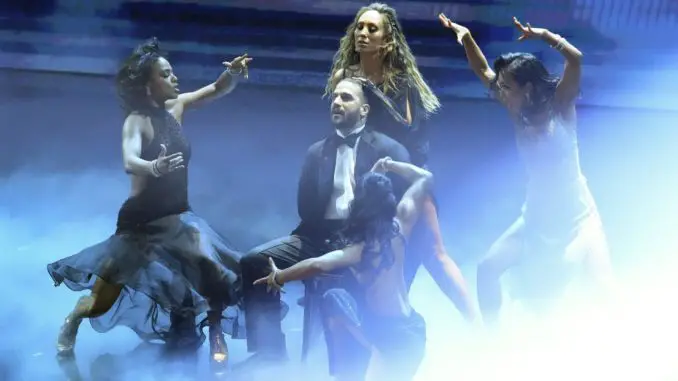 The name's Stars… Dancing With The Stars.
It's another night of dancing and tonight's theme is James Bond movies to celebrate the 60th anniversary of the British spy!
Last week, the couples danced to the songbook of the one and only Elvis Presley which left Teresa and Pasha all shook up when they were eliminated by head judge Len Goodman after the other judges' decisions were not unanimous.
It also appears pro Daniella Karagach will still be absent from the ballroom after testing positive for COVID last week, leaving troupe member and SYTYCD winner Alexis Warr to fill in for her with her celeb partner Joseph Baena.
Vote at DisneyPlus.com or text the contestant's FIRST NAME to 21523. Voting begins at the top of the show.
Bond Night opens with a group performance from the pros, including judge Derek Hough!
Charli and Mark – Rumba – Another Way To Die"
Mark was right when he called this a Contemporary Rumba, but not sticking with traditional is right up Mark's alley. Charli nailed the character of the dance, especially for someone who says she doesn't know how to be romantic or sensual. And that unexpected lean! Woo!
Len says Charli has danced fantastic for 3 weeks now, and it had a beautiful finish. Derek says he loved the dark and dangerous take on the Rumba. Bruno says he's shaken, stirred and smitten by Charli. Carrie Ann says her dancing is pristine and gorgeous, but she can perform outward more.
Carrie Ann- 8, Len- 8, Derek- 8, Bruno- 9 = 33/40
Cheryl and Louis – Rumba – "Diamonds Are Forever"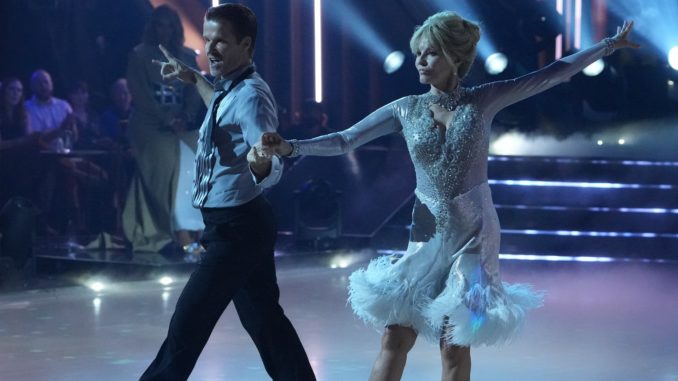 Cheryl starting the dance by getting her diamonds out on to "Diamonds Are Forever" was cute. That was much more of a traditional Rumba, and it was interesting to see both Cheryl and Louis singing along to the song. That's something that's generally frowned upon in dance, though I've personally never minded it and often do it myself haha
Derek says it was Cheryl's best dance. Bruno says she got her sparkle back and there were no mistakes. Carrie Ann says she's proud of her and wonders if she forgot the choreo at one moment. Len says he's happy he saved her and it was clean and clear despite the messing about at the beginning.
Carrie ANn- 6, Len- 6, Derek- 6, Bruno- 6 = 24/40
They take a break from the competition for Derek to do a little lesson in Rumba, and I quite enjoyed it. Why did it take this show 31 seasons to start teaching the audience? LOL
Trevor and Emma – Tango – "You Know My Name"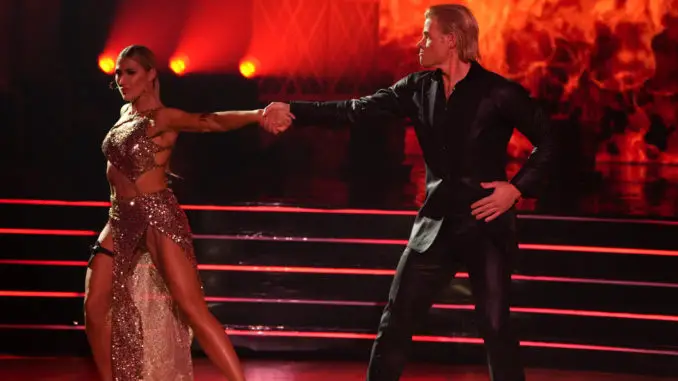 First and foremost, I'm in love with Emma's dress! Second, "You Know My Name" is the perfect song for a Tango. I become more and more impressed by Trevor every week. He could take this whole thing home if he keeps this up. And I loved those little spy-esque moves near the end!
Bruno says it was an action-packed Tango and it was full of content. Carrie Ann says his focus on Emma was the most impressive, and it had incredible chemistry and was well-danced. Len says he loved the "live and let die" attitude but was jarred by his wide frame. Derek critiques his frame.
Carrie Ann- 7, Len- 6, Derek- 7, Bruno- 7 = 27/40
Daniel and Britt – Rumba – "The World Is Not Enough"
Rumba is a very different dance compared to what Daniel's done so far, but I think he nailed it. I also liked the traditional Rumba again because Mark's dances – as much I as love them – throw me off sometimes. lol
Carrie Ann says everything about it was mindblowing. Len says Daniel took command of the dance. Derek says he's a leading man and he's got piercing eyes that are mesmerizing. Bruno says there's nothing he cannot do, and he had an excellent frame and the mannerisms spot on. 
Carrie Ann- 8, Len- 7, Derek- 8, Bruno- 8 = 31/40
Jordin and Brandon – Rumba – "License To Kill"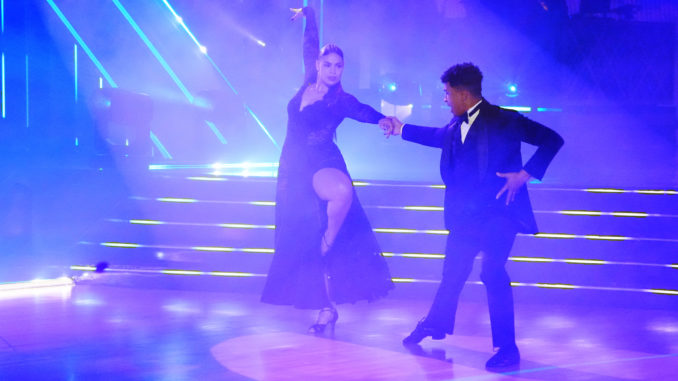 First time I've ever seen them bring a full-on bed onto the dance floor for a Rumba, but ok. This American Idol superfan will always cheer Jordin on, but she's been pretty steady with her performances, not improving nor getting worse. She and Brandon make a great team but I worry they won't make it as far as I hoped.
Len says he's always concerned if there's a bed involved (LOL) but he's glad it didn't get in the ay, and she needs to work on her turns. Derek kindly critiques her turns then says it was well done. Bruno says he couldn't wait for her Rumba and he was not disappointed. Carrie Ann says she has natural, authentic sensuality and is important in a Rumba.
Carrie Ann- 7, Len- 7, Derek- 7, Bruno- 8 = 29/40
Sam and Cheryl – Samba – "Los Muertos Vivos Estan"
Samba is quite the breakaway for tonight. Fun to watch but technically a mess.
Derek says Samba is the hardest dance and it started strong but lost steam toward the end. Bruno says he put the fiesta into Samba. Carrie Ann says he embodied the rhythm of the dance and has natural joy. Len says Sam the Samba Man and came out with a terrific attitude. 
Carrie Ann- 6, Len- 6, Derek- 6, Bruno- 7 = 25/40
Selma and Sasha – Rumba – "For Your Eyes Only"
Not Selma's best but the blindfold was a really clever touch and I'll always applaud Selma for what she's doing every week.
Bruno says it had wonderful, lyrical quality and was a bit risque. Carrie Ann says she's an artist when she dances and every move is perfection. Len says her arms had fluidity and musicality and she had great control. Derek says dance is a beautiful way to connect with yourself and others and compliments her legwork. 
Carrie Ann- 7, Len- 7, Derek- 7, Bruno- 7 = 28/40
Wayne and Witney – Tango – "The Name's Bond… James Bond"
This show usually does international styles of dance but that was a very American first few steps they did. Witney tends to thrive in themed dances like this, and Wayne followed in her footsteps.
Carrie Ann calls him Wayne Bond and says it was clean and tight, but wants him to be as great up top and he is below. Len says he coped with his first ballroom dance magnificently. Derek says he moved with power and intention and compliments Witney's choreo. Bruno says he's a smooth operator and was the best Tango of the season so far.
Carrie Ann- 8, Len- 8, Derek- 8, Bruno- 9 = 33/40
Vinny and KoKo – Rumba – 'Thunderball"
This seemed slow even for a Rumba. Good choreo and Vinny got into character, but nothing impressive.
Len says it wasn't his best dance but it wasn't his worst. Derek says he was a Jersey Gentleman out there, then critiques his arms. Bruno says it was stumbly and blocky, but good effort. Carrie Ann says he's trying very hard and it shows, but he has to try getting detailed now. 
Carrie Ann- 6, Len- 5, Derek- 6, Bruno- 6 = 23/40
Heidi and Artem – Argentine Tango – "Another Way To Die"
Heidi's got the character for an Argentine Tango but not the technique. It was well-choreographed but something about her seemed stiff. She still has major work to do on her arms and legwork, in my opinion.
Derek says it was her best dance. Bruno says it was a proper Argentine Tango and he's sure she will dance another day. Carrie Ann says she was in her power in this dance. Len says it was full of snap, crackle and pop.
Carrie Ann- 8, Len- 8, Derek- 8, Bruno- 8 = 32/40
Shangela and Gleb – Rumba – "Goldeneye"
Shangela really nails every move. Aspects of this felt American again compared to international, and it definitely looked like there was a lift there.
Bruno raves over it then gives her a tip on her walks Carrie Ann says, DAYUM!" Len says it needed more stretch. Derek says performance-wise, it was a 10.
Carrie Ann- 8, Len- 7, Derek- 7, Bruno- 8 = 30/40
Jessie and Alan – Rumba – "Goldfinger"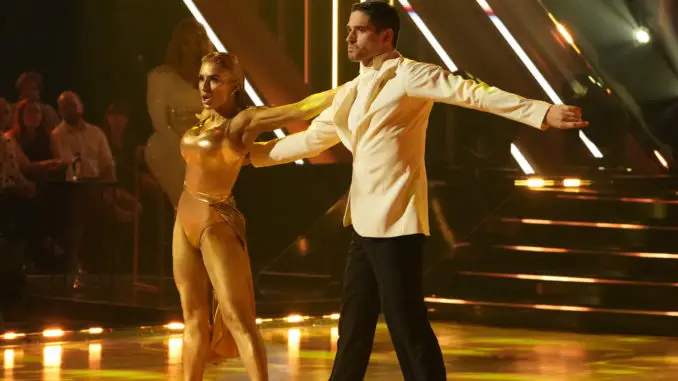 Dunking her in gold doesn't win them any points honestly. She nailed the sexy of the Rumba though. Something about it also felt a bit rushed.
Carrie Ann says it wasn't her best but she's working on it. Len says her footwork wasn't great. Derek says where she is now compared to Week 1 is night and day. Bruno says it was a gold Rumba and she can do sexy.
Carrie Ann- 6, Len- 6, Derek- 7, Bruno- 7 = 26/40
Joseph and Alexis – Argentine Tango – "Writing's On the Wall"
Sam Smith has the best voice to dance to, prove me wrong. This was a well-choreographed Argentine, but Joseph is still a bit stompy with his steps.
Len says it lacked fluidity and didn't like the lift, but it was his best dance to date. Derek says he's a great dancer and it was clean and had musicality and he loved the lift. Bruno also loved the lift and compliments his footwork. Carrie Ann says it was natural, beautiful, breathtaking and finesse. 
Carrie Ann- 8, Len- 7, Derek- 7, Bruno- 7 = 29/40
Gabby and Val – Cha Cha – "Die Another Day"
Latin isn't her style and Cha Cha isn't her dance, but she did well and looked like she was having a blast.
Derek says it had power, attack and strength. Bruno says it was a Cha Cha Cha to die for. Carrie Ann says it was fantastic but she wants her to relax more. Len says it was a great way to finish Week 3 and it was crisp like a Pringle. 
Carrie Ann- 8, Len- 8, Derek- 8, Bruno- 9 = 33/40
The bottom two couples are… Sam and Cheryl and Cheryl and Louis.
The couple going home is… Cheryl and Louis. 
Surprising, should have been Sam honestly. Next week is the week we've been waiting for and dreading: Disney (Plus) Night!