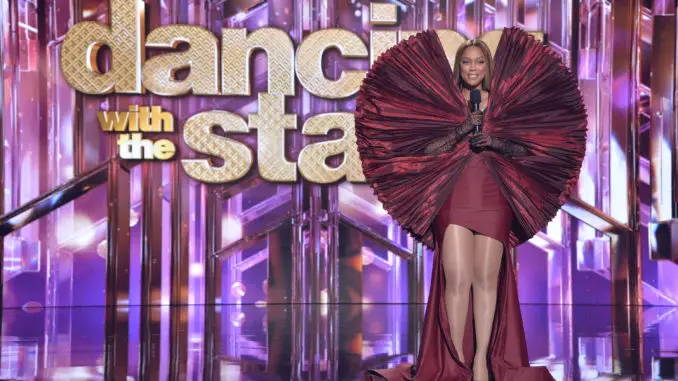 Reportedly changes are afoot at ABC's Dancing with the Stars. Producer Andrew Llinares is OUT.
Deadline reports that Llinares has parted with the competitive dance series. ABC has not renewed the show for a 31st season officially, but DWTS is already looking for Llinares' replacement.
Llinares joined DWTS in 2018 ahead of the all-athletes Season 26 but parted ways after season 30, which featured the first same-sex couple JoJo Siwa and pro Jenna Johnson. Iman Shumpert became the first-ever NBA winner of the mirror ball trophy.
However, the season was down 18 percent in viewers (6 million versus 7.3 million) and 25 percent in adults 18-49 (.9 versus 1.2) versus the prior year.
Llinares made controversial changes
Llinares oversaw big and controversial changes for the show, including firing beloved long time host Tom Bergeron and replacing him with Tyra Banks before season 29. Co-host Erin Andrews also left the show. He also produced the show during the pandemic, which meant filming DWTS without a studio audience.
Tyra Banks has proved to be an awkward host, making mistakes during the live telecast, such as calling the wrong bottom two. It's the kind of mistake that Bergeron, a veteran broadcaster, would have never made. Also, Bergeron spoke out on social media after the show cast Trump ex-press secretary Sean Spicer. The two clashed from the beginning, apparently.
UPDATE: Tom responds on Twitter to a fan asking what he thinks:: "Karma's a b*tch," he says. Wow.
Karma's a bitch ?

— Tom Bergeron (@Tom_Bergeron) March 17, 2022
Also, according to Deadline, Tara's grand fashion plate entrances at the beginning of the show annoy the pro dancers, who resent that her weekly "sashay" replaced opening numbers by ballroom dancers.  They also hate the "fancy lighting and busy backdrops."
"This is not what ballroom dancing is"
"We're not a music video," one of the veteran pros tells Deadline. "We're not the MTV music awards. We're a ballroom dance show. The screensavers behind us are swallowing us. Like, this is not what ballroom dancing is. It's an intimate sport. You're missing the actual feeling from what we're supposed to be giving the audience. You're supposed to tap into our story and we're supposed to tell it through movement. You lose the essence."
Deadline doesn't explicitly state whether Linares quit or the show pushed him out. But considering the low ratings and pro and fan complaints (fans have never warmed up to Tyra), I'd bet on the latter. When ABC finds a new producers, will Tyra remain on as host? I hope not. BRING BACK TOM BERGERON should be a trending hashtag.
DWTS, if ordered for a 31st season, is expected to return in the fall.