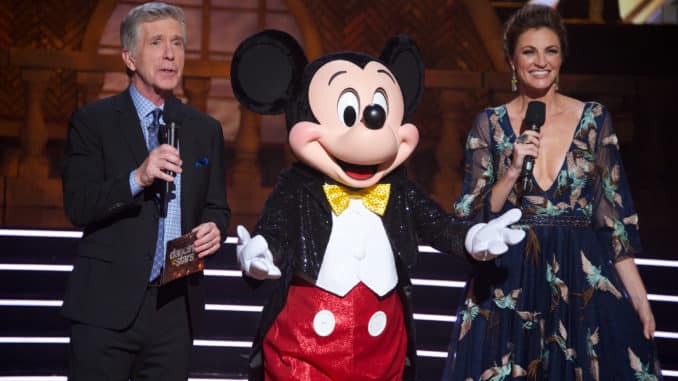 Dancing with the Stars season 29 will kick off on September 14 without longtime host Tom Bergeron. The veteran broadcaster was a beloved member of the DWTS family, until ABC replaced him and co-host Erin Andrews with Tyra Banks, who is now also an executive producer.
Tom, for his part, has taken the high road, remaining upbeat in the aftermath. But in a recent Instagram post, the veteran broadcaster hinted that things at DWTS were fine…until 2017.
Tom Calls DWTS a "career highlight…at least through 2017"
On Thursday (Aug 27) underneath a lovely post depicting the view outside of Tom's West Coast home, a fan commented they would never watch DWTS again, and that perhaps Tom and his fellow ousted co-host Erin Andrews could start their own dance show.
However, Tom replied that his dancing days were over: "@tonielizabeth9 Thanks, but my dancing days are behind me. My time with "Footwork With the Famous," at least thru 2017, was a career highlight. On to new challenges, like figuring out how to program my universal remote."
A new Executive Producer Joined DWTS in 2017
So what changed in 2017? Dancing with the Stars longtime producer Rob Wade took a promotion at FOX to head their Alternative Entertainment and Specials department. Among other shows, Rob oversees the wildly popular competition The Masked Singer. (And now you know how Tom end up on Masked Singer dressed as a Taco!
In turn, ABC hired Andrew Llinares, who previously oversaw several high profile UK reality competitions, including Pop Idol, the forerunner to American Idol to executive produce Dancing with the Stars. He also launched X Factor and executive produced Britain's Got Talent, and worked on X Factor USA.
Tom publicly criticized the decision to cast Sean Spicer
Llinares launched the low rated Athletes version of DWTS in the Spring of 2018. When DWTS cast former Trump press secretary Sean Spicer for the fall 2019 edition, Tom spoke out over the casting, revealing that Llinares promised him ABC wouldn't make any divisive casting decisions.
Considering Tom's Instagram remarks, it appears he and Llinares didn't see eye to eye. And it's not a stretch to consider that Linares was unhappy when Tom made his displeasure known over the Spicer casting, which dominated the entertainment news cycle for a few days.
Perhaps ditching Tom and Erin was more than just wanting to "freshen up" the show.
https://www.instagram.com/p/CEZRe7Fps70/