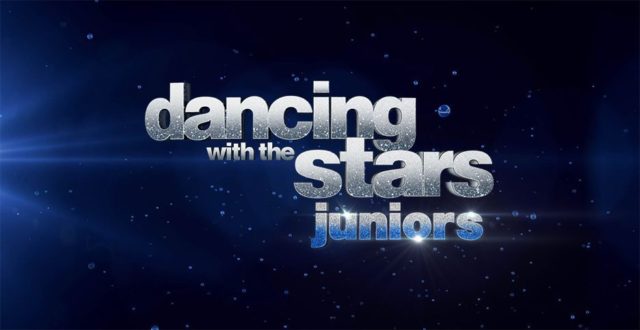 Hey All :)
Welcome to week six of Dancing with the Stars Juniors. Tonight, the remaining six pairs return to the dance floor to perform in new styles in the hopes of earning high scores from the judges and safety from the audience. At the end of the night, another pair will be eliminated from the competition.
In this sixth week of competition, the contestants are tasked to perform an unlearned routine as part of "Giving Thanks" night. The juniors will be giving thanks to the special people in their lives and dedicating their respective dances to them.
As a reminder, please keep SPOILERS out of the discussion for those who want to enjoy the program without knowing any results. Let's go…
Ariana & Artyon (Mentor- Brandon) – Salsa
That was a really good salsa. So beyond the years of these kids with the choreography. I love the way Ariana matches each dance to her acting skills. She embodies every character. A couple of messy transition moves from time to time but nothing to really gripe about. These two are on fire!
https://www.youtube.com/watch?v=ZEqo-xxI2i4
Mandy is grateful for that salsa she just saw. She likes the complexity of it. Adam wants to know if Art can lift him. He is all praises. Val says the dance was athletic but authentic and he is proud of them.
Val- 9
Mandy- 9
Adam- 9
Mandla & Brightyn (Mentor- Cheryl) – Foxtrot
That was sweet. YES to Stevie Wonder being there to sing during his son's performance. This was my favorite Mandla dance. I found it to be completely believable and elegant and perhaps it was the dedication but he seemed much more refined in his steps. Good stuff.
https://www.youtube.com/watch?v=65sHt_W0wtI
Adam says it was one of Mandla's best dances. Val says the dance looked great to him. He thought the technique and partnership was great. Mandy asks why Brightyn is tearing and she is because of how wonderful Mandla is doing. Mandy says she was watching a beautiful couple on the dance floor.
Val- 9
Mandy- 9
Adam- 9
Akash & Kamri (Mentor- Witney) – Jazz
My life is complete. Seeing Akash doing a Bollywood inspired jazz routine was amazing. Was it perfect? Naw but nothing he ever does on the show is and that's part of the charm. He has personality in spades and just makes you smile while you watch him. And not to knock the dancing too much as he was actually pretty decent during this for a novice of the style.
https://www.youtube.com/watch?v=XLOU-w2K78Y
Val calls it his best dance of the season. He felt a lot of time was put into the routine. Mandy agrees and feels this was really good. Adam wants Akash to be really proud because he was so much sharper and also feels it was his best dance of the season.
Val- 8
Mandy- 8
Adam- 7
Miles & Rylee (Mentor- Lindsay) – Foxtrot
So cute. The kids are doing great tonight. With the exception of needing to watch his frame in hold a bit, this was another delightful routine from Miles. It had elegance but still kept the same charm Lindsay has choreographed for him all season long. I loved that he brought a lot of himself to the dance.
https://www.youtube.com/watch?v=snMyXBNuiw0
Mandy loved seeing the dynamics in the dance and the sense of joy. Adam says Miles is killing it. He says he has liked other performances better but tonight took skill and control. Val disagrees a bit and thought it was one of his better dances. He enjoyed the technique.
Val- 9
Mandy- 9
Adam- 8
Sky & JT (Mentor- Alan) – Foxtrot
Wow. That was so impressive. The posture there was on point. Such a lovely and poignant routine from start to finish. JT's faces during these dances kill me. He's such a little ham. The best overall routine of the night so far.
https://www.youtube.com/watch?v=0v9dzZ-F5k0
Adam is kinda tearing because he is very impressed and says that dance is what the show is all about. Val says it was so special and the world has fallen in love with dance because of dances like that. He calls it exceptional. Mandy says Sky looks stunning and gives Alan a shout out for his coaching.
Val- 9
Mandy- 10
Adam- 10
Mackenzie & Sage (Menror- Gleb) – Samba
Good routine. Maddie's surprise appearance at the end was a nice touch. Surprisingly, I found parts of it to be a little messy and needing refinement. Samba isn't an easy dance and though it was tackled well, it could have been better. But they ended the show well and tonight has been a very strong night of dancing from everyone.
https://www.youtube.com/watch?v=g-CtU2R0E8Q
Val says Mack killed it. He says he knows what it is like to have an older sibling in the business and he loves that they celebrate one another. Mandy loved how big Mack was dancing. Adam asks their mom how he becomes the 3rd sister in the family? He feels they lift one another up.
Val- 9
Mandy- 9
Adam- 9
Elimination Time!
The audience is voting in the studio as the juniors yell out their respective numbers. Tonight's eliminated junior pair is…
Akash & Kamri (Mentor- Witney)
Akash has something he needs to say because of course. He so eloquently thanks everyone on the show and will go home tonight with many memories. Aww. He is a star. For real, if this kid doesn't end up doing something in the entertainment business, I will be really shocked.
He is hoisted up in the air and looks so proud of all he has accomplished on the show. I am sad to see him go because he is such a wonderful kid but if we are being fair, his elimination was the only possible one considering the talent of the remaining juniors. We are left now with the really outstanding dancers.
Next week, juniors heads into a time machine for some past and future themed routines, whatever that means. We shall see.
Tomorrow night, don't miss the season finale of the regular Dancing with the Stars, in which a new couple will be crowned champions. MJ's will have all the coverage of that right here.
To all the visitors of this blog, I sincerely hope you have a happy and healthy Thanksgiving week. Stay blessed y'all. :D