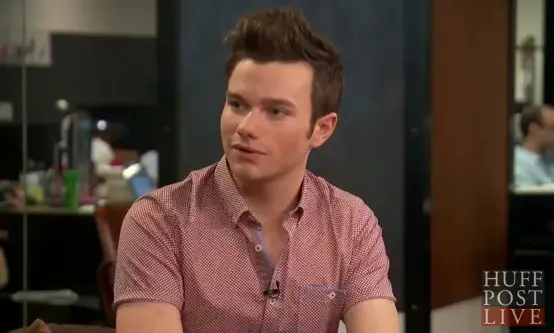 Glee star, Chris Colfer, sat for a live interview with the Huffington Post to promote his new children's book, the second in his The Land of Stories series,  The Land of Stories: The Enchantress Returns.
In between chatter about where we can expect to find the Connor twins, the young protagonists in the series heading, the conversation touched up up the upcoming 5th season of Glee, his feelings about performing on Broadway, and of course, the tragic loss of his friend and co-star, Cory Monteith.
Will his character Kurt and Blaine (Darren Criss) get back together again? Chris knows, but he ain't saying:
"I know, but I can't say because it would ruin the first episode… I'm pretty sure they'll use it to tease the first episode."
Chris is fine with Glee ending after 6 seasons, as reported:
"Where would you go after a 6th season? I think six is a really good number and it's a good amount of time to spend with these characters,"
Chris sets the record straight on his relationship with co-star Darren Criss. Yes. There are fans who believe Chris and Darren are in a secret relationship. And yes the rumors are persistent enough that he needed to address them.
"…we're very good friends… I think sometimes I – I'm always very hesitant to say any relationship that I have, because the fans are so sure that Klaine exists, and a lot of fans think that Glee is a documentary. But it's not. It is not a documentary! Darren and I, we are not in a relationship in real life. We go home at the end of the day. Separate homes! But, everyone on that set's family. Everyone."
Would Chris like to perform on Broadway?
"Oh absolutely 100% yes. I get approached to do shows all the time, and I just don't have time."
On losing co-star Cory Monteith and grieving in the public eye:
"It's difficult to mourn someone with the world. I think a line needs to be drawn. It's really really unnerving to get messages from 12 year olds in Nebraska telling you how to mourn. I think it's important for everyone to know that life goes on."
Watch the entire interview below: