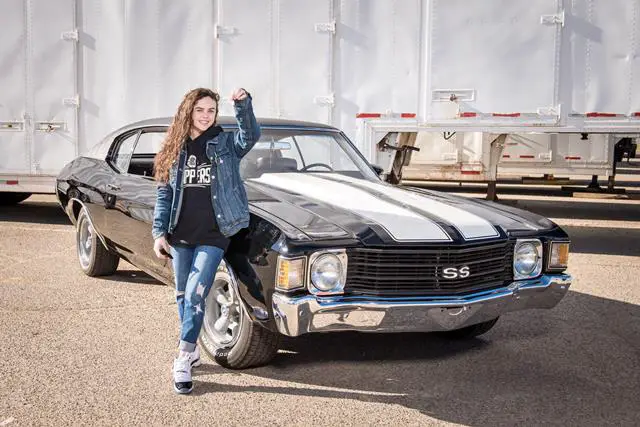 The new voice of the Professional Bull Riders is The Voice season 15 winner Chevel Shepherd from Team Kelly Clarkson. The sixteen year old country singer and car enthusiast won the NBC music competition in the fall of 2018.
PBR recently announced that Chevel, along with Eddie Montgomery of Montgomery Gentry, and Kentucky rockers Black Stone Cherry, are officially releasing its new anthem: "Be Cowboy," written by Wynn Varble and David Frazier.
The new soundtrack to the sport's inclusive campaign encourages everyone to "be badder, be braver and be bolder" in unleashing their inner cowboy.  Chevel, Montgomery and Black Stone Cherry performing "Be Cowboy" will replace Steven Tyler's PBR anthem "Hold On (Won't Let Go)." There's also a duet version performed by Chevel and Montgomery.
Fans will see the new CBS opener when World Finals begins in Las Vegas on Nov. 6.
Kelly Clarkson, Chevel Shepherd Sing Indianapolis 500 2019 (VIDEO)
Chevel, who did double duty in singing a solo version as well as a duet with Montgomery, has attended several PBR events and fancies herself a Chase Outlaw fan. "I like people who are tough and inspiring, and Chase is all of that when you consider what he's overcome after that bad accident," Chevel said. (The bull rider broke every bone in his face last year after smashing his face against a bull's horns. He was back on the bull after 75 days).
"We are thrilled to have true fans who happen to be huge stars on the current music scene supporting our new campaign," PBR CEO Sean Gleason said. "PBR has been called a rock show where incredible bull riding breaks out, and we take great pride in the music so integral to our events."
The sport refreshes its TV openings and theme song every few years. In addition to Aerosmith's frontman, past artists have also included Shinedown, Gary Allan, and Dustin Lynch
Check out Chevel's version of "Be Cowboy" below.