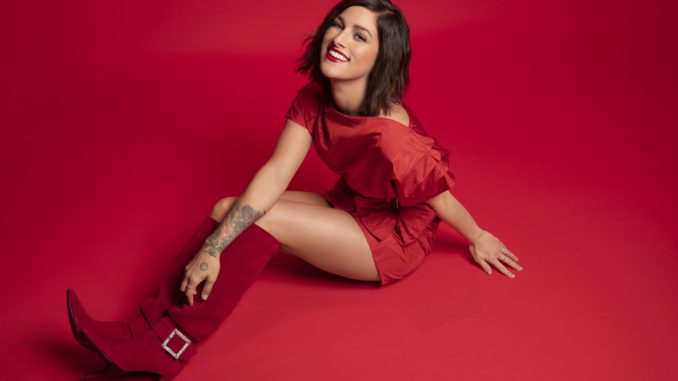 Cassadee Pope The Voice 10 Year Anniversary cCelebration
Cassadee Pope, The Voice 10 year anniversary, comes after the singer won the show as a member of Team Blake Shelton in season 3, the fall of 2012.
"Winning The Voice is already an accomplishment that I find hard to comprehend," wrote Cassadee on Instagram recalling the huge milestone. "Winning it TEN YEARS AGO today is even harder to fathom. Thank you @nbcthevoice & @blakeshelton for everything you've done for my career. And thank YOU all for voting. You changed this Florida girls' life forever."
Cassadee went into The Voice an pop/punk artist, but came out a country singer
Cassadee came into The Voice an alternative pop vocalist, but came out a country singer. She performed "Torn" by Natalie Imbroglio for her Blind Audition, earning her a four chair turn from coaches Adam Levine, Cee Lo Green, Christina Aguilera and Blake Shelton. Although musically rooted in a pop/rock tradition, Cassadee chose to compete on Team Blake.
Cassadee Pope, Maren Morris Diss Transphobe Brittany Aldean
Cassadee's run on the show was considered somewhat controversial. Already a veteran by the time she hit The Voice stage, Cassadee and her band Hey Monday were a hit on the alt/rock festival circuit, placing one of their songs on the popular FOX musical comedy, Glee. The pop/punk band broke up after her The Voice triumph, as Cassadee dove head first into a country music career post-win.
After The Voice Cassadee signed with Big Machine Label Group
During The Voice, the singer's song choices ran the gamut, from Avril Lavigne's "Happy Ending," Kelly Clarkson's "Behind These Hazel Eyes, and "Over You" by Blake's then wife, Miranda Lambert. In her last The Voice weeks, she moved almost fully into the country genre singing "Stand" by Rascal Flatts, "Stupid Boy" by Keith Urban and Faith Hill's "Cry."
Cassadee sings Miranda Lambert's "Over You" on The Voice
After the show, she signed with Big Machine Label Group, an offshoot of Republic Nashville at the time, releasing the lead single of her solo album, "Wasting All These Tears." The album Frame by Frame came out in October 2013. A country duet with Chris Young titled "Think of You" for his 2015 album, I'm Comin Over turned out to be a smash. Her EP Summer, which was her last record for Republic, came out in 2016.
Parting ways with Republic
Cassadee parted ways with Republic in 2017 and embarked on a solo career. She released her her second full-length studio album, Stages, as an independent artist. In 2021, she dropped her third studio album, Thrive, in 2021
Slowly, Cassadee's pop punk roots crept back into her music. She's kept a dash of country to her sound, but lately she has fully embraced her nascent genre, which has made a comeback in pop music lately.
Cassadee posted a snip of a new song "People That I Love Leave" on Instagram, writing the caption, "A little sneaky peaky in the the next chapter of music. Can't wait to share more with you. For now, enjoy this demo version of "People That I Love Leave."
Back to the beginning
In a recent interview with People, shared about how her collaboration with country singer Levi Hummon "RSVP" came together. "I'm moving away from the country space and going more into pop rock where I came from initially. I'm glad that ['RSVP'] kind of straddles those lines. It's a great kind of bridge for me between what I did before and where I'm headed with my next solo project."