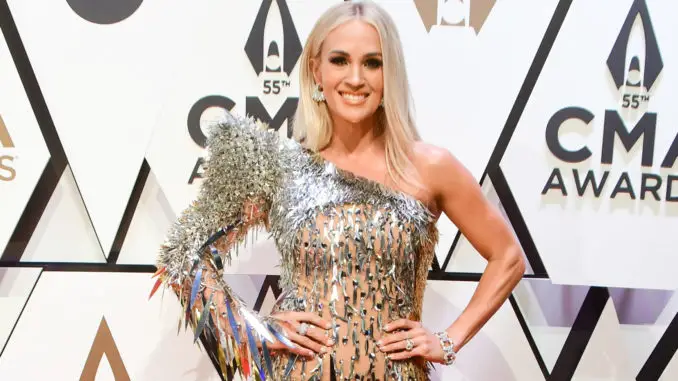 Comedian/actor Billy Eichner is out promoting his new LGBT rom com Bros, and on Watch What Happens Live with Andy Cohen a fan called in and asked if he ever found out why Carrie Underwood blocked him on Twitter.
"Carrie Underwood blocked me on twitter," he said, "which I consider a great honor…it was one of the great thrills of my life." He says she probably did it because he snarked about her politics after she liked a post from a right wing pundit.
"There was this thing where she, like, during the height of COVID, she showed support for a speech by some Republican guy saying that kids shouldn't have to wear masks in schools," he explained. (It was right-wing pundit Matt Walsh who is currently having a meltdown about Lizzo playing a 200 year old flute).
The American Idol season 4 winner, he said, let her "political views be known for the first time. I guess I made some jokes…that went viral on Twitter, and I guess she didn't like that."
Reportedly. Billy called attention to Carrie's social media approval of Walsh's tweeted by tweeting a  screenshot of the notification with the caption, "ICONIC." An apparently harmless joke, unless he tweeted something else…
Carrie also "liked" her husband's post after he "stood up" for Aaron Rodgers Anti-Vax Stand
In 2021, Carrie appeared to be touchy about COVID, coming down on the conservative side of the issue. She also liked a post from her unabashedly Trump supporting husband, Mike Fisher, who stood by NFL football player Aaron Rodgers after he lied about his vaccine status. At the time, the NFL had vaccine protocols in place, and Aaron flouted them without apology.
When American Idol judge and country star Luke Bryan made jokes about Rodgers and the weasley way he lied about his vaccine status at the CMA's last year, the camera cut to Carrie and to say she was not amused would be an understatement. She had the side eye of all side eyes going. 
An American Idol winner who is decidedly NOT blocking Billy on Twitter? Kelly Clarkson. Billy and several Bros cast members dropped by her The Kelly Clarkson Show to promote the film. "Love is love, and funny is funny," Kelly says, regarding anyone who might have an issue with an all LGBT casted and themed rom com.
 

 

 

View this post on Instagram